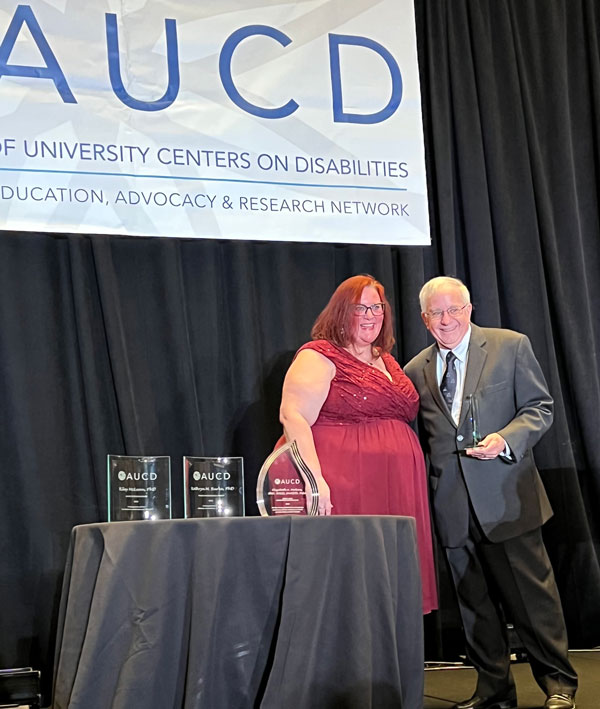 The Association of University Centers on Disabilities (AUCD) held its annual conference November 13–16 at the Marriott Marquis in Washington, D.C. Several members of the Maryland Center for Developmental Disabilities (MCDD) team attended and presented at the event. This year's focus was "Health Equity: Serving the Whole Person."
Beth Benevides, chair of the Community Advisory Council (CAC) and LEND (Leadership Education in Neurodevelopmental and Other Related Disabilities) Family Faculty, was the recipient of the AUCD 2022 Gordon Richins Award for Leadership and Advocacy. Bruce K. Shapiro, MD, MPH, former LEND director and CAC member, received the AUCD 2022 Lifetime Achievement Award. The AUCD awards ceremony took place during the AUCD Conference on the evening of November 15.
Chris Mason-Hale, BSW, MCDD community advocate, received a scholarship from AUCD to attend the annual AUCD Conference.
Mat Rice, People On the Go (POG) advocacy coordinator; Tracy Wright, POG training coordinator; Devin Wylie, POG program coordinator; and Cody Drinkwater, POG public policy assistant, presented a poster, "Advocacy is the Path Forward." POG had the opportunity to engage over 50 attendees from across the AUCD network during the presentation.
Maureen van Stone, Esq., MS, director of the MCDD, and Luke Kalb, PhD, director of the Informatics Program at Kennedy Krieger Institute's Center for Autism and Related Disorders (CARD), delivered a panel presentation, "Supporting the Well-Being of Children with Intellectual and Developmental Disabilities during the COVID-19 Pandemic." In addition, van Stone co-presented with Bradley L. Schlaggar, MD, PhD, Kennedy Krieger's president and CEO, and Miya Asato, MD, vice president of training administration and LEND director, a panel presentation, "Dialogue Across the AUCD Network to Advance Meaningful Collaborations – Examples from UCEDDs, LENDs, and IDDRCs." Following this event, van Stone and Harolyn M.E. Belcher, MD, MHS, co-director of the LEND program, participated in an "Informal Gathering of the Diversity Workgroup: Promoting Diversity in IDD Research." Van Stone led a table on law and policy during the Trainee-Professional Networking Breakfast, an event where current and former trainees and fellows were invited to chat with AUCD professionals. Finally, van Stone, along with Tracy Waller, Esq., MPH, MCDD staff attorney, delivered another panel presentation, "Wrapping up The Center for Dignity in Healthcare: Reducing Healthcare Inequities for People with Disabilities."
Mirian Ofonedu, PhD, LCSW-C, director of training for the MCDD, and Sharon Holloway, Kennedy Krieger World of Care director, gave a concurrent session, "Promoting Early Screening, Intervention and Quality Childcare for Children with Developmental Disabilities Through Training and Technical Assistance: LEND/UCEDD Programs Approach." Several Kennedy Krieger faculty and staff members, including Drs. Ofonedu and Miya Asato, vice president of training for Kennedy Krieger; Mason-Hale, Emily Arneson, director of government relations; Tami Goldsmith, project coordinator of Neurodiversity of Work; and Peter Shireman, a LEND trainee, met virtually with staffers from the offices of Senators Ben Cardin and Chris Van Hollen and Congressman Kweisi Mfume. The group discussed the impact that the following legislation has on the disability community:
ABLE Age Adjustment Act (S. 331 / H.R. 1219);
Better Care Better Jobs Act (S. 2210 / H.R. 4131);
Transformation to Competitive Integrated Employment Act (S. 3238 / H.R. 2373); and
The 21st Century Assistive Technology Act (S. 2401 / H.R. 902).
Mallory Legg, Esq., director of Project HEAL (Health, Education, Advocacy, and Law), and Holly Long, OTD, OTR/L, CHES, former Project HEAL trainee, gave a poster presentation, "Special Education Law and Interprofessional Collaboration: Viewing Education Through an Occupational Lens." Legg also participated in a panel presentation, "Addressing the Needs of a Vulnerable Population: a Medical, Legal, and Mental Health Interdisciplinary Model." Also on the panel were Kennedy Krieger faculty and staff members Joyce Wong, MD, developmental and behavioral pediatrician; Darius Sanders, MSW, LCSW-C, social worker; and Amy Kordek, CPNP-PC, PMH, pediatric nurse practitioner with the Center for Development and Learning.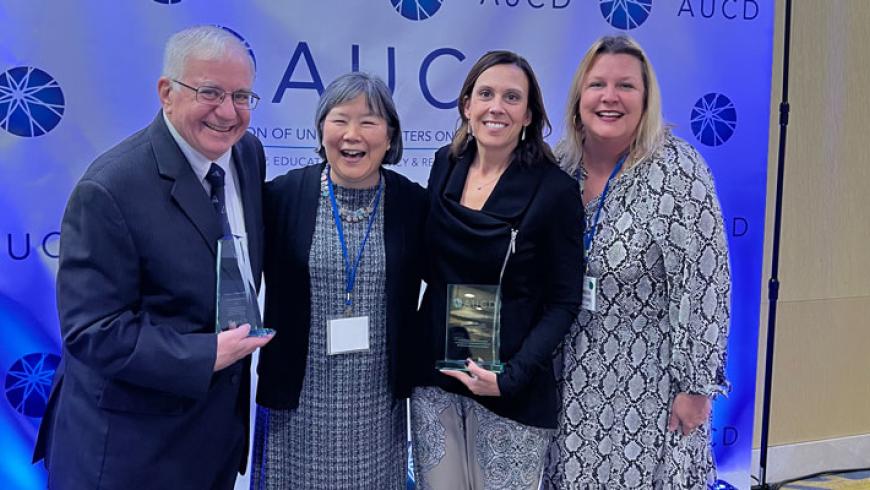 Pictured: Dr. Bruce K. Shapiro, Dr. Miya Asato, Beth Benevides and Maureen van Stone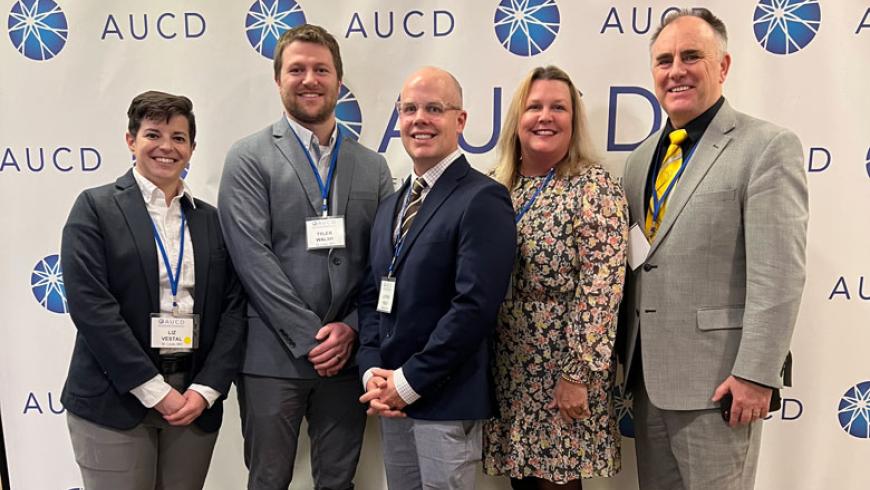 Pictured: Liz Vestel, Tyler Walsh (Washington University, St. Louis), Luke Kalb, Maureen van Stone and George Gotto (UMKC – Institute for Human Development)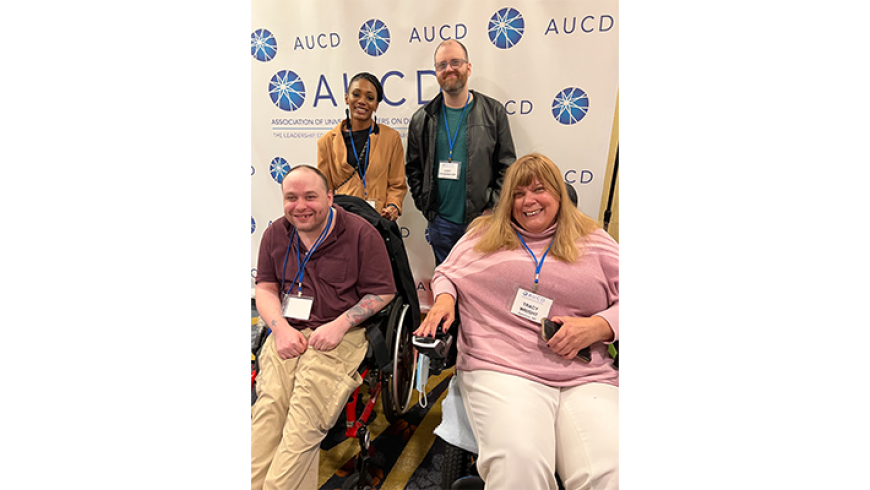 Pictured: POG staff members Mat Rice, Tracy Wright, Devin Wylie and Cody Drinkwater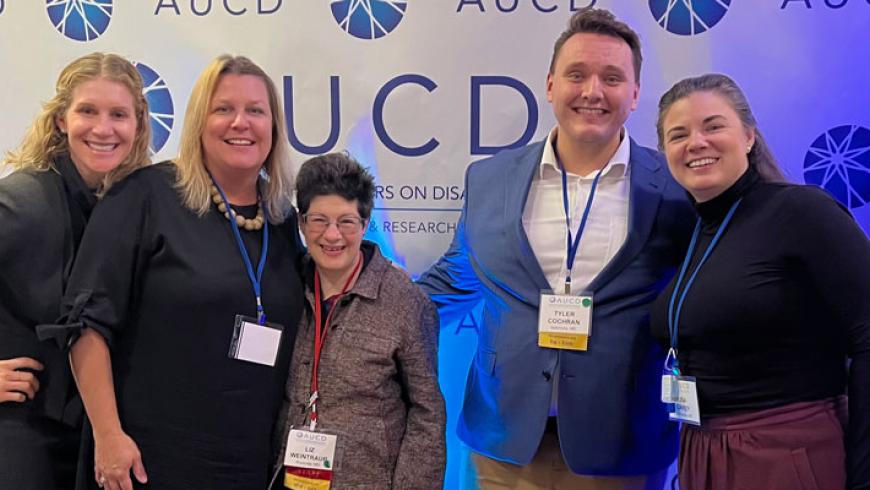 Pictured: Tracy Waller, Maureen van Stone, Liz Weintraub (AUCD), Tyler Cochran and Lisa Carey
Front row: Peter Shireman, Tracy Waller, Tami Goldsmith and Chris Mason-Hale
Back row: Maegan Barber, Tyler Cochran, Dr. Miya Asato, Lisa Carey, Jocelyn Feller, Emily Arneson, Dr. Brad Schlaggar, Dr. Mirian Ofonedu and Maureen van Stone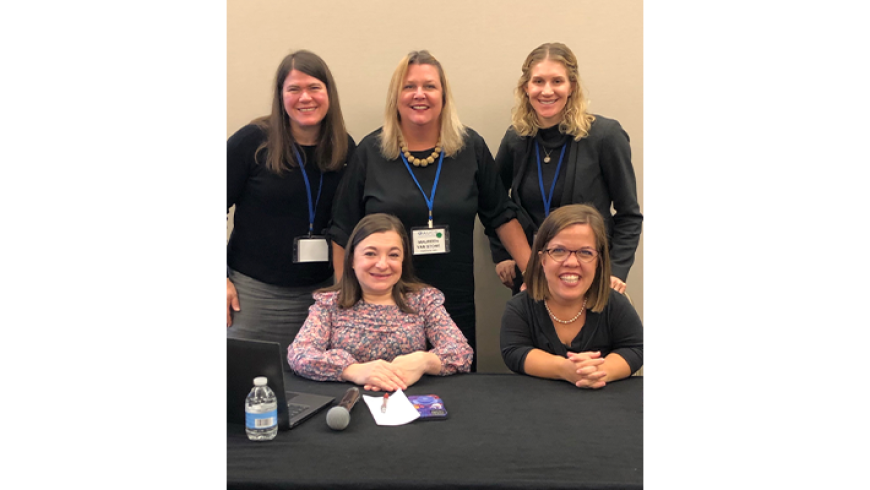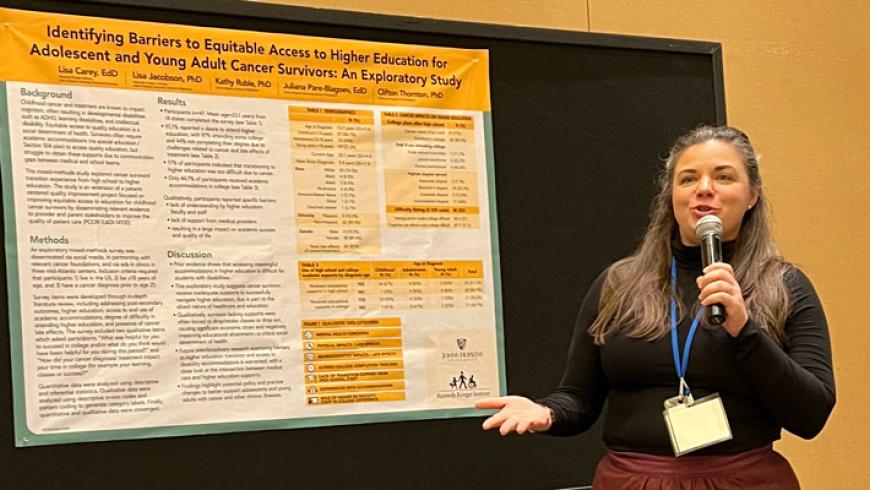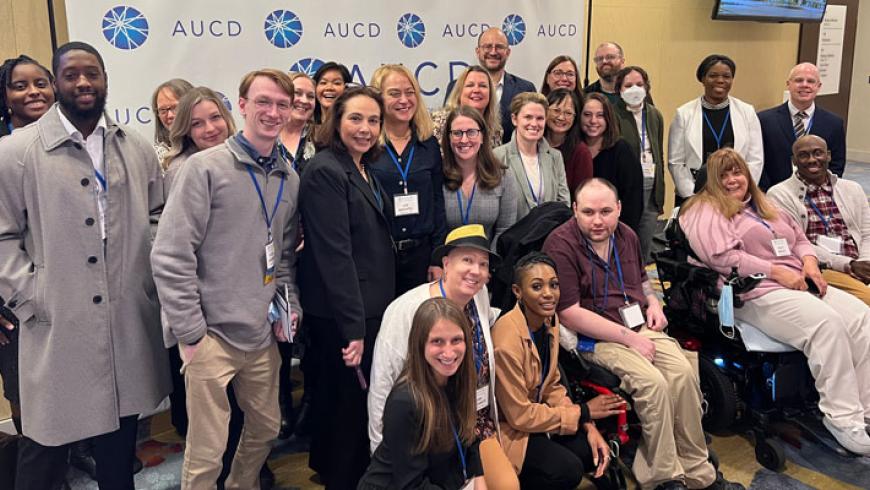 Pictured: Kennedy Krieger faculty members, staff members and trainees