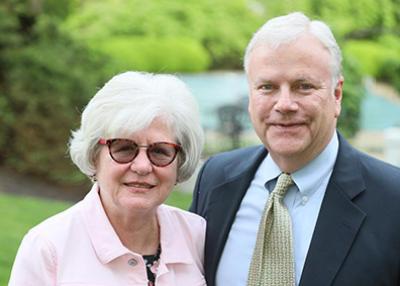 Longtime donors Sam and Donna Wright like to remind folks at Kennedy Krieger Institute that their daughter Jennifer may, in fact, have the largest patient file at the Institute. They are a grateful patient family whose daughter Jenny, a busy, involved and talented young lady, was born with Down syndrome. Jenny has been coming to Kennedy Krieger for more than 40 years, and has seen many doctors and specialists at the Institute along the way.
The Wrights have been loyal and steadfast supporters of the Institute for a very long time. This year, the Wrights decided to do something special to honor a faculty member at the Institute who had just announced his retirement. Dr. Joseph Pillion served as the director of the Institute's Audiology Clinic, and was instrumental in helping Jenny over the years with specific issues related to hearing. In gratitude for the years of excellent care and treatment that "Dr. Joe" provided to Jenny and their family, the Wrights decided to do the following:
Provide funds for a new audiology booth given specifically in honor of and in gratitude to Dr. Joseph Pillion. The booth will allow clinicians to perform and enhance testing and evaluations for patients of all ages at the Audiology Clinic.
Give additional support to Jenny's Fund, which the Wrights established three years ago as a resource to support patients at the Institute in need of financial assistance to obtain and purchase hearing aids to enhance their quality of life.
Donate funds to establish a new Hearing Aid Loan Bank program at the Audiology Clinic to allow the Institute to purchase hearing aids and devices that patients of all ages may borrow while their own aids and devices are being repaired.
Thanks to special donors like the Wrights, who are always thinking of ways to help others and give back, Kennedy Krieger is able to transform the lives of children with developmental issues through groundbreaking research and innovative treatments.
For your support of the Audiology Clinic, "hear's" to you, with tremendous admiration and appreciation, Donna, Sam and Jenny!