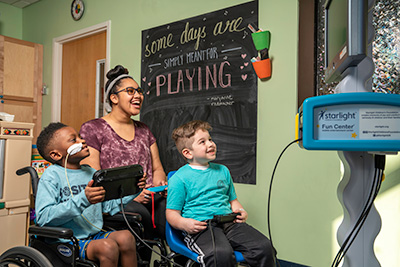 This past winter, Ted Bauer, owner of The Valley Inn and The Oregon Grille, was invited by Lisa Vogel, co-president of the Women's Initiative Network (WIN), to tour Kennedy Krieger Institute and learn more about its services. Ted's experience, like that of so many who visit Kennedy Krieger, was profound, and through his family's foundation, he pledged to support the Institute in a meaningful way.
In May, Ted and the Charles T. Bauer Charitable Foundation made an indelible impact on the fourth annual Hats & Horses, an event hosted by WIN to benefit Kennedy Krieger. Funds raised from this year's event supported the much-needed renovation of Kennedy Krieger's Greenspring Campus pool, used daily by the Institute's LEAP Program, which serves students with severe autism spectrum disorder and behavioral challenges. The pool is also used by the Institute's Physically Challenged Sports Program, which offers a variety of adaptive sports programs, and is a major component of Kennedy Krieger's Motor Development Program for children ages 2 through 7.
The event was supported generously by many corporate sponsors, foundations and individuals; however, the Charles T. Bauer Charitable Foundation offered a $50,000 grant to match all funds raised during a live 'ask' that evening. Through this gift, guests were inspired to give generously and raised an additional $50,000 to match the foundation's grant, allowing WIN to complete the event having raised $430,000 to support the renovation of the Greenspring Campus pool.
But the foundation's generosity didn't stop there. It extended to Kennedy Krieger's Child Life and Therapeutic Recreation Department through an additional $67,350 grant benefitting more than 12,500 outpatients and 350 inpatients of the 24,000 patients served by the Institute. Recognizing that hospitalization can be a difficult and traumatizing time for patients with disabilities, disorders or illnesses, and understanding that children are often easily overwhelmed by the uncertainty and unfamiliarity of medical procedures, the Charles T. Bauer Charitable Foundation supported the Child Life and Therapeutic Recreation Department with resources to help patients attain therapy and rehabilitation goals in fun and engaging ways.
The grant allowed the department to purchase a wide variety of educational dolls, models, child-size medical equipment and books; coping aids; electronic and pretend play games; adaptive art and creative expression supplies; and furniture and accessories. Of the items purchased with grant funds, the patients have particularly enjoyed using the three Starlight Fun Centers—mobile units that allow children to bring family-friendly video games and movies into their hospital rooms—and medical education dolls, which are used as teaching aids to explain diagnoses and procedures to children. The foundation's support is playing an important role in helping children reduce their frustrations, anxieties and insecurities regarding medical care, and is ultimately helping them meet their therapy goals and achieve wellness more quickly.