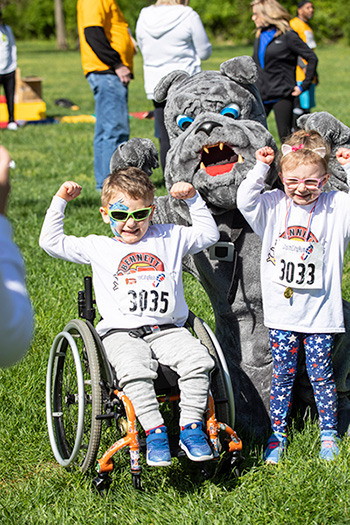 On a howling, windy morning, we were BLOWN AWAY by the generous support we received from everyone who participated in ROAR for Kids!
More than 1,000 registered participants came to Oregon Ridge Park in Cockeysville, Maryland, on Saturday, April 27, to take part in Kennedy Krieger's annual ROAR for Kids event. The 5K run, low-mileage walk and family festival raised more than $100,000 to support research and programs benefitting children and families at Kennedy Krieger. Attendees enjoyed the Jungle Festival, which featured the Wegmans Wellness Village, carnival games, face painting and the ROAR for Kids Mascot Challenge, an obstacle course race featuring local mascots from Baltimore sports teams, high schools and universities.
Congratulations to Landon Brown, the winner of the annual ROAR for Kids Cara Becker Youth Fundraising Award. Landon received the award this year for the third year in a row, raising more than $3,700 for the Bennett Blazers adaptive sports team at Kennedy Krieger. Over the past three years, he's raised at total of nearly $10,000—the true embodiment of Cara's fundraising spirit.
This year's ROAR for Kids was a ROARing success, and we'd like to extend a special thank-you to all the sponsors, participants and volunteers who helped make this event possible!