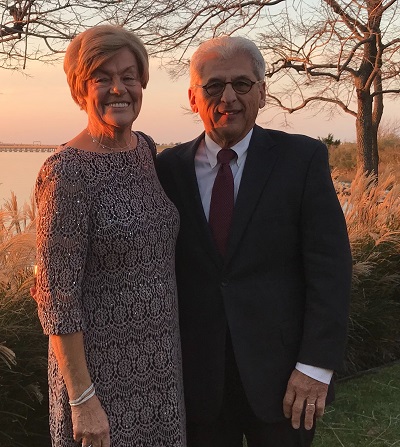 Nearly 25 years ago, Tony and Laura Roussos accompanied their son, Thomas, and his elementary school class to Kennedy Krieger Institute's inpatient hospital. The classmates sang holiday songs to the patients at the hospital, and Tony remembers the experience so vividly that it still brings tears to his eyes. He recalls the patients—some in hospital beds, others sitting in wheelchairs—with their parents and caregivers behind them, exuding joy despite the circumstances that had brought them to the Institute. Seeing this, Tony, Laura and the other parents of the schoolchildren felt incredibly emotional, and very lucky that their kids didn't have serious medical needs.
A year later, Thomas experienced complications from juvenile rheumatoid arthritis, nearly losing his vision. After many years of treatment, Johns Hopkins Medicine's Wilmer Eye Institute saved his eyesight, and Thomas has had no lasting repercussions. Tony and Laura have felt incredibly lucky, and very grateful.
Today, Tony and Laura's niece Amber O'Connor is a pediatric respiratory therapist in the Pediatric Intensive Care Unit at Johns Hopkins Children's Center and many of her patients are also seen at Kennedy Krieger. When she shared with Tony and Laura the deep impact that caring for these children has had on her life, Tony and Laura recalled their visit to Kennedy Krieger, as well as their son's many years of treatment at the Wilmer Eye Institute. Their memories prompted them to become involved.
The Roussos are grateful for their many blessings, and they want to help those in need at Kennedy Krieger. After learning about the Mary Snyder-Vogel Family Fund—which helps families of patients and students at Kennedy Krieger cover the costs of items such as equipment, medication and services not covered by insurance, and offers one-time grants to help families pay for basic and incidental needs—Tony and Laura generously committed $50,000 to the fund. Through their donation, they hope to provide support to many families in need.