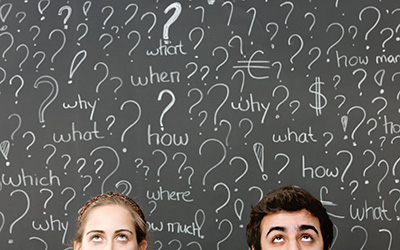 The topic of sexuality is one that's a challenge for many people to talk about. The challenge is compounded when individuals have specialized learning needs.
What if we were able to engage with people with developmental disabilities, enlist them in sexuality education efforts, and support them in being sexual self-advocates? What kind of impact would this have on their sexual health and safety?
In our culture, overall messages about sexuality can sometimes be quite negative. This is particularly true for many individuals with developmental disabilities. It's even been said that it can sometimes be easier to be a self-advocate than a sexual self-advocate.
The cultural message is often "You are not sexual," while paradoxically, another message is "You are oversexed"—or variations on the theme of "You can't handle this subject because it will give you ideas" or "You won't be able to control yourself if we talk about your emerging sexuality."
Disability activist Anne Finger says it best: "Sexuality is often the source of our deepest pain. It's easier for us to talk about and formulate strategies for changing disability discrimination in employment, education and housing than to talk about our exclusion from sexuality and reproduction."
Many parents and professionals believe that adults with developmental disabilities will "always be children." You often hear "Yes, they may be 18, but they have a cognitive age of 5."
The damaging belief that results from this kind of thinking is that these individuals don't need any information about sexuality, which leaves people with developmental disabilities at risk for all kinds of negative consequences. Cognitive age has little to do with biological, sexual age.
As Isaac Thomas, a 21-year-old student at Valencia College in Florida, told Teen Vogue, "…just because a person has a disability, does not mean they don't still have the same hormones and sexual desires as other individuals. It's even more important that they teach sex education to people with disabilities so they're not taken advantage of in any kind of sexual way."
When the human body develops ahead of a person's cognitive abilities to handle such changes, this can be a true challenge. The potential for sexual abuse and feelings of loneliness are often byproducts of not addressing this topic in healthy ways.
So how can we change this scenario? Can we begin to see adults with developmental disabilities as sexual beings who deserve and want sexuality education?
Even those with lower cognitive ages know that something is going on with their bodies. The realization can be normalized through education, or—in the absence of guidance and education—it can promote fear, confusion, and inappropriate or harmful behavior.
Hormonal changes occur at a biological level regardless of a person's cognitive abilities. The challenge is to craft the needed sex education to match the cognitive level of the adult.
Here are some steps that can be useful in the pursuit of sexuality education for adults with developmental disabilities:
Respect and involvement: Develop a "solution mindset." Those with developmental disabilities need to be represented as part of the solution, with their contributions valued. So often people with any kind of disability are frequently NOT included in decisions about their bodies, their education and their care. In addition, disability of any kind should not spell the end of intimacy or romance.
 
Review your own beliefs: How you perceive human sexuality, especially as it relates to people with developmental disabilities, will impact how you frame your thoughts and messages when presenting a sex education curriculum. Examine your fears and biases to see if they affect your communication or language use.
 
Pay attention to biology: It's undeniably powerful and cannot be ignored. Topic content needs to be based on biological age but tailored to cognitive age. Existing teaching materials often aren't easily adapted, or accessible, for those with developmental disabilities. Sexual awareness plays a large role in personal protection. That is why sex education is critical.
 
Teach sexual self-advocacy as a part of advocacy: All people need to advocate for themselves—in life and in relationships. This also goes hand in hand with teaching advocacy about the right to be in a relationship, about the right to say "no," and the right to learn from mistakes made in a relationship. Everyone is entitled to a learning curve.
 
Acknowledge that teaching safety strategies is important: The U.S. Department of Justice reports that 68% to 83% of women with developmental disabilities will be sexually assaulted in their lifetimes, and less than half of them will seek assistance from legal or treatment services.
People with a cognitive functioning disability have a higher risk of violent victimization than people with any other type of disability. In addition, only 3% of sexual abuse cases involving people with developmental disabilities will ever be reported.
 
Recognize commonalities: When listening to adults with developmental disabilities, talk about what they want in a relationship and about the messages they routinely receive about sexuality. You will discover many commonalities, because so many of us share the same wishes and goals when it comes to relationships, both platonic and romantic. Establishing common ground facilitates necessary dialogue.
It would be wise to embrace the concept that adults who are developmentally disabled hit every spot on the sexual identity continuum, from straight to gay, cis to trans, sexual to asexual, romantic to not romantic, and more. Therefore, informing individuals about the gamut of sexual health and autonomy is essential if true inclusion is to be achieved. Most standard sex education curricula concentrate more on heterosexual aspects and on the negative aspects of sexuality (HIV, STDs, unwanted pregnancy, assault), without thorough coverage of identity or safety issues.
Workshop News
Kennedy Krieger Institute will host an Elevatus Training Program, "Becoming a Sexuality Educator and Trainer," during a three-day workshop to be held November 13–15 at Kennedy Krieger. It is geared toward anyone who works with individuals with developmental disabilities and wants to lead sexuality education classes and staff/parent training sessions.
To register, follow this link: https://www.eventbrite.com/e/developmental-disabilities-and-sexuality-becoming-a-sexuality-educator-and-trainer-november-registration-62262464708
For free resources on this topic go to:
https://www.elevatustraining.com/free-resources/

Tailored online options for parents and educators can be found at:
 https://www.elevatustraining.com/workshops-and-products/

Sample workshop discussions cover how to guide adults with developmental disabilities on various pragmatic topics. To name a few:
What it feels like to be attracted to someone as more than a friend
Learning ways to show you are interested in someone as more than a friend
Practicing ways to ask someone out
How to deal with different kinds of sexual pressure
Types of relationships
What makes one person attractive to another person (platonically or intimately)