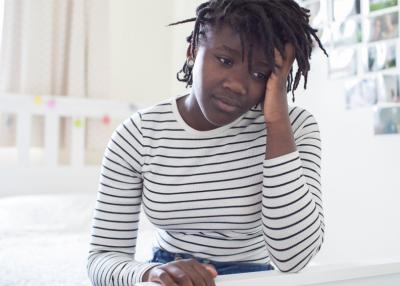 Adolescence is, indeed, a time of transition and change, but severe, dramatic or abrupt changes in behavior can be strong indicators of serious mental health issues. There is a quiet crisis in our country, one that needs every parent's attention.
According to a study led by Luther Kalb, PhD, a researcher at Kennedy Krieger Institute, psychiatric emergency department visits among youth ages 6 to 24 increased by 28 percent between 2011 and 2015. Visits spiked 54 percent for teens, 53 percent for African-American youth, and 91 percent for young Hispanic patients. Suicide-related visits climbed more than two-fold during the study period.
Mental health conditions are common among teens and young adults. One in five live with a mental health condition—half develop the condition by age 14, and three-quarters develop it by age 24.
Adolescence isn't an easy time for parents, either. Tumultuous transitions can occur for teenagers and run the gamut from physical, emotional and hormonal changes to sexual, social and intellectual changes. The parenting experience changes rapidly as a child ages and becomes a teenager. Many parents feel ill-equipped for these new transitions and find it difficult to identify mental illness in their children.
Discerning between typical change in your teenager and a behavioral red flag signaling something more serious is occurring is a challenge. There are no simple tests to determine if something is wrong, though evaluation and diagnosis by a competent psychiatrist, psychologist, social worker, psychiatric nurse, mental health counselor or behavioral therapist is very helpful. Overcoming shame and fear are essential to seeking a proper evaluation.
It is important to seek counseling or medication assistance for your teen before an emergency room visit becomes the only option. Some red flags are listed below—these signs may indicate anxiety or mood disorders, clinical depression, eating disorders, drug abuse, or other mental health diagnoses.
Excessive sleeping (sleepiness beyond the usual teenage fatigue) or insomnia, difficulty sleeping, frequent nightmares
Abandonment or loss of interest in favorite pastimes or activities
Unexpected or dramatic decline in academic performance
Weight loss
Loss of appetite
Excessive worrying or fear
Extreme mood change or confused thinking
Delusions or hallucinations
Substance abuse (alcohol or drugs, including prescription drugs)
Ideas of suicide
Multiple physical ailments without obvious causes (headaches, stomach aches, etc.)
Hyperactive behavior or routine lethargy
Frequent temper tantrums, aggression or harm to self or others
This is not an exhaustive list. A competent mental healthcare provider can evaluate your teenager using the Diagnostic and Statistical Manual of Mental Disorders as a guide.
If you are worried about your teenager, contact these sources for help: