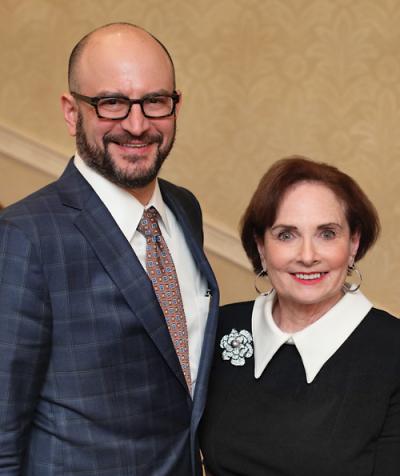 When Lainy LeBow-Sachs came to Kennedy Krieger Institute in 1995, she was the first and only staff member dedicated to fundraising and outreach for the Institute. A Massachusetts native and former Philadelphia schoolteacher, she'd served for 16 years as special assistant to William Donald Schaefer— former Baltimore mayor, Maryland governor and state comptroller—and was looking for a new opportunity to do some good in the world.
But no one could have imagined just how successful she'd be at raising funds to help Kennedy Krieger grow and treat ever more children each year.
During her 23 years at the Institute, Lainy, who retired in December, led three capital campaigns that, collectively, raised $117 million for Kennedy Krieger, whose External Relations Department staff now numbers more than 30 members. Under her watch, the Institute's famed Festival of Trees, which celebrates its 30th anniversary this year, has grown to become the largest fundraising event of its kind on the East Coast. Last year, the Baltimore Business Journal ranked it the eighth-largest fundraising event in the Baltimore region, and readers of Maryland's Daily Record newspaper voted it "Best Charity/Fundraiser."
Her combination of connectivity, tenacity and keen insight is unlike any other. She is truly and remarkably unique.

- Dr. Brad Schlaggar
"As I was contemplating joining Kennedy Krieger this past year, I was told by many I met: 'Wait until you meet Lainy—she's a legend,'" says Dr. Brad Schlaggar, the Institute's new president and CEO. "It did not take long for me to understand how extraordinary she is and how integral she has been to the success of the Institute."
Lainy's incredible work ethic and passion for doing everything within her power to help others are renowned. She's given countless tours of Kennedy Krieger to inspire companies and individuals to become donors, sponsors, volunteers or advocates, and she's wellknown in the Maryland State House and the U.S. Capitol, where she's made many a successful appeal for funding.
"She's left an indelible mark on the Institute, and her outreach and relationship-building have helped us transform and expand to serve greater numbers of children with our hope, education, research and healing," Brad says. "She's helped us change the trajectory of thousands of children's lives."