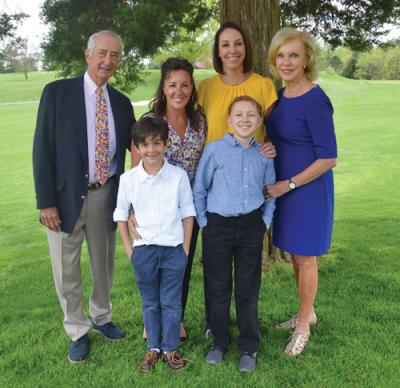 Shelley Cortezi clearly remembers her mother-in-law, Lynn Cortezi, calling nearly four years ago, to say Ben, Shelley's nephew, had a brain tumor. "I'll never forget how scared I was," Shelley says.
Ben, then 7, had been having headaches for a while. His parents, Meg Cortezi and Leslie Bellavia, thought maybe he was having concussions and took him to get an MRI. That's when they learned about the tumor. "Telling Ben he had cancer was probably the hardest day," Leslie says. "The look on his face—I'll never forget."
Ben's extended family, mostly from Maryland and Virginia, rallied around him. "We spent the entire summer together, doing what we could to help Ben," Shelley says. Ben had two brain surgeries and was a patient of Kennedy Krieger Institute's inpatient rehabilitation and outpatient day hospitals. With several hours a day of intense therapies, Ben was soon back to his old self, playing with Pokémon cards, reading Harry Potter books and playing with his little brother, Finn.
If we do our part, maybe we can help other children, too - Shelley Cortezi
"Kennedy Krieger's team of specialists is unlike any other," Meg says. "They created such a safe, wonderful and supportive environment for Ben."
"After Ben started getting better, supporting Kennedy Krieger was the easy part," Shelley explains. In early 2016, when the Cortezis learned the Women's Initiative Network (WIN) for Kennedy Krieger, which Lynn had joined in 2015, was organizing its first Hats & Horses fundraising event, they decided to support it.
Ever since then, the Cortezi family has helped ensure the annual Derby-themed event's success through generous sponsorships. And Shelley, also a WIN member and part of WIN's Hats & Horses Event Committee this year, has helped secure additional sponsorships and auction items for the event.
"I don't think anyone ever thinks they'll need Kennedy Krieger's services until, all of a sudden, they do," Shelley says. "It's important for us to support the Institute because as a family, we really needed it that summer."
Visit the Pediatric Rehabilitation Continuum page to learn about the Institute's Pediatric Rehabilitation Continuum, and to watch a video about Ben.