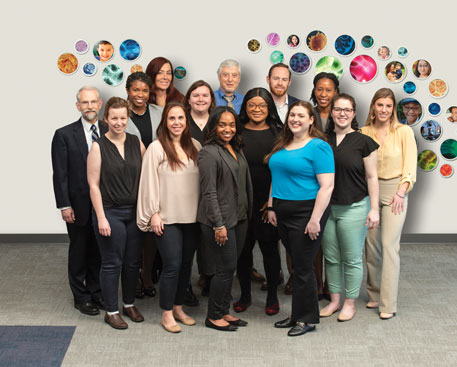 As one of the world's top centers for research on neurodevelopmental and neurological disorders, Kennedy Krieger Institute hosts dozens of studies and clinical trials each year to learn more about rare and common disorders and diseases, and to identify new treatments for individuals with these conditions.
At the heart of this life-changing work is Kennedy Krieger's Clinical Trials Unit, which serves as both a resource for researchers working across the Institute's many different departments and programs, and a nucleus of investigative inquiry—all with the aim of improving life for children, adolescents and adults with nervous system disorders around the world.
Leading the Clinical Trials Unit is Dr. Erika Fullwood Augustine, who joined the Institute's faculty in the fall of 2020. "Our goal is to make sure that, in the long run, every person affected by a neurodevelopmental or neurological condition has access to effective treatment," says Dr. Augustine, whose background is in experimental therapeutics, with a specialization in rare neurological diseases.
"I would like to see every interested and eligible person have the opportunity to participate in research and clinical trials at the Institute, and for the clinical trials team to continue to make meaningful contributions to clinical care—taking research from the lab to patients," she says.
An Opportunity for Every Patient
The Clinical Trials Unit was established a decade ago. "We're a source of knowledge in study operations, clinical research regulation and ethical research conduct for the entire Kennedy Krieger research community," Dr. Augustine says. "Our coordinators are uniformly experienced in neuroscience and neuropsychology—their backgrounds are well-aligned with the mission and vision of the Institute. They're drawn to Kennedy Krieger because of their existing interest in and knowledge of neuroscience, and that makes us unique as a trials unit."
The Clinical Trials Unit team, which includes Jennifer Bodensteiner, manager of medical program operations, is working to broaden its scope and reach to serve more researchers at the Institute and more individuals with rare and common disorders and diseases. "We're looking to grow our portfolio of trials available to the patients we serve, so that if someone comes in with a diagnosis, we can say, 'Here are some research opportunities that you can participate in.'"
One category of trials the team is launching involves gene-targeted therapies for neurological conditions caused by genetic mutations. "The therapies, by targeting the main cause of each condition, have a high likelihood for success," Dr. Augustine says. "Some of these upcoming studies will be the first trials ever for a given condition."
A Long-Awaited Trial
Other work done by the Clinical Trials Unit involves supporting researchers in testing new uses for existing drugs. Dr. Doris G. Leung, director of the Institute's Center for Genetic Muscle Disorders, has been working with the Clinical Trials Unit across many research projects for muscular dystrophies, including a current trial of an existing drug to help individuals with myotonic muscular dystrophy. The drug, pitolisant, is approved for the treatment of narcolepsy, and Dr. Leung and her team are looking to see if it could also be used to reduce fatigue for people with myotonic muscular dystrophy.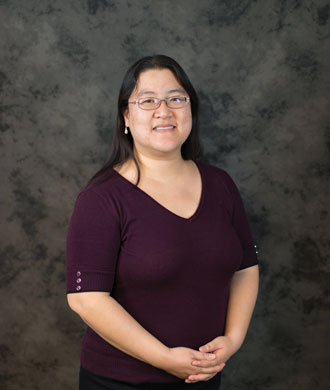 Most clinical trials of treatments for muscular dystrophy are typically for Duchenne muscular dystrophy, Dr. Leung explains. "This trial of pitolisant is only the second clinical trial we have been able to offer for myotonic muscular dystrophy at our center," she says. "This disease can involve more organ systems than most other types of muscular dystrophy, which is partly what makes it so complicated—it's hard to study diseases that are variable from one person to the next."
One of the more disabling symptoms of the disease is fatigue, and Dr. Leung and her team are studying whether pitolisant can help with that. The pharmaceutical company that makes pitolisant is sponsoring the trial, which is enrolling 135 people across 22 sites in its current phase.
How Donors Can Help
The Clinical Trials Unit also helps researchers do the preparatory work needed before a clinical trial can be done, and this is where donations can truly make a difference.
Gail Smith, whose two children and late husband have received care at Kennedy Krieger for myotonic muscular dystrophy, has supported the Center for Genetic Muscle Disorders for the past five years. "We have the ability to give, and this is where we would like to give—to the organization that has kept my family living as full of life as they can," she says. The center is "life-changing and life-sustaining in many ways," she adds. Her donations have helped the center serve individuals with muscle disorders through clinical research as well as patient care.
To know that there are donors who support our work means so much to all of us." – Dr. Erika Augustine
"Donors can help us advance research and treatment by funding research that is preparatory to trials, which is fundamental," Dr. Augustine says. That research could involve early discoveries that could lead to sponsored clinical trials, or it could be gathering data on patients to determine what symptoms potential treatments should target and how best to measure or evaluate those symptoms. "Pilot studies and preparatory research all need financial support, and that is critical," Dr. Augustine says.
"Donor funding also helps us expand and update our space and resources to ensure that research participants and their families have a welcoming, comfortable environment to be in when they are participating in a research study," she adds. And donors can help support the cost of transportation for people participating in clinical trials, Dr. Leung says. "Being able to support travel to and from a trial makes an enormous difference in the success or failure of the trial."
Donor funding also helps the Institute hire more researchers and supporting staff members. For example, Dr. Augustine's appointment was made possible in part by generous donations from two Maryland women, Audrey Clark and Eleanor Requard, who left gifts to the Institute in their estate plans.
That donors give to Kennedy Krieger "represents a kind of trust," Dr. Augustine says. "It signals to me that people look to Kennedy Krieger as a resource, and think of that resource as being of sufficiently high enough quality that they are looking to invest in it. To know that there are donors who support our work means so much to all of us."
To learn more about how you can support clinical trials at Kennedy Krieger, email
Foundation@KennedyKrieger.org
and ask to speak with a gift officer from our Office of Philanthropy.