Amid the many challenges and changes of the past year, two transformational bequests offer hope and reassurance that Kennedy Krieger Institute can—and will—continue unwaveringly in its mission of serving patients and students, and their families, throughout the pandemic and beyond.
The generous gifts—$1.2 million from Audrey Clark, of Catonsville, and $5.4 million from Eleanor Requard, of Easton—are the largest bequests ever received by the Institute from individuals.
Audrey and Eleanor, both Marylanders who passed away in 2019, were members of the Institute's Lainy LeBow-Sachs Sterling Society, which includes donors who've made annual gifts to Kennedy Krieger for 25 years or more. Both lived simply so they could give generously. Yet during their lives, their family members had no idea of the charitable bequests the two women would leave.
An Unlikely Millionaire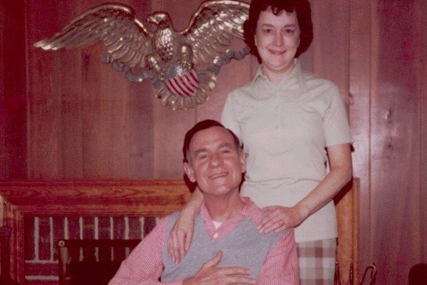 Audrey was a warm and funny aunt, a frugal family member and, in some ways, an unlikely millionaire, says her niece, Wendy Welch. Audrey was generous with her time and donations, and after her death, her estate supported several organizations, including Kennedy Krieger.
Wendy describes her aunt as a very private person who was greatly admired by her family. Audrey worked as an executive secretary for B&O Railroad, where she met her husband, Robert Clark, who passed away in 1982. "They were made for each other," Wendy says.
Robert was known to be a savvy investor, and taught Audrey how to invest in the stock market. Over time, she, too, became a knowledgeable investor, but she kept that a secret, preferring to remain humble and modest.
Audrey used her means to support causes that were important to her. "As frugal as she was with herself, she was generous with others," Wendy says. "She … just wanted to give to others. She was not interested in [taking] credit."
Although Audrey and Robert never had children, she loved children and relished watching her nieces and nephews grow up. That love, Wendy believes, is what led her to donate to Kennedy Krieger. On learning of her aunt's bequest, Wendy was thrilled but not surprised. "She was just a delightful person."
These gifts accelerate our work and our ability to recruit and retain the best and the brightest innovators to expand our research capabilities." – Dr. Bradley L. Schlaggar, president and CEO
Audrey placed no restrictions on her gift, allowing the Institute to use it in whatever ways would best serve its mission.
"We are humbled and gratified by her gift. This will strengthen our efforts to provide world-class treatment, therapy, education and research in the realm of pediatric disorders," says Dr. Bradley L. Schlaggar, president and CEO of Kennedy Krieger. "Our work is recognized around the world, and that makes this gift all the more gratifying, because it came to us from a longtime supporter right here in Maryland. Her selfless generosity illustrates the best of humanity, and how everyone—each of us—can truly make a big difference."
A Transformational Gift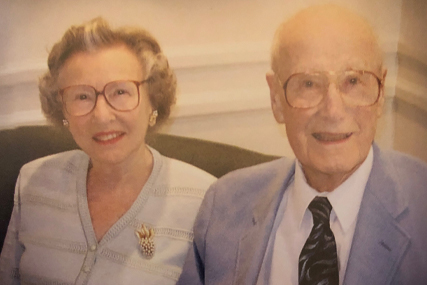 Similarly, Eleanor, who was 104 at the time of her passing, kept her charitable giving under the radar while dedicating her life to serving others. She focused her attention on the causes to which she felt connected, dismissing any attention to herself, explains Mike Brennan, a family friend who also served as Eleanor's attorney.
A lifelong Marylander and graduate of Maryland State Normal School (now Towson University), she received a master's degree in education from The Johns Hopkins University and later served as a supervisor for Baltimore's board of education, before she was chosen to assume the responsibility of implementing kindergarten throughout Baltimore County's public school system.
Eleanor was a trailblazer, and while she and her husband, J. Thomas Requard, who passed away in 2005, had no children of their own, they always sought to improve the lives of children through their philanthropy and volunteering. Their gift to the Institute is the largest the Institute has ever received from a donor or donor couple, says Orlee Engler Kahn, the Institute's director of planned giving.
"It is inspiring to consider the Requards' magnanimity," Dr. Schlaggar says. "We celebrate Mrs. Requard's contributions as an educator during her life. Now, with this legacy gift, her impact continues, inspiring the next generation of innovators here at Kennedy Krieger."
Legacy gifts allow an organization like Kennedy Krieger to wave the magic wand and reach for the stars, to do the things that would otherwise remain a dream or wish." – Orlee Engler Kahn, director of planned giving
While a small portion of Eleanor's gift will be used as an endowment fund, which will grow over time and continue in perpetuity, the majority of her donation will be used to further the Institute's research and recruitment efforts. Thanks to Audrey's and Eleanor's gifts, Kennedy Krieger recently hired Dr. Erika Augustine as its new associate chief science officer and Clinical Trials Unit director. Through her research, Dr. Augustine seeks to bring equity to the lives of children with disabilities, and those growing up in adverse conditions. She also ensures diversity, equity and inclusion in the Institute's clinical trials.
"These gifts accelerate our work and our ability to recruit and retain the best and the brightest innovators to expand our research capabilities," Dr. Schlaggar says. "We are deeply thankful for these profound endorsements of our mission."