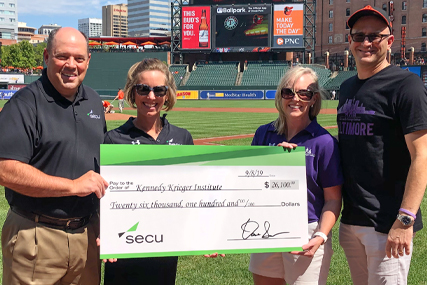 Sarah Ryan's face lights up with pride as she begins to discuss SECU's commitment to community service and Kennedy Krieger Institute. She's the perfect person to direct the recently established SECU MD Foundation, the charitable arm of SECU, a credit union founded in Baltimore in 1951 on the philosophy of "people helping people." 
In 2019, SECU set out to partner with select local organizations critical to the Baltimore community. With the values of the company and its account holders in mind, Sarah and her colleagues selected Kennedy Krieger as a primary beneficiary, representing the future of community health, education, research and rehabilitation.
In the fall of that year, SECU solidified the relationship with Kennedy Krieger by initiating the K's for Kids program in partnership with the Baltimore Orioles. For every strike-out thrown by an Orioles pitcher during a home game, the SECU MD Foundation donated $50 to Kennedy Krieger. SECU also created a VIP game-day experience for a few of Kennedy Krieger's patients and students, and their families, who got to attend batting practice and a meet-and-greet with the Baltimore Orioles mascot, then viewed the game from a ballpark suite. It was a joyous moment for families experiencing immense challenges.
We want to do whatever we can to help." – Sarah Ryan
SECU's K's for Kids initiative raised more than $30,000 in 2019—a spectacular help to Kennedy Krieger's patients and students, and their families. "We're so impressed and inspired," Sarah says of the quality of care she observed during her first tour of Kennedy Krieger, when the SECU leadership team visited many of the Institute's programs, including the International Center for Spinal Cord Injury, Center for Movement Studies, and Child Life and Therapeutic Recreation Department. "Learning about the research and development happening at Kennedy Krieger really helped 'seal the deal' on becoming a long-standing partner with the Institute."
SECU went on to coordinate meal drives for many of Kennedy Krieger's employees and families of patients at the beginning of the COVID-19 pandemic, and months later, signed on as a first-time sponsor of Kennedy Krieger's Festival of Trees. Last holiday season, SECU employees and members donated 285 gifts for Kennedy Krieger's patients and students, and their families.
The spirit of community service is so deeply rooted in SECU's mission that it's only natural for the credit union's generosity to transform its approach to corporate partnership. "Even if we're not the biggest corporate donor," Sarah says, "we hold Kennedy Krieger's mission closely to our hearts, and we want to do whatever we can to help."
Learn more about making a corporate donation to Kennedy Krieger.