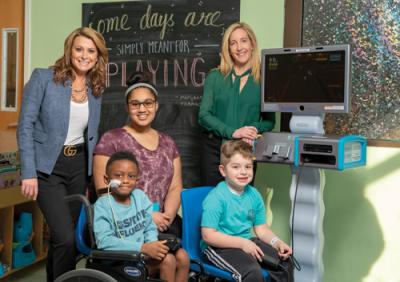 When Aimee Fulchino and Lisa Vogel first joined Kennedy Krieger Institute's Women's Initiative Network (WIN), little did they know just how important it would become in their lives—or how much they'd soon contribute to the success of the organization, which promotes and facilitates volunteerism that assists Kennedy Krieger patients, students and their families.
Their initial tours of Kennedy Krieger were eye-opening: "I had no idea just how much Kennedy Krieger does for Baltimore, let alone for the rest of the world," Aimee says.
Aimee and Lisa are currently the co-presidents of WIN, and both have been on various leadership committees for the organization, including its annual Derby-themed Hats & Horses event, which last year raised more than $300,000 for Kennedy Krieger.
And both involve their children in their work with WIN. They've brought their sons—Aimee has three and Lisa has two—to crafting events at Kennedy Krieger, where they've made decorations for patient rooms, and to help set up the Institute's annual Festival of Trees.
"I try to involve my children as much as I can," Lisa explains. "I want them to know where I'm spending my time, and that it's for the good of others."
Both Aimee, who owns a fitness studio, and Lisa, owner of a home healthcare agency, say the benefits of volunteering with WIN far exceed what they've given the organization.
"The greatest thing about volunteering for WIN is that we get to see exactly where the money we've helped raise is spent, and how it benefits the children of Kennedy Krieger," Lisa says. "It makes the hard work of asking people to donate money worthwhile."
I want my children to know the importance of giving back.

- Aimee Fulchino
"And when you visit Kennedy Krieger, and see Institute employees working so hard to take care of patients and their families, it lifts me up," Aimee adds. "I never leave Kennedy Krieger not feeling better about the world we live in."
Visit the Women's Initiative Network online to learn more.