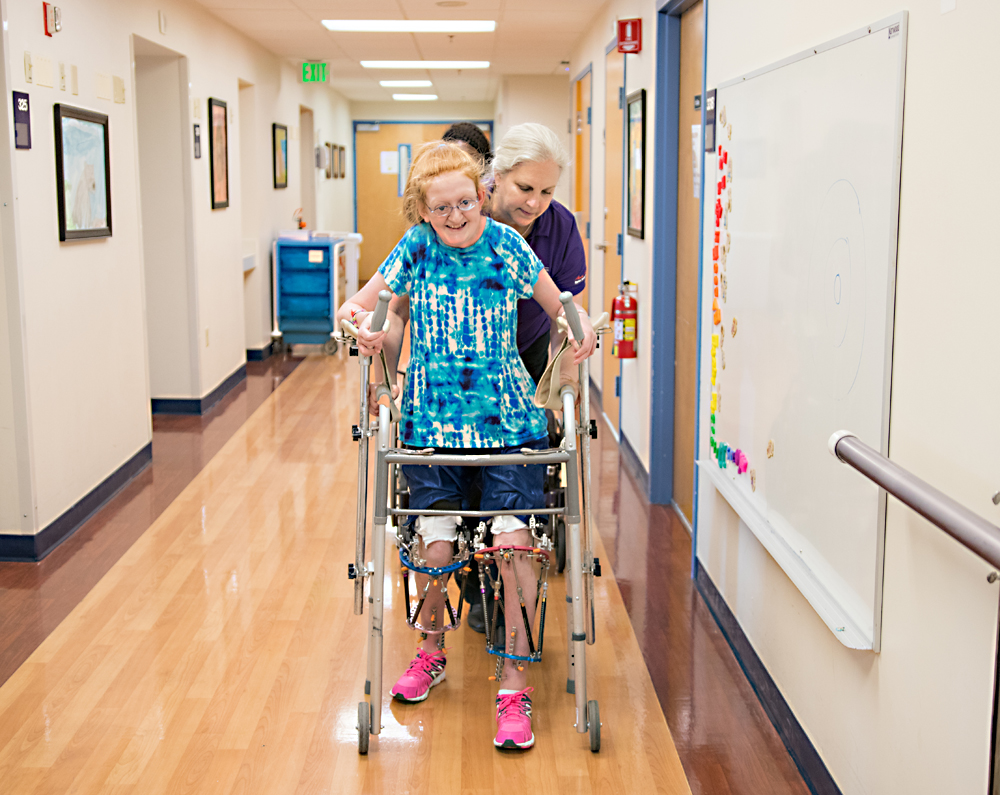 ​
The Rehabilitation Continuum of Care (RCC) provides comprehensive interdisciplinary rehabilitation services to children and adolescents with brain injuries, spinal cord injuries, cerebral palsy (primarily post orthopedic surgery) and other neurodevelopmental disabilities.
About Our Program:
Over 300 patients are served annually by the rehabilitation staff.
The Rehabilitation Continuum of Care is directed by a pediatric physiatrist and includes three levels of services:
Inpatient Services
Pediatric Rehabilitation Unit: This inpatient rehabilitation unit provides comprehensive and interdisciplinary treatment for children and adolescents who have ongoing medical issues and need an intensive rehabilitation program.
Day Programs and Other Intensive Integrated Programs
Fairmount Rehabilitation Programs: The Fairmount Rehabilitation Programs provide all of the therapies needed to treat brain injury at any stage of rehabilitation -- from right after the accident or illness, to several years later. There are a variety of programs available to meet the different needs of each patient. Most of these programs are designed to deliver services for a period of several weeks, for several hours per day.
Post-Orthopedic Surgery Program: Our rehabilitation experts in the Post-Orthopedic Surgery Program offer services for children and adolescents who have had surgery related to congenital, developmental, neuromuscular and post-traumatic orthopedic conditions. Clinicians in this program follow a true interdisciplinary approach, collaborating on individualized treatment plans to address the different needs of children and adolescents recovering from orthopedic surgery.
Outpatient Clinics for Diagnosis, Treatment, and Follow-Up Services
Concussion Clinic: Concussions are mild brain injuries and are one of the most common injuries following a trauma. Leading causes include sports and recreational injuries, falls, and blows to the head. If recognized and treatment properly, most people recover fully from a single concussion. The Neurorehabilitation Concussion Clinic was designed to address the needs of those individuals who experience mild traumatic brain injuries. Treatment and services include checking for overlooked injuries or ongoing problems, assessing patients' best path to optimal recovery, and helping them to return to academic, athletic, and community life. Services are provided by rehabilitation physicians and neuropsychologists.
Pre-Surgical Hemispherectomy Clinic: This clinic provides multidisciplinary baseline evaluation for children, adolescents, and young adults who are candidates for hemispherectomy surgery due to intractable epilepsy. This clinic includes neuropsychology, occupational therapy, and physical therapy services. The team works closely with the Johns Hopkins Epilepsy and Neurosurgery programs, but can also coordinate with other programs to meet patients' individual needs.
Our Team:
The interdisciplinary team consists of: medicine, nursing, occupational and physical therapists, speech-language pathologists, behavioral and neuropsychologists, social workers, educational specialists, nutritionists, child life specialists, recreational therapists, assistive technology specialists and clinical care managers.
The Rehabilitation Continuum of Care is accredited by both the Commission on Accreditation of Rehabilitation Facilities (CARF) and the Joint Commission on Accreditation of Hospital Organizations (TJC) and an active member and supporter of the Brain Injury Association of Maryland, Inc. (BIAM). The RCC's Brain Injury program, established in 1979, was the first CARF accredited Pediatric Brain Injury Program in Maryland.
Our Outcomes:
The Rehabilitation Continuum of Care utilizes WeeFIM, a national pediatric outcome scale, as well as more specific outcomes scales developed at Kennedy Krieger Institute. We are proud that our average inpatient length of stay is reduced to 28.6 days versus 37.9 days for patients who are able to make use of our intensive outpatient programs. Additionally, 10.2 percent of children needing acute interdisciplinary rehabilitation were able to completely avoid expensive inpatient rehabilitation, and have their needs met in alternative programs within the Continuum.
The needs of patients referred to the Rehabilitation Continuum of Care are reviewed by our Admission Team, along with the family and patient, to determine the most appropriate setting and level of care. The overall goal is to assist the child to be as functional as possible in his or her home, school, and community setting.
Kennedy Krieger Measurement Scales:
In the late 1990s, Kennedy Krieger clinicians and staff members began developing ways to measure very low levels of physical and cognitive functioning in pediatric patients. They began by identifying the most important signs of recovery in these children, and then, in the early 2000s, used those signs to create a set of four scales to measure recovery. Now called the now called the Kennedy Krieger Scales, these scales are available to rehabilitation centers free of charge and used around the world. Learn more
Newsletter: Neurorehabilitation Updates
View current and previous issues of Neurorehabilitation Updates
Related Materials and Information:
Pediatric Brain Injury Program (PDF)
Additional Resources: