Upcoming Events:

Join Us! APSE Lunch with Leaders Virtual Sessions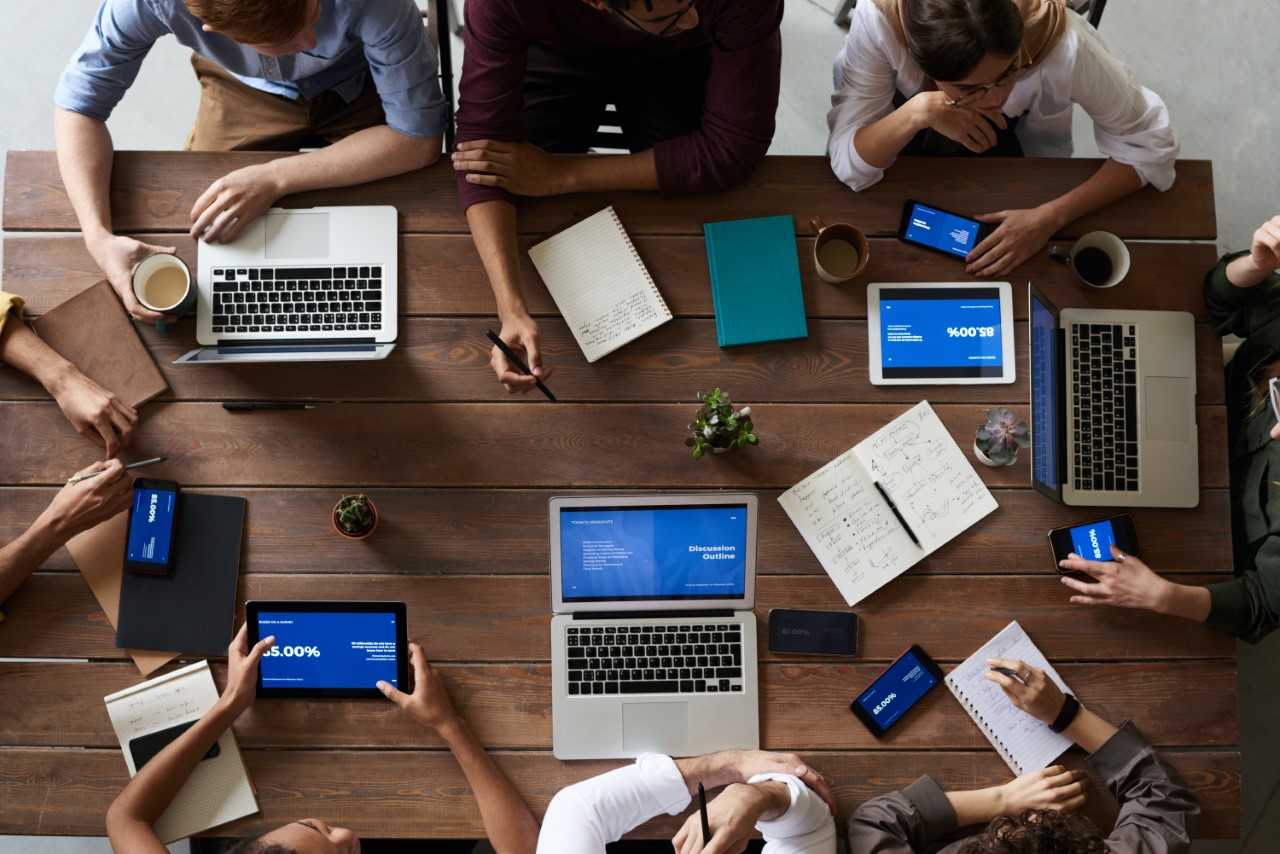 The Association of People Supporting Employment First (APSE) is a membership organization with the purpose of improving employment outcomes for people with disabilities. One of our Maryland chapter efforts is to launch a collaborative outlet for professionals and leaders in the field to share news, experiences, and efforts on a wide variety of topics, that impact the individuals we both serve and advocate on behalf of called Lunch with Leaders.
Join us (virtually) the second Tuesday of each month, from 11:30 a.m. - 12:30 p.m. to hear from leaders across the state of Maryland. Learn more and register here.
 
Business Leaders - How Can We Help?
As more businesses continue to hire individuals with a range of abilities, business leaders need support and guidance from experts in the field of adult services.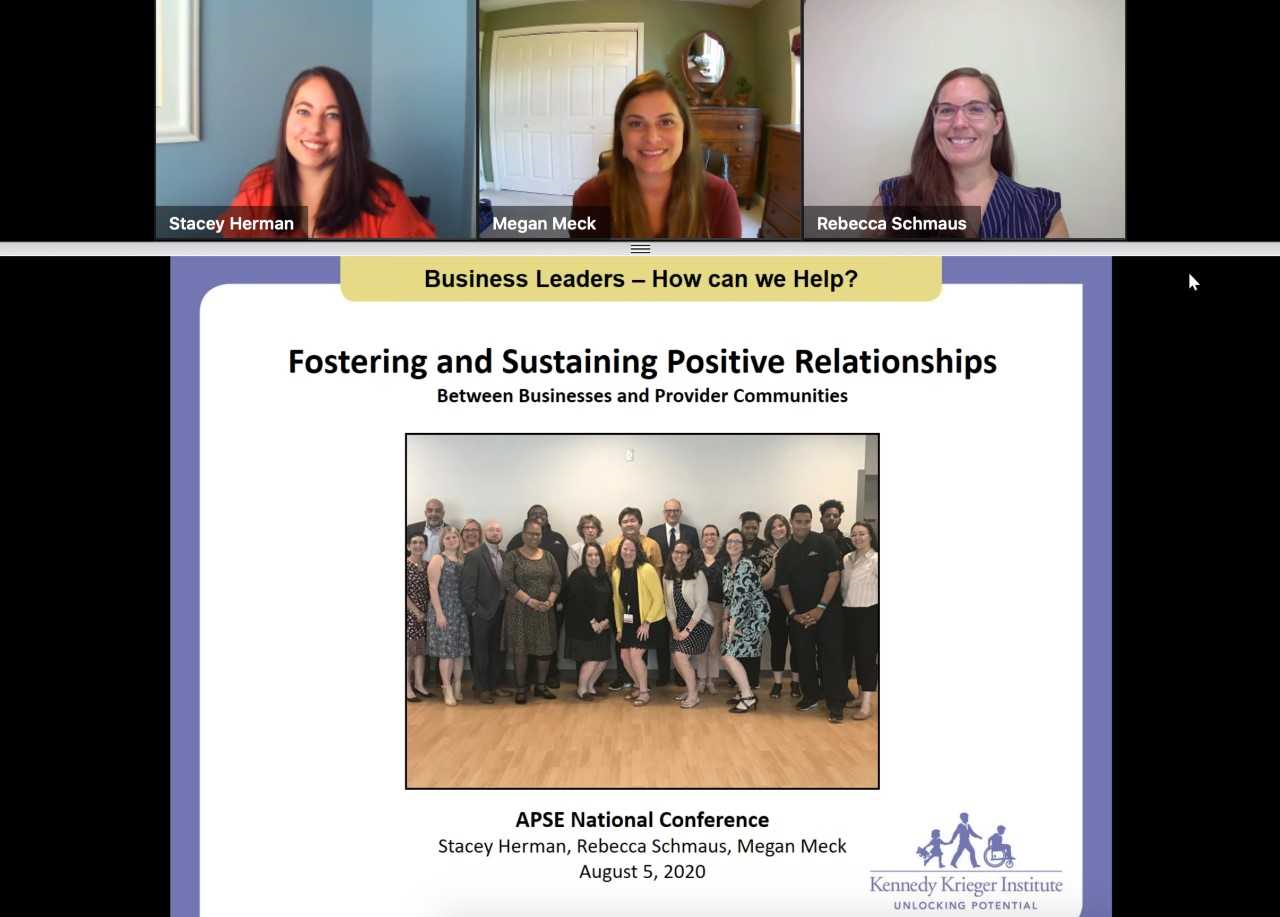 This presentation will focus on how to foster and sustain relationships with community businesses, through the perspective of both the adult service provider and employer. When we build meaningful business partnerships with adult service providers, we allow individuals of all abilities to experience independence and success in the workplace.
This Training was presented by Stacey Herman, Rebecca Schmaus, and Megan Meck of Kennedy Krieger Institute. 
---
June/July: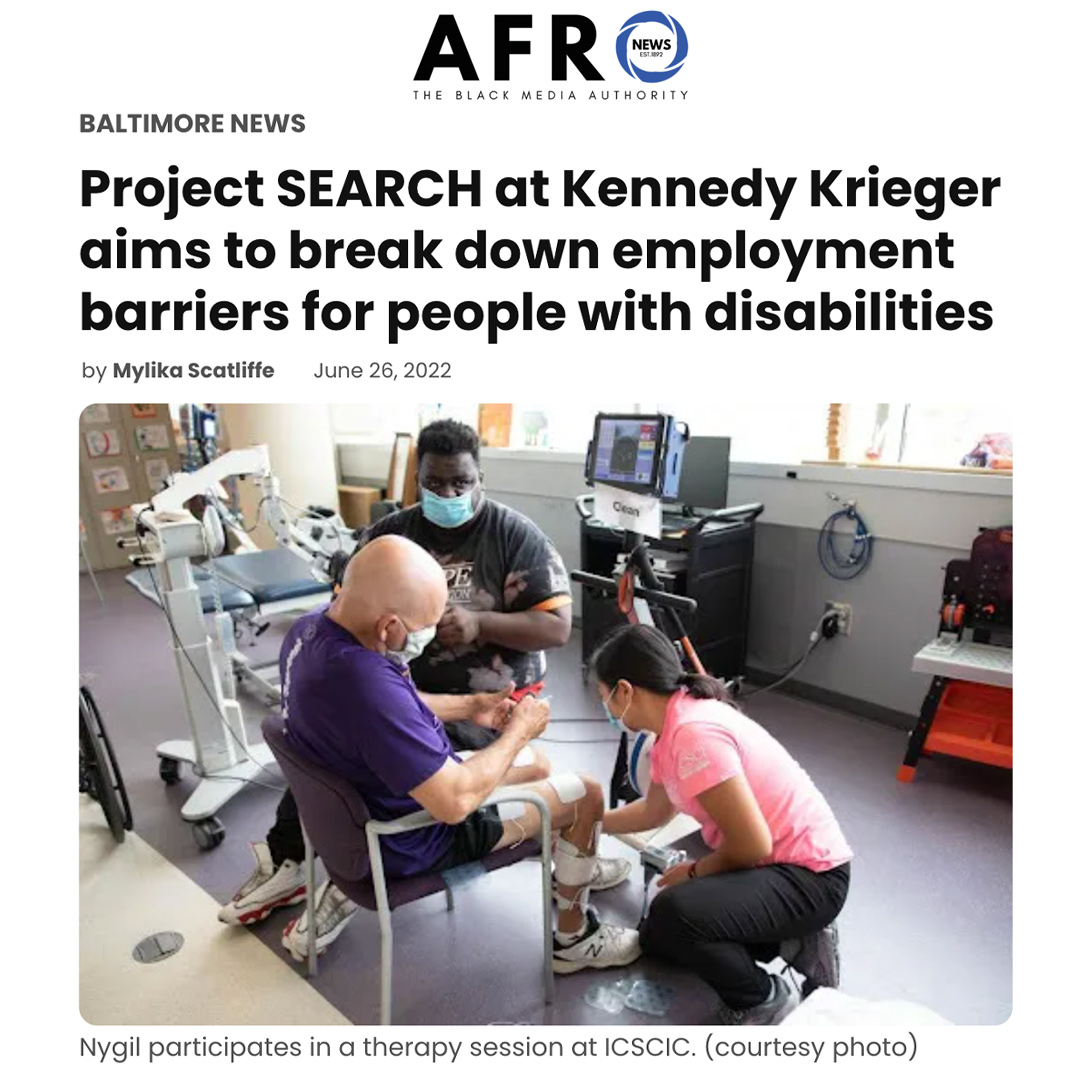 Neurodiversity at Work Program Highlighted by Media Outlets
The Neurodiversity at Work program has recently been highlighted on several media platforms. Learn more about the program and impact it is having on our community and the community members.

WJZ-TV CBS News Baltimore news recently featured Kennedy Krieger's Institute's Neurodiversity at Work program, highlighting Tyler Shallue, a COVID-19 health screener at the Institute, and Robbie McHale, a Project SEARCH graduate. Click here to watch the video!

The Baltimore AFRO-American highlighted Project SEARCH, our 10-month transition program for 18- to 24-year-olds with disabilities. As part of its profile of the program, the story features Nygil Simms, a Project SEARCH alumni who is now employed by the International Center for Spinal Cord Injury at Kennedy Krieger Institute and Nia Wallace, a Project SEARCH collaborator. Click here to read the story. 

The Baltimore Business Journal featured an op-ed by Stacey Herman, assistant vice president of neurodiversity and community workforce development at the Kennedy Krieger Institute. Read the story here. 
---
December: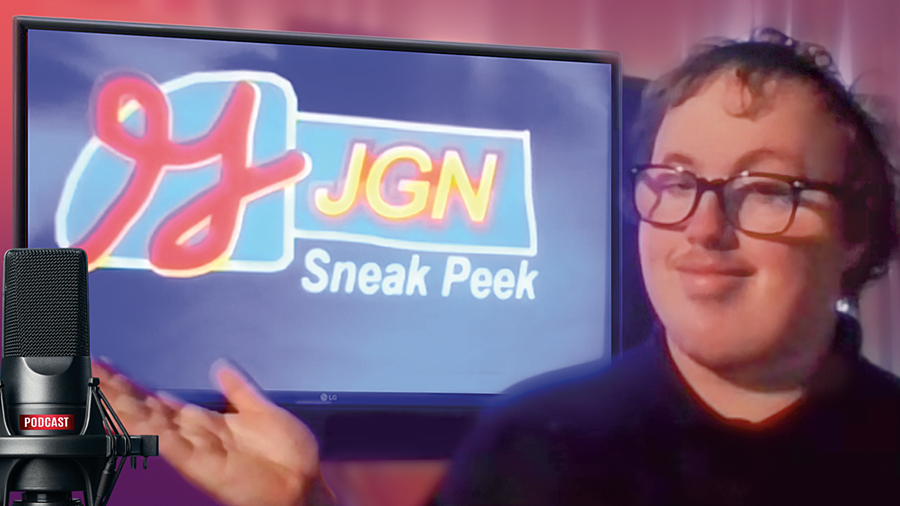 John Good Featured in Potential Magazine
In the Fall/Winter 2021 issue of Potential, John Good tells readers about two podcasts he developed during his Project SEARCH internship with Kennedy Krieger's Marketing and Communications Department, including "The Good Intern Show" and the "Life with Disabilities." John also writes about learning valuable skills for living independently. Click here to read his story.
The Institute's magazine, Potential informs readers about the latest institute news and advances in research, patient care, special education, and community programs; it also provides inspirational articles on the achievements of Kennedy Krieger's patients.
---
October: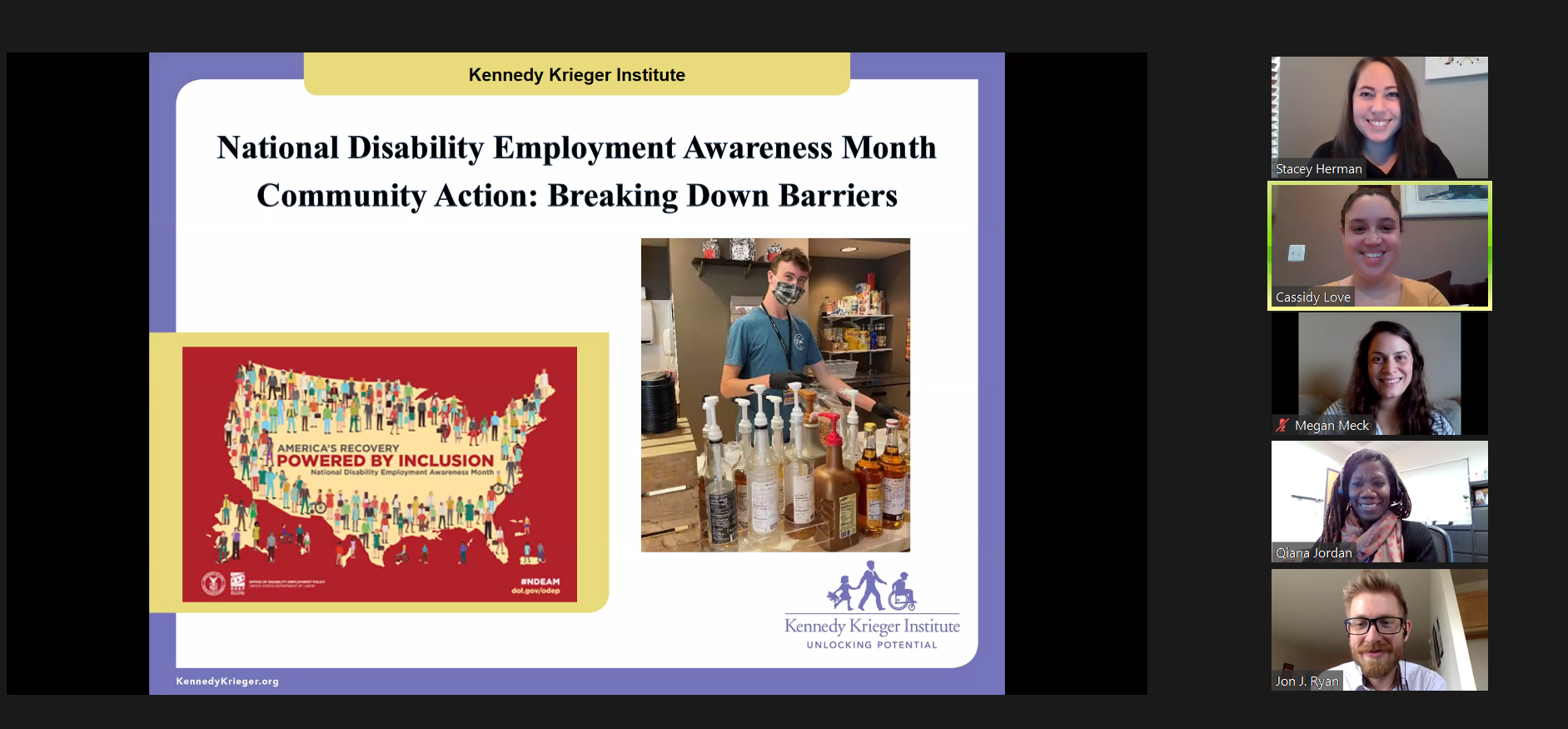 National Disability Employment Awareness Month
Community Action: Breaking Down Barriers
Kennedy Krieger Institute hosted their annual National Disability Employment Awareness Month event, celebrating the skills and talents of individuals of all abilities as part of the workforce. Kennedy Krieger Institute's Neurodiversity at Work program takes a multi-faceted approach to increasing employment outcomes for individuals with disabilities. The event featured Andy Arias, Policy Advisor from Office of Disability Employment Policy, and the premiere screening of The Cliff. The Cliff is a feature documentary following a group of neurodiverse young adults navigating the hoped for and feared high school graduation. Parents refer to this event as: The Cliff. These young folks and their families navigate this right of passage with joy, sadness, humor, and hope. This film featured graduates from Kennedy Krieger Institute School Programs and Project SEARCH at Kennedy Krieger Institute.
The screening was followed by a panel of individuals who were featured in the film and closing remarks from Deputy Secretary Christian Miele from the Maryland Department of Disabilities.
Sponsored by: Maryland Department of Disabilities
---
Screening: The Cliff
Filmmaker: Jon J. Ryan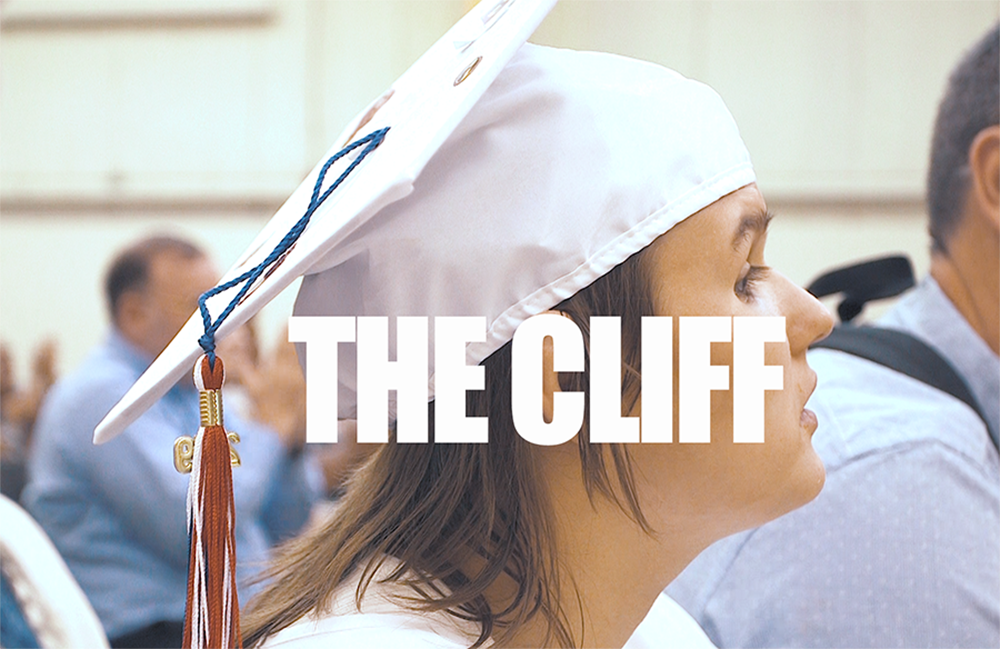 A feature documentary following a group of neurodiverse young adults navigating the hoped for and feared high school graduation. Parents refer to this event as: The Cliff. After high school, funding, government support, and social groups drop off as these young adults plummet into the uncharted world of adult care services. These young folks and their families navigate this right of passage with joy, sadness, humor, and hope. This film features graduates from Kennedy Krieger Institute School Programs and Project SEARCH at Kennedy Krieger Institute.
---
August:
Maryland Project SEARCH Conference 2021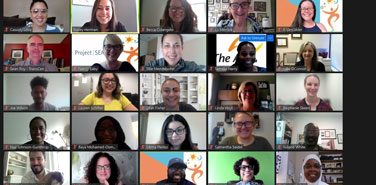 Maryland's Project SEARCH programs came together on August 19 for their annual kick-off conference sponsored by the Maryland Department of Disabilities, with 68 attendees from across the state's 14 program sites. This virtual event brought together business partners, adult service providers, school program representatives, the Maryland Department of Rehabilitation Services, the Maryland Developmental Disabilities Administration and leaders of organizations from across Maryland to network, discuss innovative practices and expand programming opportunities. The keynote event was storytelling by graduates of Maryland's Project SEARCH programs, who shared their personal stories of employment and empowerment throughout their Project SEARCH journeys. Sean Roy, chief training and innovation officer at TransCen, Inc., engaged attendees in a lunch-and-learn about family engagement, the employment process and collaboration opportunities for the future. The highlight of the conference was the premiere of a video about the successes and celebrations of Maryland's Project SEARCH programs. Click here to watch the video and learn more about Project SEARCH.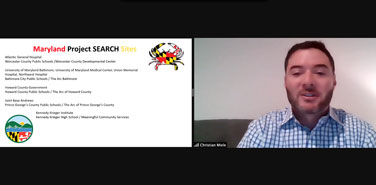 ---
John Good – Public Service Announcement
John Good recently created a public service announcement to inform the public about COVID-19. John provided facts, tips and much more! When asked about the process of creating the PSA John said, "It was a slow process, and I did face some challenges throughout the process of making the video." However, John also shared that he enjoyed the experience of creating the PSA. John shared, "I enjoyed making the PSA and I would love to do it again!"
This video is an example of a participant project. The information in this video may no longer be accurate.
---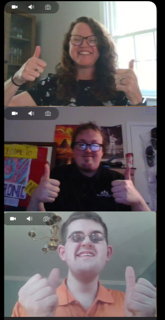 StoryCorps
Becca Colangelo, Assistant Director of Meaningful Community Services, and Tyler Shallue and John Good, Meaningful Community Services community members, came together to discuss their work at Project SEARCH with StoryCorps. They talk about their experience at Project SEARCH, personal accomplishments, future goals, and more!
Tyler and John enjoyed the opportunity to share their stories and experiences with other people. Tyler said, "I feel like our world needs to recognize our different stories, but in a more accepting, respectful manner. Unfortunately, far too many people in the community have been mistreated simply because of who they are. We need to better educate our society on what it really means to treat people with dignity and respect."  John loved his experience creating his podcast through his internship with Kennedy Krieger Institutes' marketing and public relations department. He said, "I loved going through the process of making the podcast. I liked that I was interviewing people."
Tyler, John, and Becca were excited that their recording is archived in the Library of Congress. They can go back and listen to it 50 years from now!
---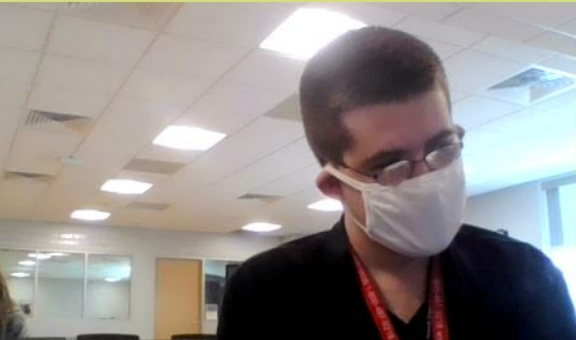 Meaningful Community Services Employment
Many Meaningful Community Services community members are either returning to work or beginning a new job. We asked each of them to share their experience.
Griffin recently started a position with People on the Go as a social media assistant. He said "I love that I am able to work on my own pace at work and I feel satisfied when I get things done."
John returned to his work with Kennedy Krieger Institutes facilities department. John shared "I have been focused since returning back to work. I like to sanitize and wipe down the tables in the Nook. I am trying to take care of myself and look forward to getting my income."
Tyler started a new job with Training & eTracking Solutions. He said, "I like working because it makes my daily life productive, allows me to meet new people, and helps me reach my goals."
DeVonte' returned to work as a bagger with Giant. DeVonte' said, "I like my coworkers and I get along with almost everyone. I like working and I hope I get more hours."
---
April:
Paratrek CEO Visit
The founder and CEO of Paratrek, Omer Zur, joined us in our virtual group session to share his experiences on how he started his company. While traveling and climbing the Tibet mountain in 2005, he found his life passion. Omer wanted to create and develop treks and outdoor adventures for all those who wished to go hiking, but have not been able to do so due to a disability. Paratrek became an organization where a group of people, with or without a disability, can come together to explore non-accessible terrains together. He designed a wheelchair that can climb every mountain. What a great way to bring those who enjoy the outdoors and hiking together!
---
March: 
Return To The Community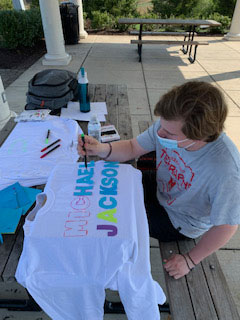 During the last week of March, we welcomed community members back into the community. This has been an exciting transition for staff, families, and the community members. Community members have enjoyed seeing each other again and meeting new people. They look forward to being outside and hopefully finding a job so they can start making their own money. It has been a phenomenal week back into the community. We can't wait to have everyone back together again!
We asked community members to highlight their experiences being back in the community and their responses are as follows:
"I have enjoyed talking to different staff and being able to work. Being back in the community makes me feel happy and I like being able to see my friends at Project SEARCH." -Tony (Project Search Intern)
"Seeing people and hanging out with friends." – Hanson (Employment Services Community Member)
"Enjoying outside time and seeing new people." – Jamia (Community Development Services Community Member)
"Graduating from Project SEARCH and finding a job to make money." - Tony (Project Search Intern)
"Hopefully getting a job" – Hanson (Employment Services Community Member)
"Seeing the birds and ducks the most." -Jamia (Community Development Services Community Member)
---
Parent/Caregiver Week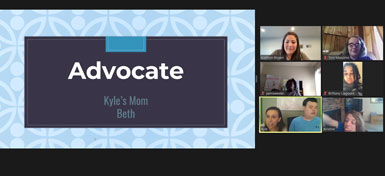 We celebrated Parent/Caregiver week from March 22-26! We kicked off the week by welcoming parents and caregivers to our virtual group sessions for career day. Our guests talked about the work they do, how they got started in their careers, and what they enjoy about their jobs.
Throughout the week, community members learned about topics related to families including household responsibilities. Community members each chose a chore they typically would not complete to help around the house. We also facilitated discussions about healthy relationships and parenting. Later in the week, community members participated in a cooking activity where they made a bag of trail mix for their parents/caregiver. We ended the week on a high note by inviting parents and caregivers to join our group lunch session for baby photo trivia!
---
On Today's Forecast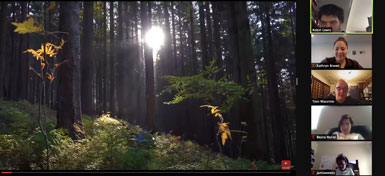 Scientific programmer Meredith Nichols from the National Oceanic and Atmospheric Association (NOAA) joined us in our virtual group session to talk to us about weather. She went over what meteorology is, talked about what a meteorologist does and explained why we should care about the weather. Meredith emphasized that weather patterns impact both health and transportation. She also mentioned the effects weather has on agriculture and farmers. We are all looking forward to the warner weather and opportunities to get outside in the Spring!
---
Baltimore Technology Group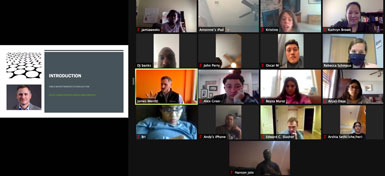 Jim Merritt from Baltimore Technology Group joined us in our virtual group session to talk to us about his employment journey to becoming the CEO of his company. He highlighted how his military service helped him develop strong leadership abilities and how working within his family's businesses helped him learn about hard work and customer service. His strong entrepreneurial spirit allowed him to be the successful business owner he is today!
---
Grab your paint brush!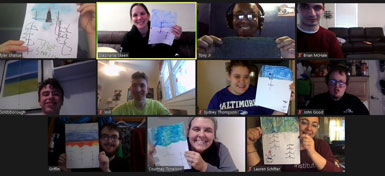 Artist Courtney Tonelson joined us in our virtual group session to share her experiences as an art student. She went over what water color is, explained how easy it is to work with water colors and showed a video demonstration of water color painting in action. She also shared her artwork of both humans and animals to give us a glimpse into her world as a creator of art!
---
February: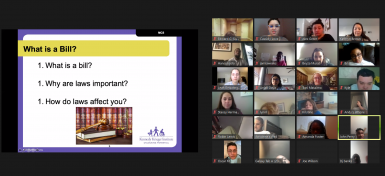 Developmental Disability Day at the Legislature
Meaningful Community Services celebrated Developmental Disabilities Day at the Legislature. This year, Developmental Disabilities Day was extended to a week long event of virtual advocacy and opportunities for information and connection with legislators. Meaningful Community Services staff and community members joined the kick-off event to hear from legislatures and learn more about legislation that impacts individuals with disabilities. Following the event, community members came together for a virtual session where we learned more about what a bill is, what advocacy is, and how we can advocate for ourselves and others. 
---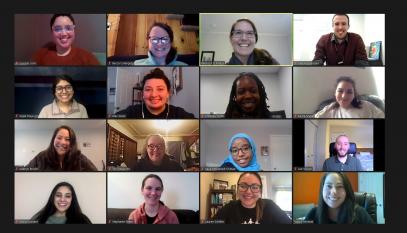 MCS Professional Development Day
Stacey Johnson and Ryan High from Kennedy Krieger High School and Alicia Pereschuck from BHS joined us during our remote staff professional day. Our colleagues from the high school talked about positive behavior interventions and strategies we can use in the virtual setting and as we increase time in the community. Our second guest speaker, Alicia, talked to us about managing stress during difficult times and building our own self-care toolkit. She reviewed how our bodies respond to stress, discussed several strategies to help reduce our stress response and offered suggestions on building our own self-care toolkit. Thank you to our guest speakers for the wonderful information they shared!
Following our guest speakers, staff members shared Inspirational Acts of Goodness to recognize one another for their ongoing efforts in our program. To end off our session, the team participated in a Sweet and Sour activity, where everyone highlighted a success, small win, or something positive in their life as well as a current obstacle they are facing. It was wonderful to be able to spend time together as a team!
---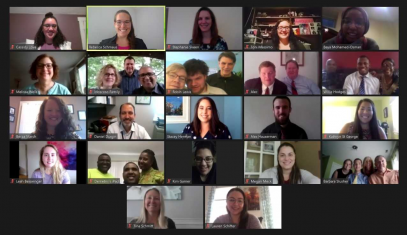 Monthly Nutrition Lessons Continue
We continue to enjoy our monthly nutrition lessons! Andrea Heyman from Kennedy Krieger Institutes Nutrition Department joined us for a virtual group session to talk to us about serving sizes. She reminded everyone why nutrition guidelines are important, showed us what a standard food plate should look like, and shared how portion sizes have significantly increased throughout the years. Andrea also explained the difference between a portion size and a serving size, and introduced new ways to determine if we have healthy portion size of food.
---
January: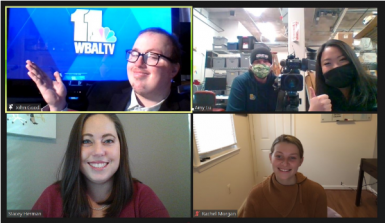 Project SEARCH In the News
Meaningful Community Services made it to the big screen! WBAL-TV 11, a local Baltimore TV station, picked up on the great work that John Good was doing in his Project SEARCH internship.  John is currently working with the marketing team at Kennedy Krieger to create podcasts about the experiences of Kennedy Krieger employee. John and Stacey Herman, the director of post-secondary services, were interviewed by WBAL to talk about the importance of hiring a neurodiverse workforce.  We were all excited to see the interview air on TV!  For upcoming podcasts, John is going to focus on interviewing individuals with disabilities to learn more about their experience in the workplace. Congrats to John and Stacey for all of their hard work!
Watch the interview here.
---

November:
Disability Rights Maryland Virtual Group Session
Tracy Wright from Disability Rights Maryland joined us in our virtual group session to talk to us about voting. She reminded everyone about the importance of voting, talked to the group about the difference between primary and general elections, and went over the process of how to vote. She informed everyone about requesting mail-in ballots, and how to find out where you can go and vote in your community!
---
October: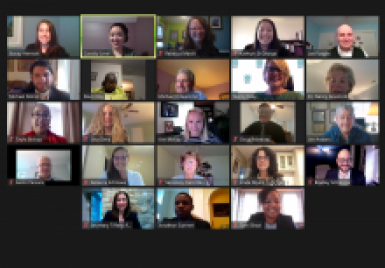 National Disability Employment Awareness Month Virtual Event
To celebrate National Disability Employment Awareness Month (NDEAM), we co-hosted a virtual event with SEEC and Companions Inc., Adjusting to a Virtual World: Working During COVID-19. We were joined by Secretary Tiffany Robinson from the Department of Labor as our keynote speaker. The event included two panel discussions with individuals who identify as having a disability and Direct Support Professionals from each organization sharing their experiences and insight on working during COVID. The virtual platform allowed the event to reach a wide variety of people from across the country.
This annual celebration helps provide opportunities for individuals to share advice and strategies that businesses can use to support individuals with disabilities in gaining paid employment. One of our panelists was Kathryn St. George, who is a Community Development Specialist with Kennedy Krieger Institute. She spoke about her experience supporting individuals with disabilities in the community. She shared how her goal was to communicate to everyone listening the importance of using a multi-disciplinary approach to overcome challenges and setbacks.
---

September: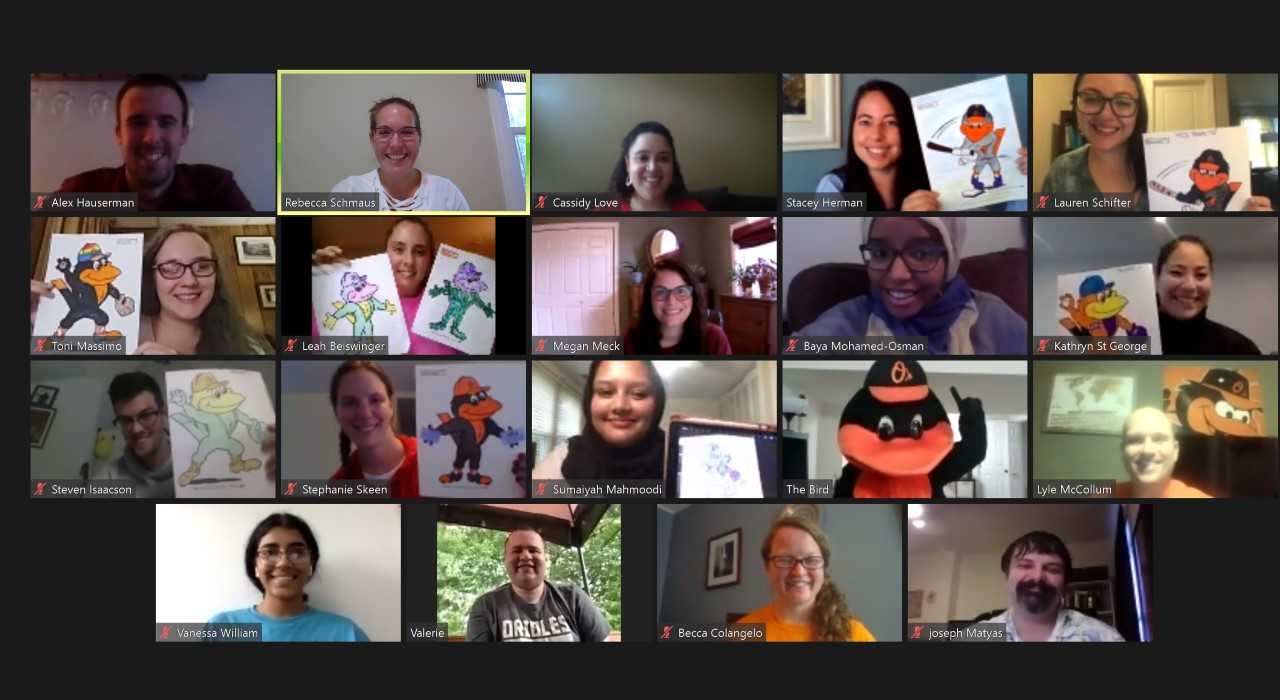 Direct Support Professionals Week
We celebrated Direct Support Professionals Appreciation week from September 19-25. To help us celebrate, we had the wonderful Orioles mascot join our staff meeting!
We learned fun facts about the Orioles team, played trivia, and had a contest to see who decorated a picture of the Orioles mascot the best! We had a variety of different artistic styles when it came to the design of the bird; while some people went the traditional route, others incorporated the Kennedy Krieger colors and values. In the end, Stephanie Skeen, Employment Training Specialist with Project SEARCH won!
---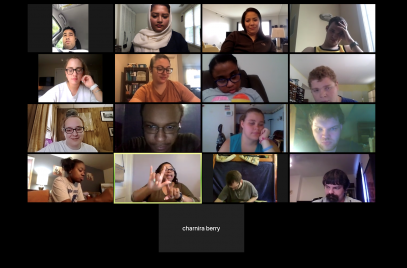 ASL Group Session
We had an American Sign Language interpreter, Ashly Drumwright, join us for our group session with all of our community members! We all enjoyed and appreciated the different signs she taught us. Ashly shared her experiences growing up as a CODA (Child or a Deaf Adult) and how that makes her feel special and unique. She taught our community members many signs such as thank you, I love you, and more!
---
 


August: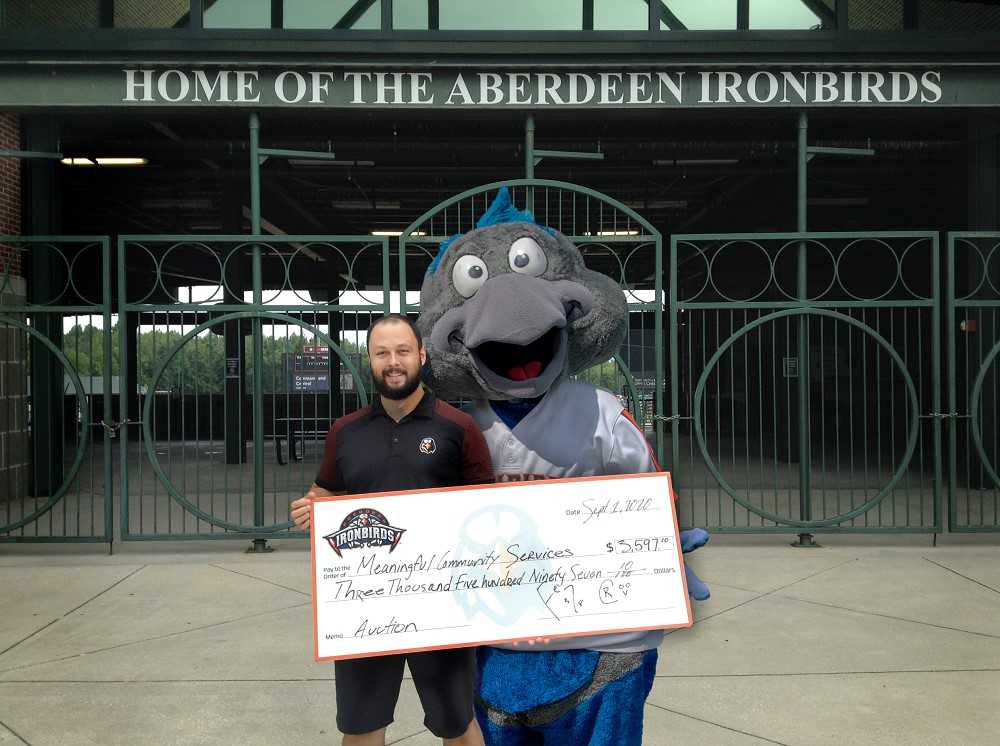 Aberdeen IronBirds: "A Night at the Ballpark" Event 
The Aberdeen IronBirds recently hosted the virtual "A Night at the Ballpark" event to benefit Kennedy Krieger's CORE Foundations and Project SEARCH programs.
The event featured a silent auction, raffle, family friendly games, and proved to be a huge success: over $3,000 was raised to support individuals with disabilities obtain and maintain meaningful employment and community engagement.
 
---
July: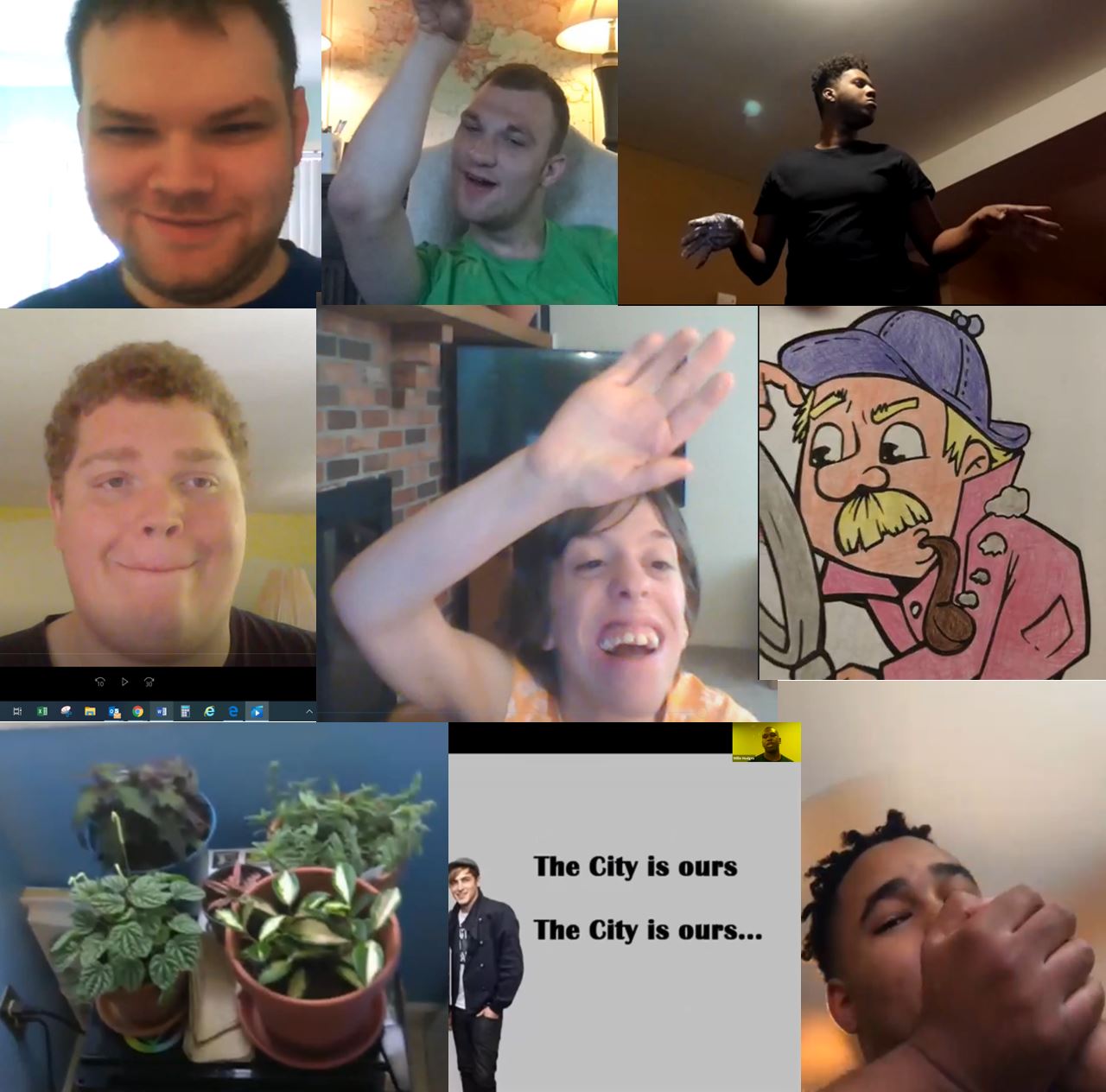 Meaningful Community Services Talent Show  
We held a virtual Meaningful Community Services Talent Show! Our community members shared their talents in singing, dancing, telling jokes, shooting basketball hoops, and sharing their favorite songs. It was wonderful to see all of the talents shared by our community!
---
Mid-Day Mindfulness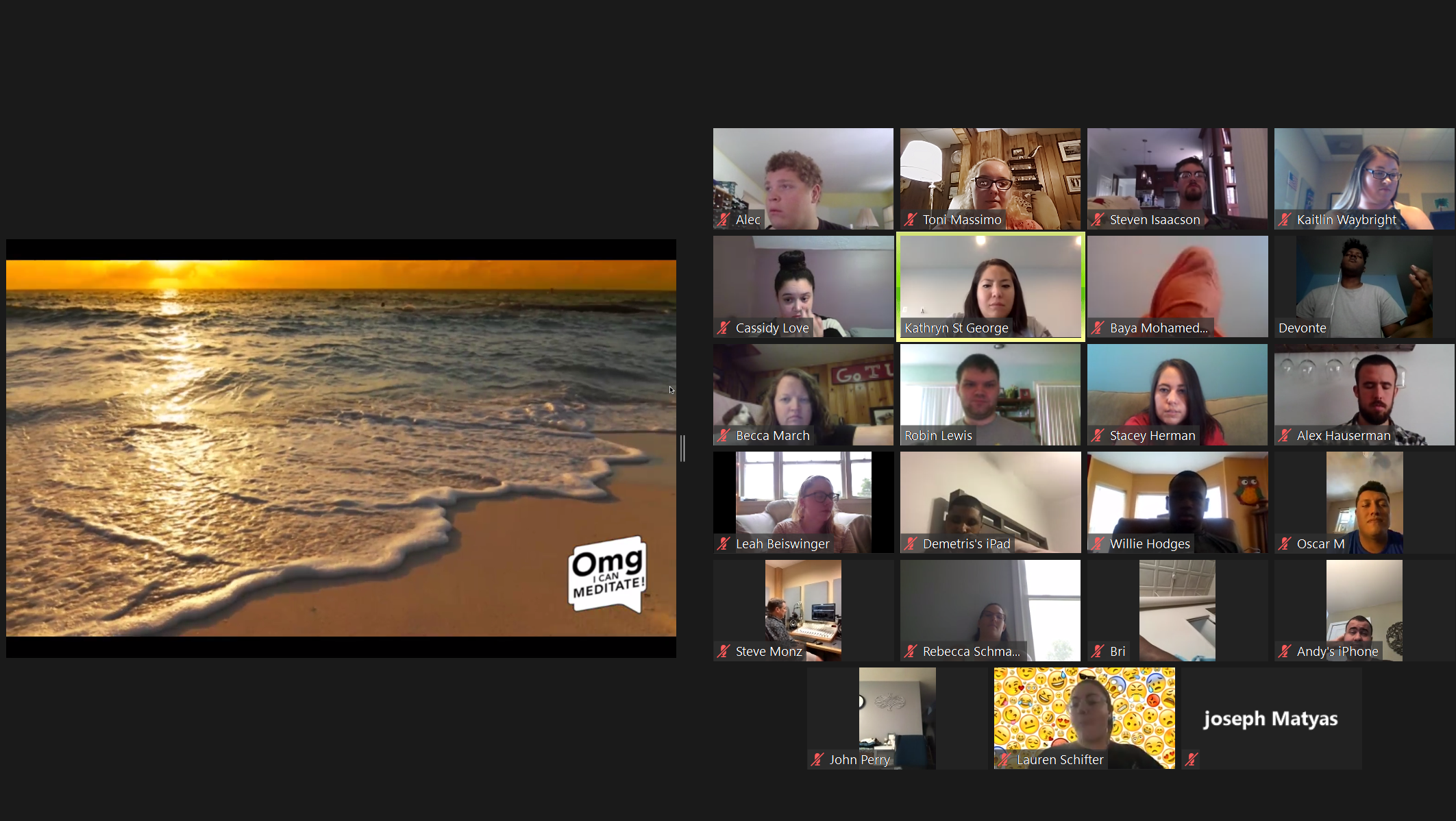 We have started incorporating mindfulness activities into our virtual support sessions. By practicing mindfulness together, we can grow stronger individually and as a community. We recently completed a 5-minute meditation that focused on identifying how we were feeling in that moment.
Each of our community members said they enjoyed the exercise and look forward to continuing to practice mindfulness!
---
Forever Radio Tour  
CORE Foundations and Project SEARCH received a virtual hands-on tour of Forever Radio by radio personality Kait Waybright of 97.1 The Wave. Steve Monz, operations director and afternoon personality also joined to record community members saying the radio tagline and prepare it for broadcast. The best part was the opportunity to be "live" on air through Zoom!
---

Project SEARCH Town Hall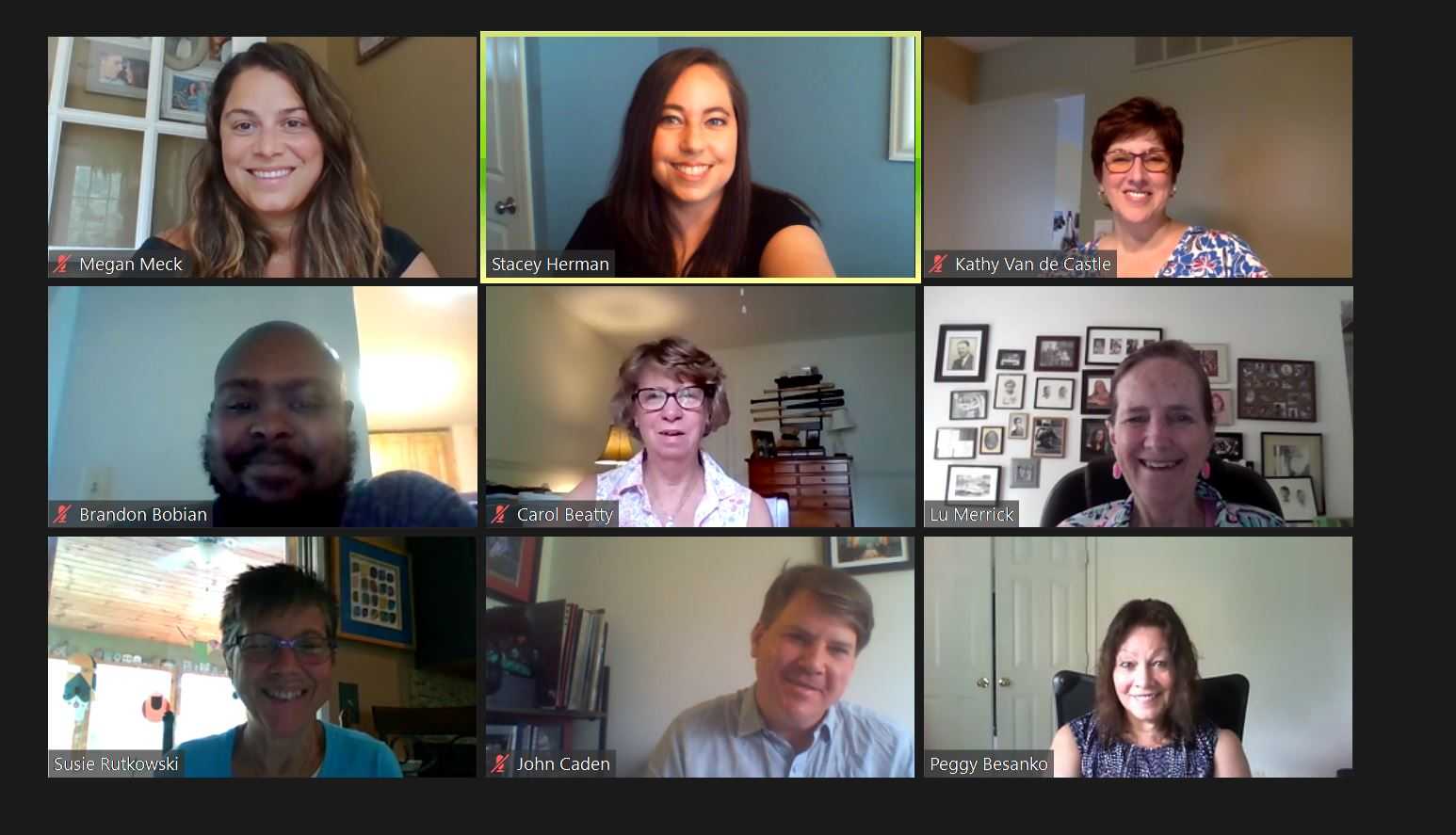 All 14 Maryland Project SEARCH Programs came together for a collaborative, interactive, and meaningful town hall event to discuss and brainstorm re-opening strategies, business engagement, remote internships, and more.
With over 50 participants, it was a morning filled with energy and enthusiasm as we plan to welcome our 2020-2021 Project SEARCH Cohorts.
---

June:
 
Musical Performances

We were joined by a musical guest, Kierra "KK" Kimmie, Kierra is a formerly board certified music therapist with several years of experience and classical training. Kierra performed 'The Circle of Life' from The Lion King as well as 'Sugar' by Maroon 5. Kierra discussed the many instruments she plays including percussion, keyboard, and stringed instruments.
Many of our community members shared aspirations to be performers and she encouraged all of our community members to work hard and persevere to meet their goals. We have been joined by a variety of musicians over the last several months, and a favorite of our community members.
---

AMA Collaborations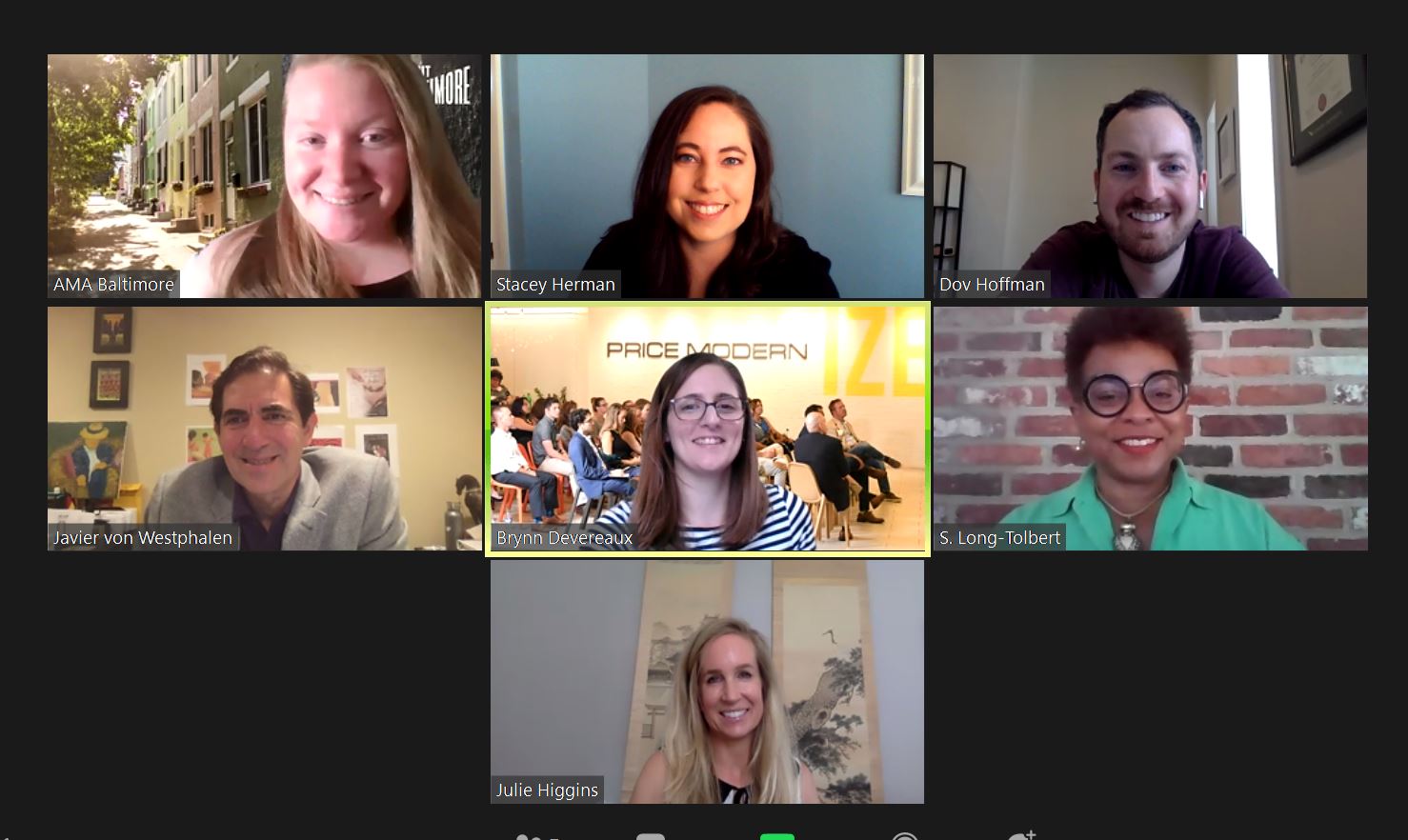 Talking about diversity, equity, and inclusion is an important conversation to have on multiple levels. Stacey Herman, director of post-secondary services participated as a panelist on the AMA Baltimore diversity and inclusion event, where she focused on the topic of neurodiverse individuals represented in the workplace, community, and marketing.
She was joined by co-panelists Javier Von Westphalen, Julie Higgins, and Sylvia Long-Tolbert who shared their perspectives and expertise about a wide range of DEI topics.
---

Getting Back to Work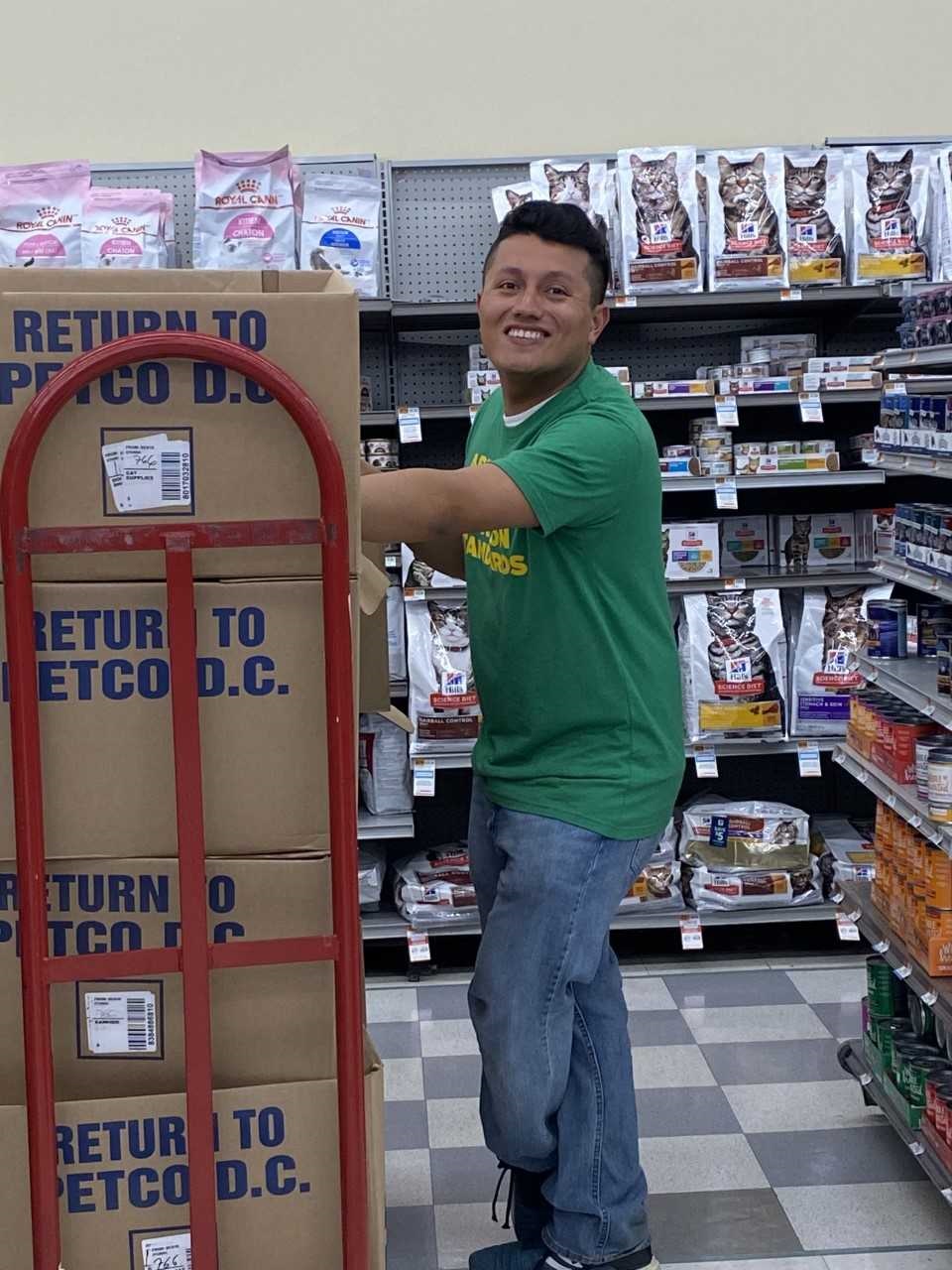 Meaningful Community Services continues to support those employed in our community, and we are excited to share Oscar's story!
Hi! My name is Oscar Martinez. My favorite part about the week is doing Zoom sessions, and going back to work at PetCo. I learned how to get back to work and be safe. I learned not to touch my face, nose or eyes because we have to stay safe and not get sick. I am looking forward to being friendly to my coworkers, customers and managers.
 
---

Project SEARCH 2019-2021 Graduation Ceremony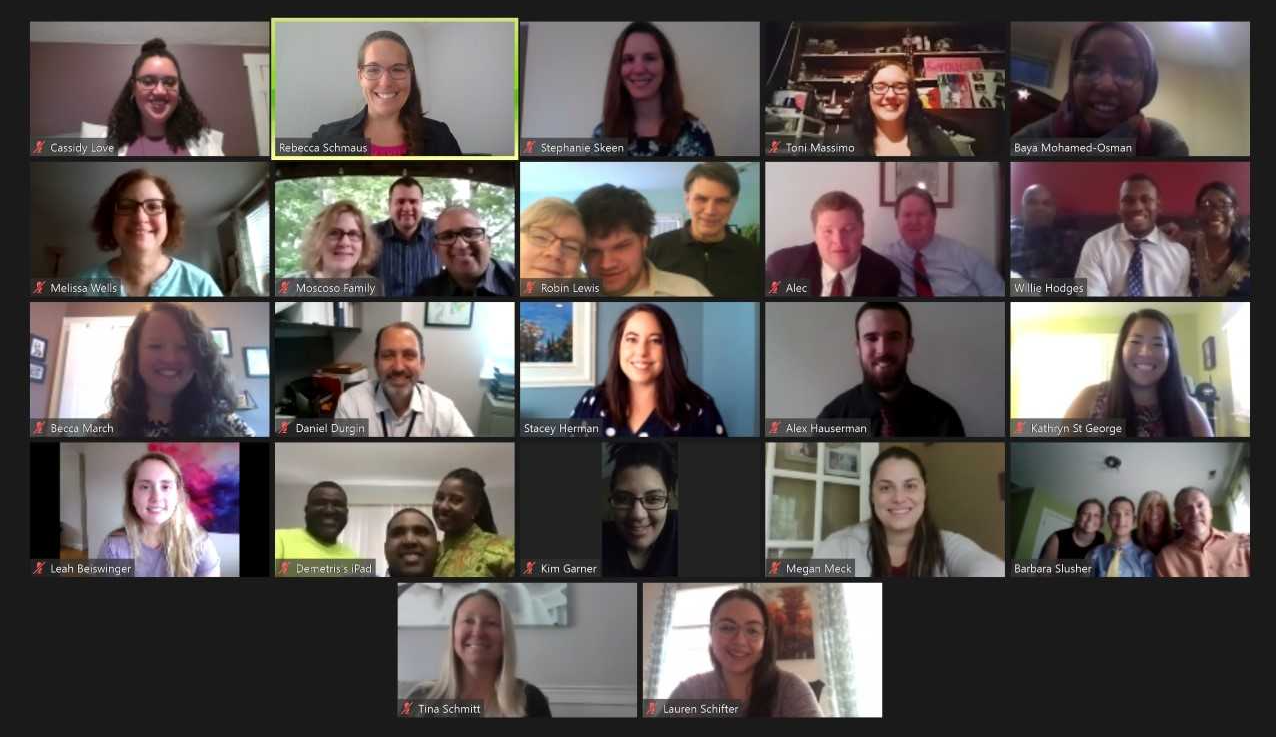 Congratulations to the 2019-2020 Project SEARCH at Kennedy Krieger Institute Cohort! We are so proud of your hard work, dedication, and commitment to your future. We were thrilled to celebrate and honor your accomplishments over the past year! We appreciated the Kennedy Krieger Institute Community coming together virtually to celebrate! .
---

May: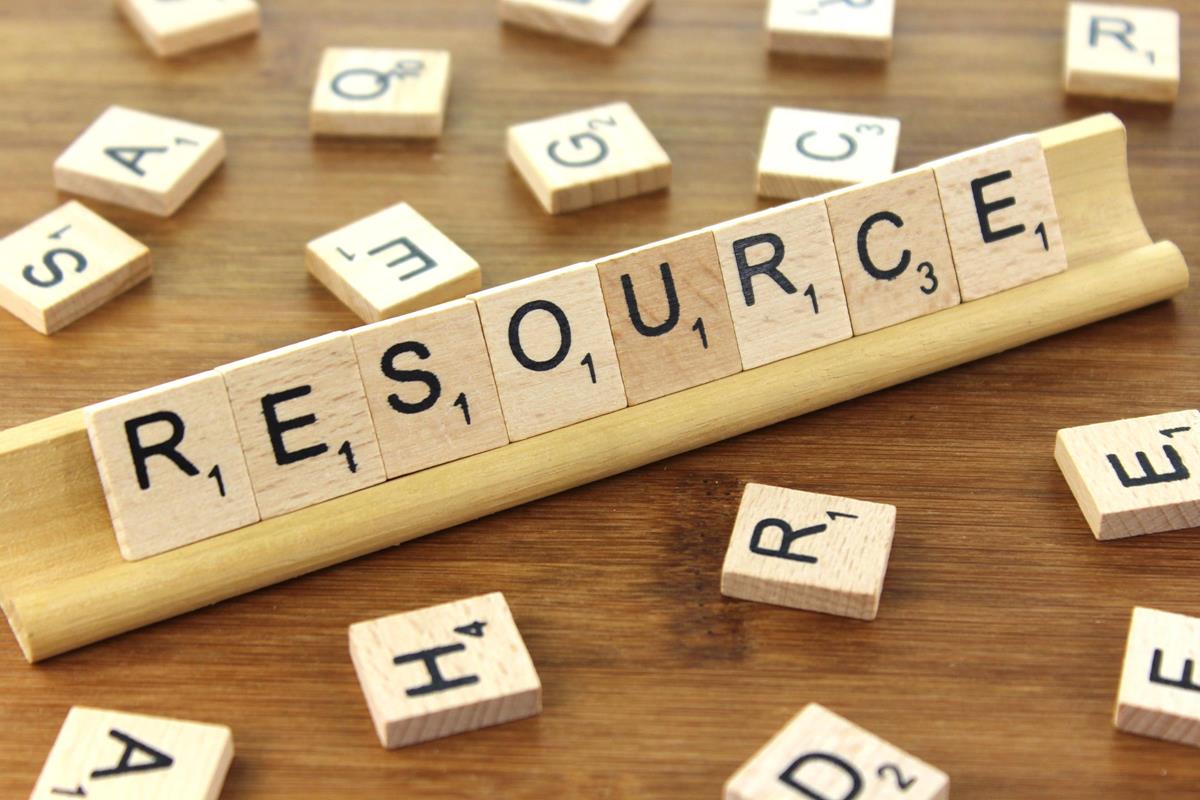 Independence Fair
Every year, CORE Foundations participates in the Road to Independence Fair. This year, the fair has gone virtual!
Visit the Road to Independence Fair website to learn about valuable resources available to help individuals with disabilities who are transitioning into the workforce and/or higher education.
---

Introducing Virtual Support Services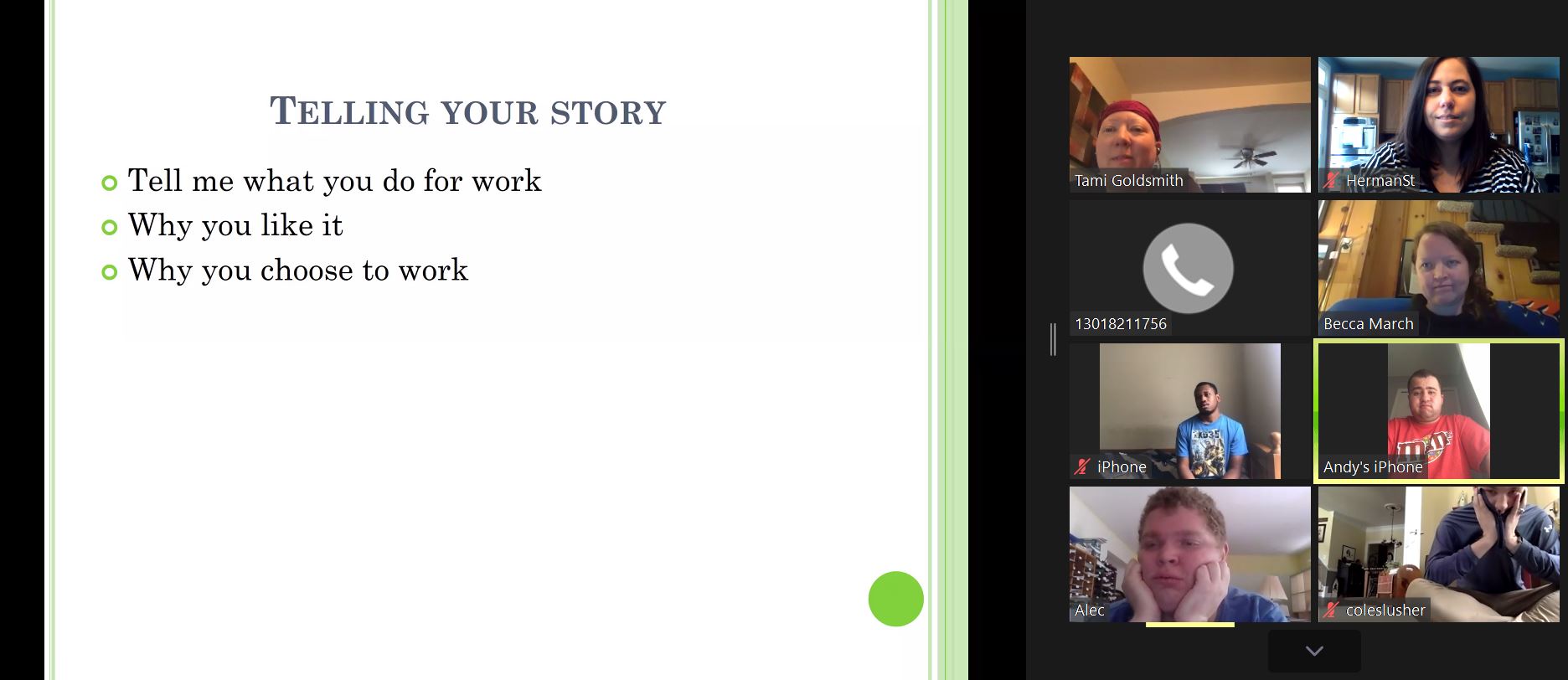 Virtual Support Services are interactive sessions, designed to support an individual achieve personal goals related to independent living, job development, community engagement, health and wellness, problem-solving, and communication skills.
Individuals are paired with one of our qualified and trained Employment Training Specialist or Community Development Specialist.
---

Provider Technical Assistance Package
CORE Foundations recently presented Getting Started: Virtual Support Services, a one-hour training for adult service providers on virtual support services.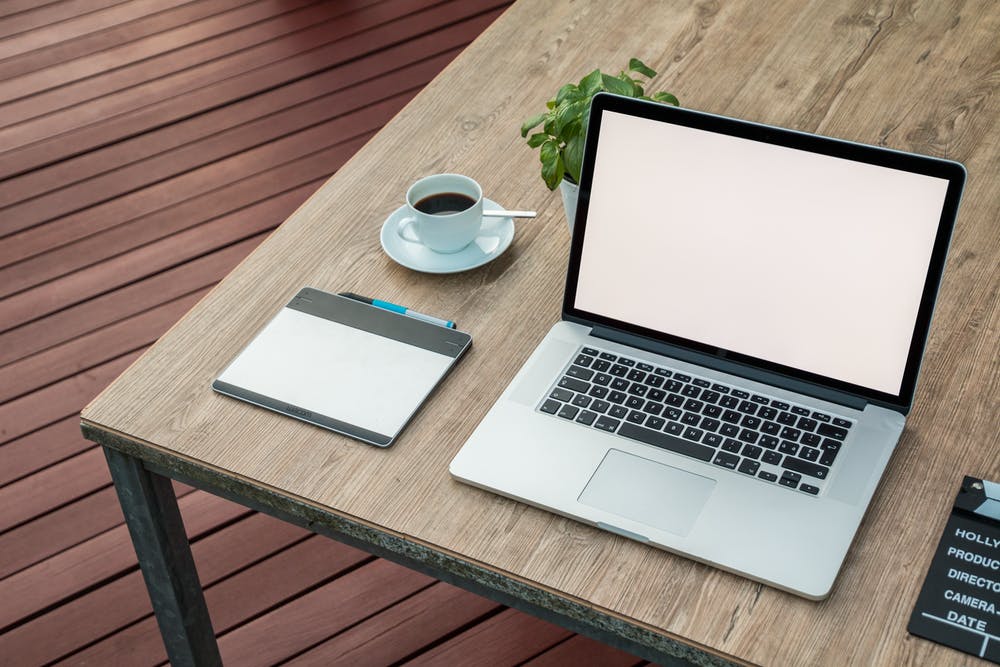 The training session taught adult service providers best practices for implementation of virtual support services.
Contact Stacey Herman at Hermanst@KennedyKrieger.org if you are interested in learning more about our Technical Assistance Package.
---

Mock Interviews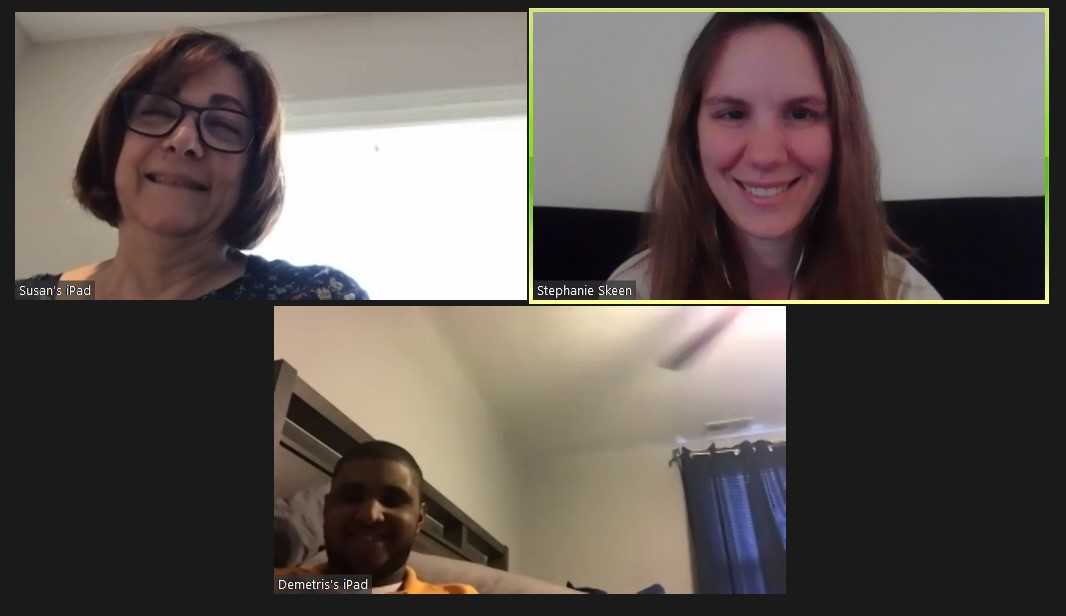 With the changing landscape of employer recruitment, Project SEARCH interns had a hands-on experience of participating in virtual interviews with employers from across the state of Maryland.
We thank the many businesses who joined us, and who continue to promote neurodiversity in the workplace.
We are proud of the Project SEARCH interns and their commitment and dedication to obtaining meaningful employment in their communities.
---

Maryland ABLE Webinar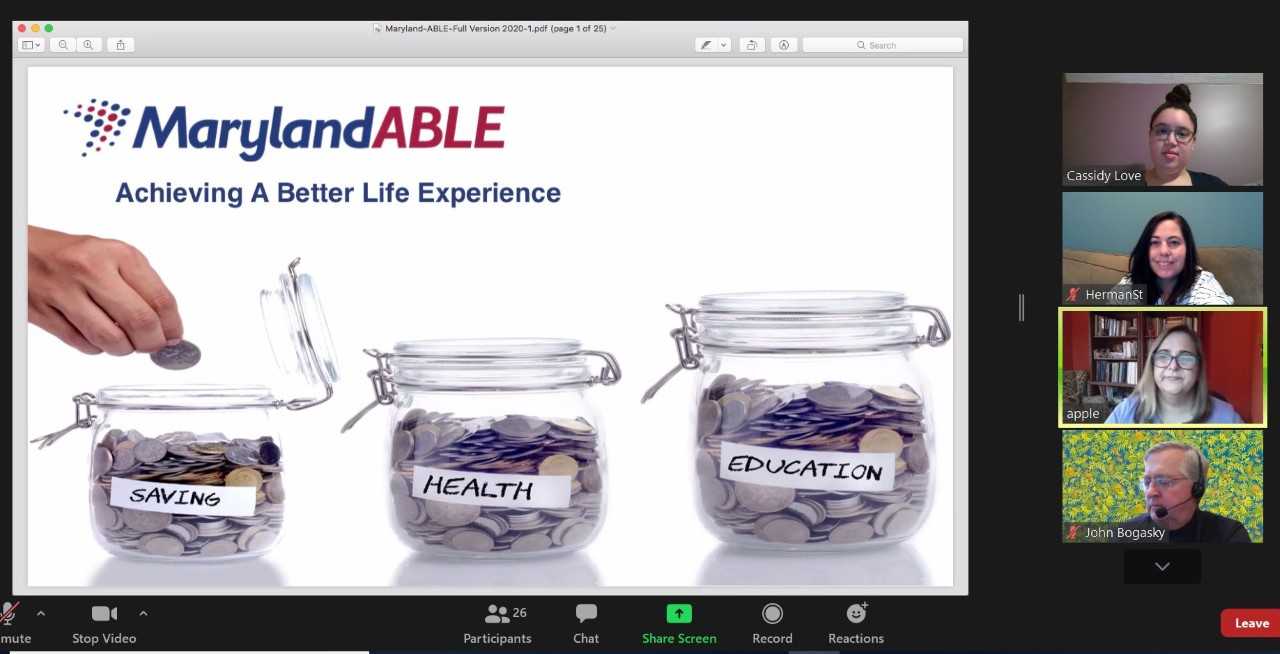 CORE Foundations recently hosted Kelly Nelson for a webinar about Maryland ABLE accounts.
We had 32 participates join us virtually for an informative session on ways to help individuals with disabilities save money and pay for qualified disability-related expenses. 
---

April:
 
Business Advisory Council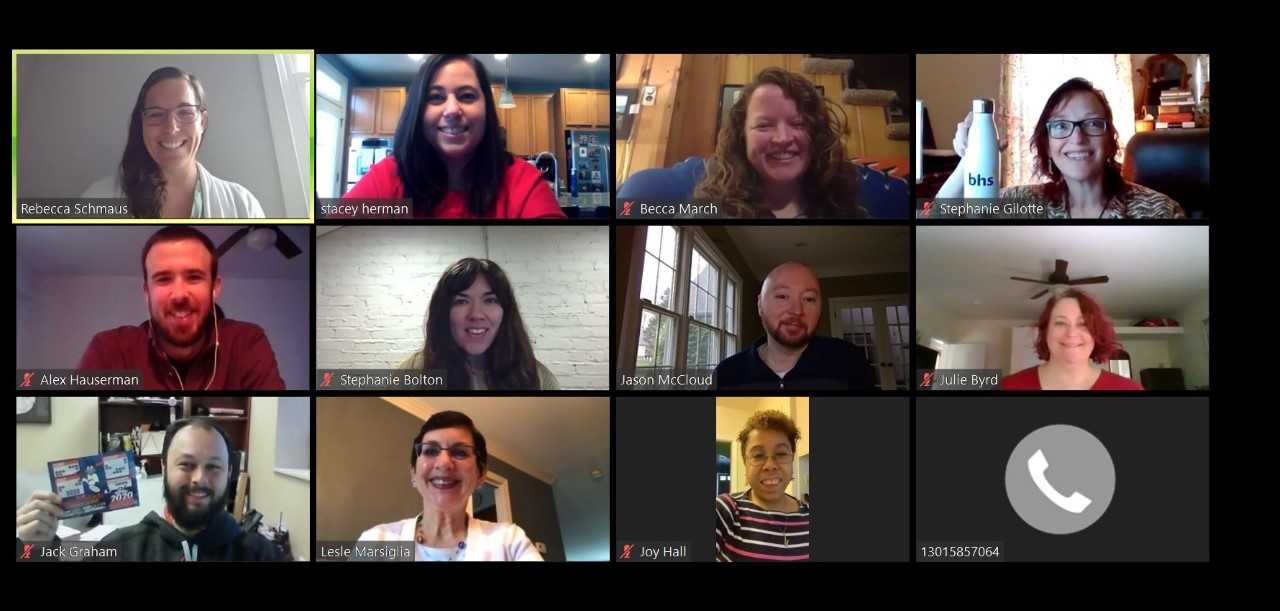 Our Business Advisory Council supports Project SEARCH interns and CORE community members by hosting mock interviews, industry tours and job trials while also connecting us to community businesses.

In light of COVID-19, we held our most recent Business Advisory Council meeting virtually.
Interested in becoming a member of the Business Advisory Council? Email Schmaus@KennedyKrieger.org
---

COVID-19 Relief Small Fund Grant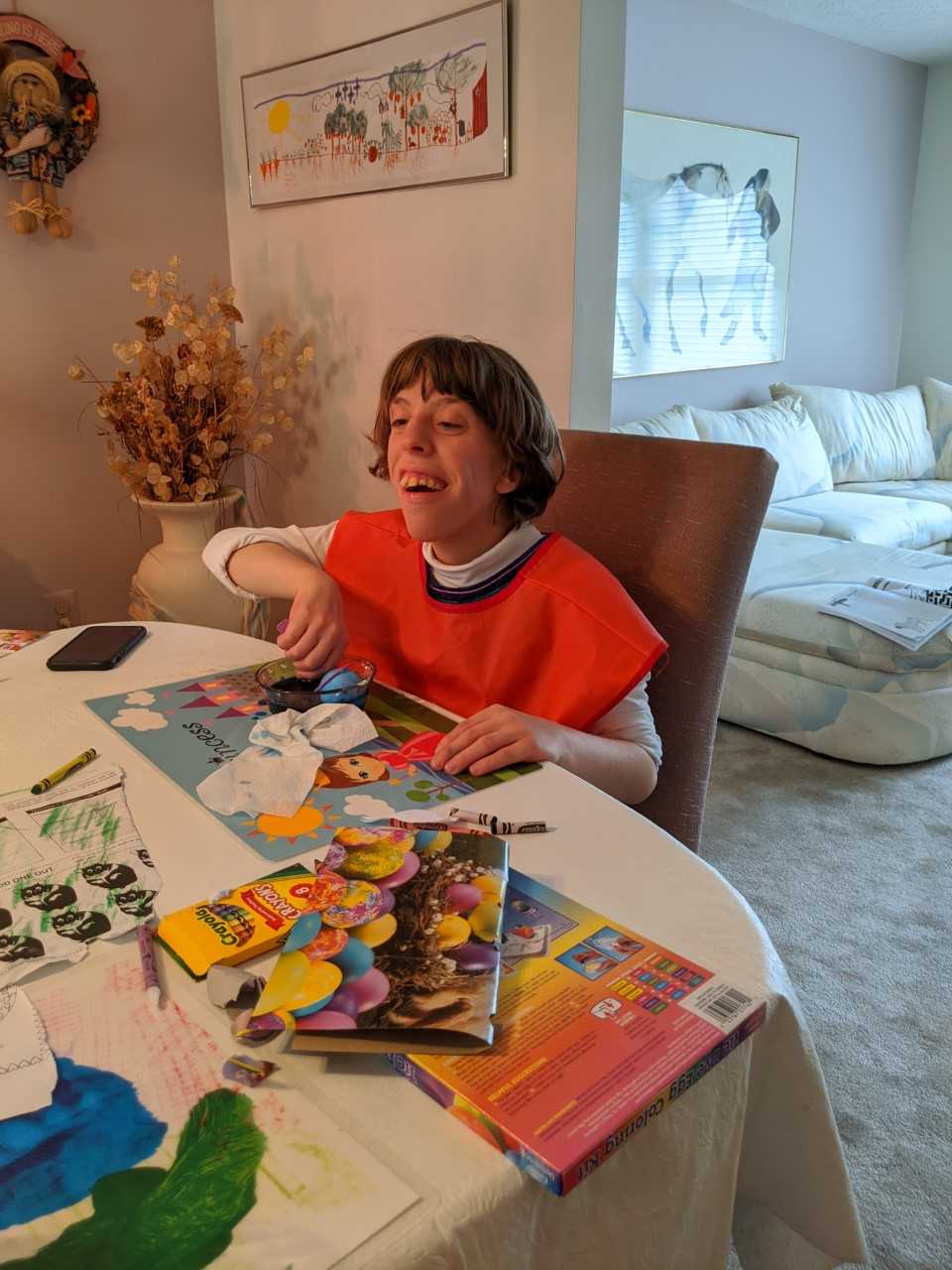 CORE Foundations was awarded a COVID-19 Relief Small Fund Grant from the Arc of Maryland and Maryland Developmental Disabilities Council to provide comfort and activity items for individuals we serve in our community.
Community members received planting kits, pine car derbies, activity books, fitness bands and more!
We were grateful to be awarded the grant and support our meaningful community!