Neurodiversity in the Workplace Conference
Join the collaborative conference that brings together a community that is committed to improving employment outcomes for the neurodiverse workforce.
Through collective impact, we will engage in dynamic discussions, learn from expert presenters, and build a network of change-makers who utilize diverse and inclusive employment practices. This conference empowers employers to build a dynamic workforce and enhance the workplace.
March 22–24, 2023
Renaissance Washington, DC Downtown Hotel 999 9th St NW, Washington, DC 20001
---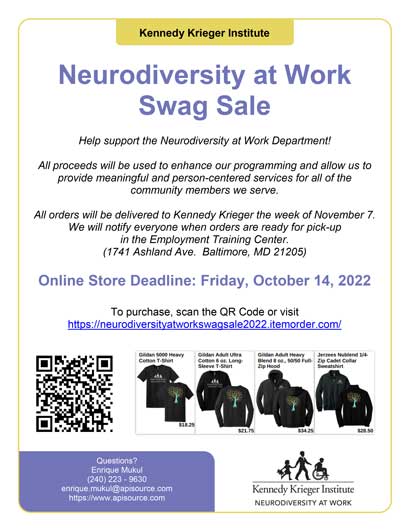 Neurodiversity at Work Swag Sale 2022!
We are excited to announce a Neurodiversity at Work swag sale that will run through 10/14! Please consider buying an item for yourself or feel free to share with all of your friends and family!
All proceeds will be used to enhance our programming and allow us to provide meaningful and person-centered services for all community members. The online store is open through October 14.
All orders will be delivered to Kennedy Krieger the week of November 7. We will notify everyone when orders are ready for pick-up in the Employment Training Center in 1741 Ashland Ave. See the flyer for more information!
---
Health Affairs Briefing: Disability & Health: The View From Main Street
Join us Thursday, October 6 for an in-person, community-based event at Main Street Connect, an accessible and inclusive apartment complex and community center in Montgomery County, Maryland. The evening will include a panel discussion about unmet needs in Montgomery County's disability community and ways to address them, led by Health Affairs Director of Health Equity Vabren Watts, PhD. The event will also include screening of a short film featuring disability rights activist Judy Heumann. Stacey Herman, AVP Neurodiversity and Community Workforce Development will be a panelist at this event
October 6, 2022
6—8 p.m.
Main Street Connect, 50 Monroe Place, Rockville, Maryland 20850
---
COVID-19 Vaccine Clinic and Resource Fair in Partnership with Disability Rights Maryland
Kennedy Krieger Institute and Disability Rights Maryland are teaming up to bring you resources for voting, healthcare, alternatives to guardianship, self-advocacy, and more. You are also able to schedule and receive your COVID-19 vaccine! Registration to receive your COVID-19 vaccine is required.
Individuals may receive their first and/or second dose(s) of the Pfizer COVID-19 vaccine at this clinic. Individuals may also receive a Pfizer Booster shot if they meet CDC requirements. (Please bring proof of prior doses if receiving the second dose or booster dose.)
Wednesday, October 12, 2022
noon – 6:00 p.m.
Kennedy Krieger Institute, 1741 Ashland Ave., Baltimore MD 21205 8th Floor Conference Room
To make an appointment, please email COVID19Vaccine@KennedyKrieger.org or call 667-205-4930, extension 5-4930.
---
Employers Engaging Employers Presenting our Annual National Disability Employment Awareness Month Event: Disability: Part of the Equity Equation
Join us to celebrate National Disability Employment Awareness Month at our annual event celebrating employment success for individuals with disabilities and inclusive employers. Panelist will discusses lessons learned and successes of being inclusive employers, how to partner with local provider agencies, and innovative approaches to hiring and retaining your workforce. At this event you will have the opportunity to network with employers looking to make an impact on the future of the workforce!
October 18, 2022
8:30–10 a.m.
Kennedy Krieger Institute, 1741 Ashland Avenue Baltimore, MD 21205 8th Floor, Arnold J. Capute Conference Center
---
IGNITE Carroll 10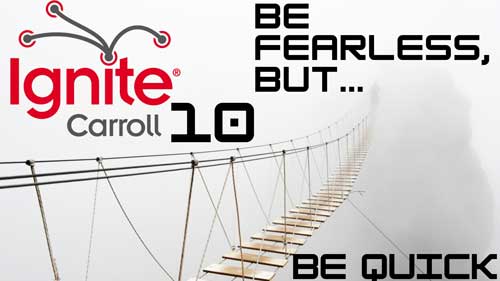 IGNITE Carroll is a high-energy evening of 5aSminute talks by people who have a burning idea and the guts to get on stage and share it with the crowd. The IGNITE concept puts multiple speakers in front of an audience with only 5 minutes to speak on a topic with a PowerPoint presentation that auto advances every 15 seconds.  It is their chance to "enlighten" the audience about their passions! BUT, they have to "make it quick!"
Ignite Carroll will again be hosted by the brilliant and energetic Vince Buscemi and feature a lineup with a diverse array of speakers sharing their insights and passions.
Stacey Herman, AVP Neurodiversity and Community Workforce Development will be one of the speakers at this event speaking on the topic of improving employment outcomes for individuals with disabilities and community engagement.
October 19, 2022
6—8 p.m.
Carroll Arts Center, 91 West Main Street, Westminster MD
---

Is Your Event Accessible to Everyone? A Guide to Event Design that Fully Includes Participants with Disabilities
Presented to: International Association of Exhibitions and Events (Private Webinar)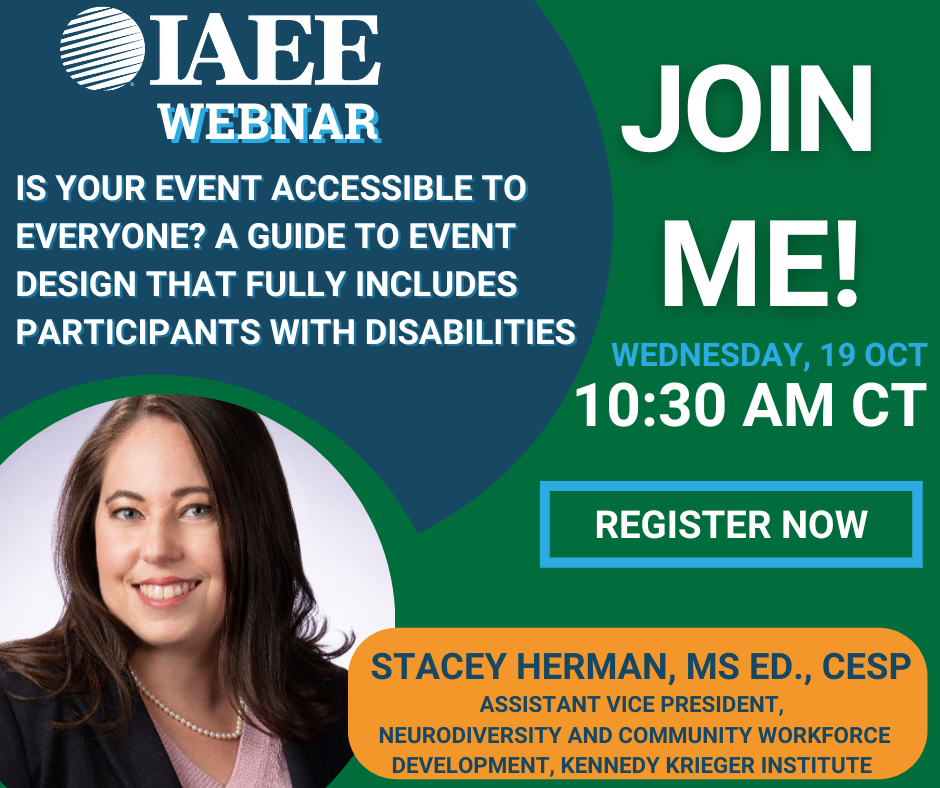 ADA guidelines provide a good foundation for creating accessible events, but they only scratch the surface. Participants may need accommodations for a wide variety of physical or cognitive disabilities, or sensory challenges and supports – some of which may not be immediately visible to observers. We will discuss the accommodations that should be part of every event team's toolkit, from the most common to some that you may not have encountered firsthand yet. Learn how to think with an accessibility mindset, and develop a habit of identifying and resolving potential barriers to access throughout the event planning process.
October 19, 2022
11:00 a.m. – 12:30 p.m.
This session/course/webinar is eligible for 1 clock hour towards CEM recertification. 
IAEE Webinars are FREE to members and available to non-members for $49.
---
Save The Date
Exploring the Brain: Neurodiversity at Work
October 26, 2022
Speakers: Becca Colangelo, Stacey Herman, Mark Butler, Tyler Shallue, Tami Goldsmith
Private Screening: "In A Different Key"
November 9th
Loyola University Maryland, McGuire Hall
Speakers: Stacey Herman