Employer-to-Employer Summit Hosted by Els for Autism & Kennedy Krieger Institute
Date: October 5, 2023
Time: 8 a.m. – 2 p.m.
Location: Kennedy Krieger Institute, Room 202, 801 North Broadway Baltimore, MD 21205
The Employer-to-Employer Summit will bring employers together to learn about the benefits of employing individuals with autism spectrum disorder (ASD) and developing a workplace culture that promotes inclusion of all. We invite employers from South Florida, and Maryland to engage in dynamic discussions, and hear from experts in the field to be better equipped with strategies to hire, retain, and manage individuals with disabilities in the workplace. Employers will have the opportunity to engage with one another through this hybrid event. The Employer-to-Employer Summit is free to attend and will include a catered lunch.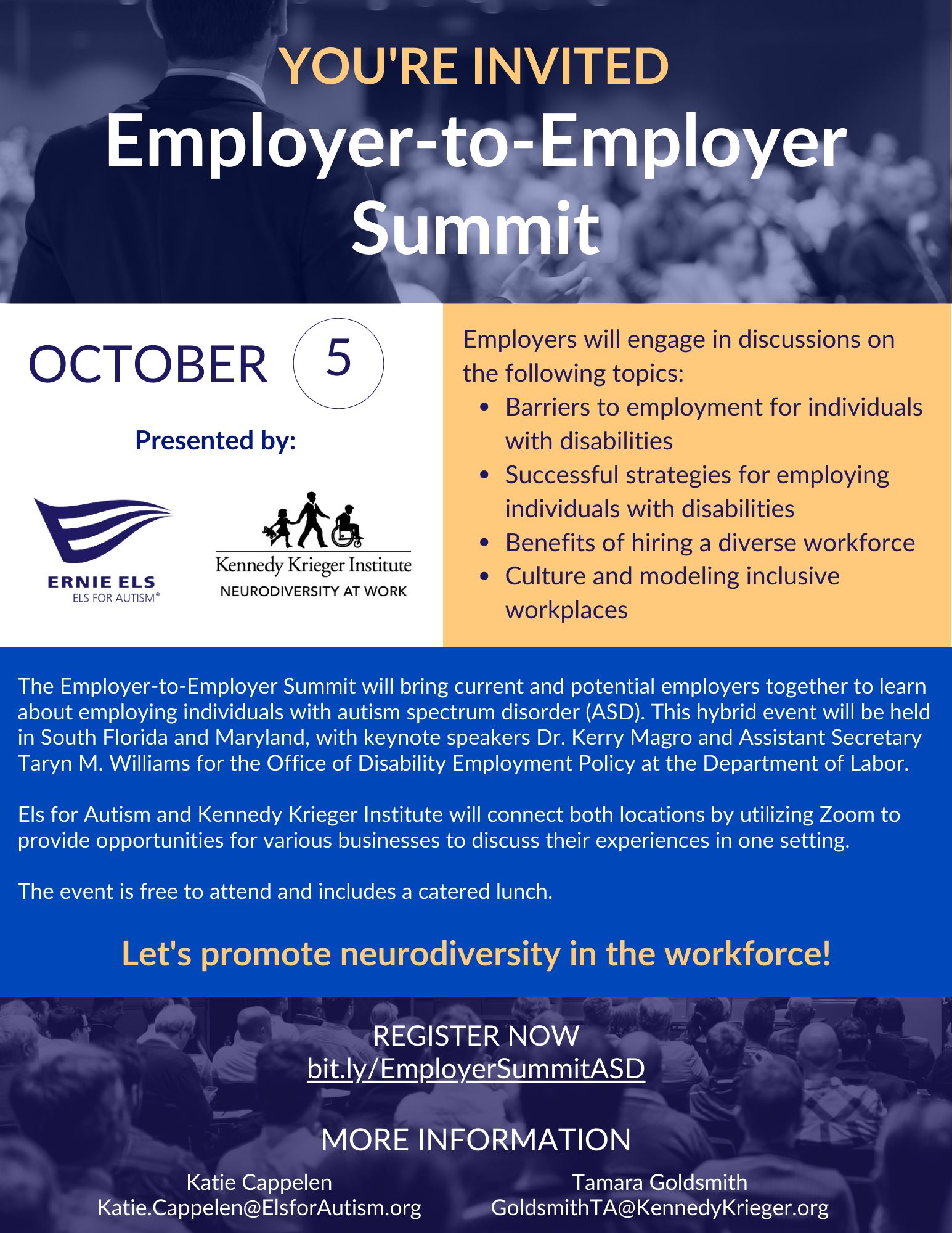 Event Highlights:  
Keynote Presentations: Gain insightful perspectives from Dr. Kerry Magro and Assistant Secretary Taryn M. Williams on their experiences and expertise regarding recruiting, hiring, onboarding, supporting, and retaining employees with autism. 
Expert-Led Breakout Sessions: Learn from industry leaders and professionals who champion diversity, equity, and inclusion in the workplace. Breakout sessions will be facilitated by an expert employer and an Els for Autism or Kennedy Krieger employment specialist is autism. Session topics will include:  

Barriers to employment for individuals with disabilities   
Successful strategies for employing individuals with disabilities   
Benefits of hiring a diverse workforce 
Culture and modeling inclusive workplaces 

Nationwide Networking Lunch: Connect employers across industries and states via Zoom to share insights, challenges, and successes related to employment for autism.  
Panel Discussion and Q&A: Engage in impactful discussions with fellow business leaders, sharing strategies supporting success in employing autistic individuals. 
For more information or to register, please click the link below.