By Kristina Rolfes
C

hildren with motor impairments who are patients at Kennedy Krieger Institute now have a new way to become mobile. Through a national program known as 'Go Baby Go,' Kennedy Krieger offers ride-on cars, such as ones you would find at toy stores, adapted specifically for each child to use as part of physical or occupational therapy. The Go Baby Go program originated from the University of Delaware physical therapy department.

The first time 3-year-old Sophia Ridgley tried one of the cars at Kennedy Krieger, her face lit up with a smile. She has spastic quadriplegia, a type of cerebral palsy, so she is unable to walk or crawl, and she is not yet ready for a power wheelchair. But behind the wheel of a modified toy car, she suddenly had the ability to explore her environment at the press of a button. The result was pure joy.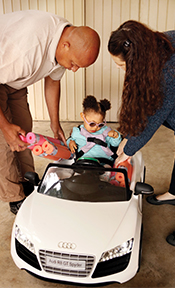 Children who can't crawl or walk miss out on important developmental play and learning, as well as opportunities for socialization. Sophia's mom, Vicki Ferguson, says driving the car gives her daughter a sense of freedom and independence.
"There are so many things Sophia can't do—this is something she is able to do and it helps her fit in with other kids. She's able to stop and go at her own pace…just like every other child."
Sophia's family was one of several that attended the Institute's Go Baby Go Build Day in March, a free workshop in which Kennedy Krieger therapists, equipment specialists, and other volunteers helped families modify toy cars for their children's use at home. Sophia now rides all over the neighborhood in her new car with her parents beside her.
Six-year-old Kaylee Ray, who has Rett syndrome, is also enjoying her new wheels. Although Kaylee is nonverbal, her mom, Monique, can tell from her smiles just how much it means to be independently mobile. "The car gives Kaylee her first taste of independence, and that is worth a million bucks to her dad and me."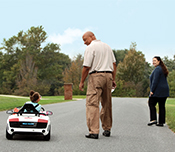 Power wheelchairs can cost upwards of $25,000, and may not be covered by insurance until age 5. By contrast, a ride-on toy car can be purchased for about $200 and modified with a few low-cost supplies like pool noodles, foam rollers, and Velcro straps to give children the postural support they need. For children who are unable to use a foot pedal, the cars can be modified to operate through a switch placed on the steering wheel. Kennedy Krieger physical therapist Beth Farrell says that although "the Go Baby Go cars are by no means a replacement for power wheelchairs, they do provide kids with a means of mobility in an age-appropriate way."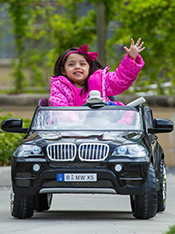 The cars can also lift the spirits of children who may be having a difficult time in the hospital, provide extra motivation, and encourage socialization. Physical therapist Judith Stein recalls a young patient with a spinal cord injury who previously was not talking much. But when he had a chance to ride in the car along with other children, he said his first words in a long while: "I happy."
Kennedy Krieger now has five modified cars for clinical use, with plans to add more. Farrell says that the success of the program so far has been the result of a team effort from many different therapists working together to modify cars for the children. Seeing the proud smiles of children as they ride around in their specially modified cars makes the effort well worthwhile.