By Amy Dykes
When I was 18 and in my first semester of college, surgeons removed a large tumor from my brainstem and cerebellum.
The surgery was successful, but side effects were similar to those of a traumatic brain injury. I developed cerebellar cognitive affective syndrome, which disturbed my executive functioning, spatial cognition and language skills. I developed sympathetic storms, in which—for no apparent reason—I'd be thrown into a state of extreme agitation and hypertension. I lost most of my reflexes and developed hallucinations and insomnia.
My doctors transferred me to Kennedy Krieger Institute, where days became weeks, and weeks became months.
My neurological recovery was very slow and my future was uncertain. But my doctors, nurses and therapists were incredible. They continued to tolerate my unfiltered verbal outbursts and echolalia.
As a last resort, I was put on a new drug. Within hours, I started turning the corner. Ten days later, I went home. In six months, I was back at college.
My care team members at Kennedy Krieger were always there for my family and me in the months and years that followed. My educational specialist worked with my college's disability office to arrange for special accommodations. My social worker guided my parents through the process of caring for a child with a disability until I'd fully recovered. Doctors and therapists continued to offer suggestions, and family therapy was always available for my parents, brothers and me.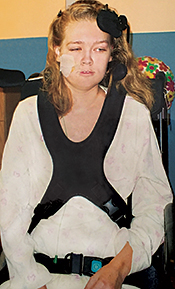 I graduated from college with degrees in elementary and special education. I taught for two years in the public school system, but I wasn't satisfied. I knew that I needed to move forward. The tools that my doctors, nurses and therapists had used with me at Kennedy Krieger had changed my life, and I wanted to use those tools to help students with special needs.
When I saw the job opening for a teaching position at Kennedy Krieger's Fairmount Campus, I knew I had to apply for it. My dream of working at Kennedy Krieger came true when I began teaching seventh- and eighth-graders with autism in August 2016. I felt like I was coming home.
Teaching at Kennedy Krieger has been nothing short of amazing. By tapping into the interests of each one of my students, I'm able to engage with them and deliver education to them at their level. My students are quirky, very bright and—yes—at times difficult, but when tough moments happen, my colleagues fully support me. We work together in the best interests of our students. I love that Kennedy Krieger is such a positive place to be, and that its employees respect each other so deeply.
I've learned that staying positive, patient, determined and persistent is the best way to meet one's goals, and I try to model this for my students. As my first school year at Kennedy Krieger came to a close, I was more proud of my students than they'll ever know. I was also proud of myself. In going from severely impaired patient to educator, I'd closed my own loop, moving on to help others just as I'd once been helped.
Amy Dykes began teaching at Kennedy Krieger's Fairmount Campus in August 2016. To learn more about Kennedy Krieger's school programs, visit the Kennedy Krieger Educational Programs page.