By Kristina Rolfes
It started as a classwork assignment from Alex Gwiazda's teacher: come up with an idea for how to change the world. Alex immediately thought of his cousin Corey, 8, who has autism, and how he could make a difference for him and others with autism. "Our assignment was just to write about the idea," says Alex, 10, "but I wanted to do mine in real life." His idea was to raise money for autism research by designing and selling cards with his artwork in honor of his cousin. His parents told him the best place to donate for autism research was Kennedy Krieger, where Corey was evaluated several years ago.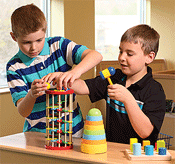 Corey and Alex have a special bond, and when the two are together, Corey says he is in his "safe place." "Corey is one of my best friends, and I want to help him because I love him," explains Alex. "We have a lot of the same interests, like Legos, building models, and history, especially World War II history, tanks, and airplanes."
Alex chose to draw a bluebird on his first card because blue is the color for Autism Awareness Month. He sold cards at a community yard sale last summer and to family, friends of his parents, and neighbors. So far he has raised $197 for autism research at Kennedy Krieger. As a thank you, he received a silver keychain from Kennedy Krieger, engraved with "Unlocking Potential," which he keeps on a hook in his bedroom so he can see it every day.
"If everybody tried to do something good to change the world, then the world would be a much better place," says Alex.
Recently, Corey's 5-year-old sister was also diagnosed with autism, so Alex is even more determined to help. He hopes to make a series of cards, and someday he hopes to help in an even bigger way: "I want to do my own autism research when I grow up and learn how to help kids that have it."
We agree. Thank you for helping to change the world, Alex!