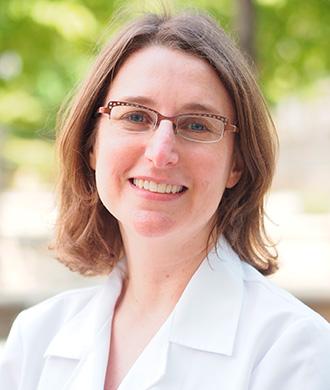 Vice President of Pediatric Rehabilitation, Co-director of the Center for Brain Injury Recovery and Director of the Brain Injury Clinical Research Center
Kennedy Krieger Institute
707 N. Broadway
Baltimore, MD 21205
United States
About
Dr. Stacy Suskauer is vice president of pediatric rehabilitation at Kennedy Krieger Institute, director for the Division of Pediatric Rehabilitation in the Department of Physical Medicine & Rehabilitation at Johns Hopkins Medicine and an associate professor of physical medicine & rehabilitation and pediatrics at the Johns Hopkins University School of Medicine.
Dr. Suskauer is also a research scientist and co-director of the Center for Brain Injury Recovery at the Institute.
Education
Dr. Suskauer attended Duke University in Durham, North Carolina for her undergraduate and medical education. She completed a combined residency program in pediatrics and physical medicine and rehabilitation at Cincinnati Children's Hospital Medical Center and the University of Cincinnati. She came to Kennedy Krieger Institute and Johns Hopkins for a pediatric rehabilitation research fellowship and subsequently joined the faculty of these institutions in 2007.
Dr. Suskauer is board-certified in pediatrics and physical medicine and rehabilitation. She holds subspecialty certification in pediatric rehabilitation medicine.
Research
Dr. Suskauer's primary research focus is understanding and optimizing outcomes after childhood brain injury, including concussion. Her projects include: investigating the use of neuroimaging and neurobehavioral assessments to improve understanding of brain-behavior relationships after traumatic brain injury, identifying the relationship between early physiological and functional variables and long-term outcome after brain injury and optimizing evaluation and treatment of children with disorders of consciousness after brain injury.
Dr. Suskauer's additional research and clinical interests include evaluating functional outcomes in individuals with Sturge-Weber Syndrome and caring for children with limb differences.
Related Links
Research
Related Links
Elsevier Fingerprint Engine Profile for Stacy Suskauer
Research Publications
Stephens J, Salorio C, Denckla M, Mostofsky S, Suskauer S (2016). Subtle Motor Findings During Recovery from Pediatric Traumatic Brain Injury: A Preliminary Report. J Mot Behav. , 1-7.
Davis KC, Slomine BS, Salorio CF, Suskauer SJ (2016). Time to Follow Commands and Duration of Posttraumatic Amnesia Predict GOS-E Peds Scores 1 to 2 Years After TBI in Children Requiring Inpatient Rehabilitation. J Head Trauma Rehabil. 31(2), E39-47.
Risen SR, Barber AD, Mostofsky SH, Suskauer SJ (2015). Altered functional connectivity in children with mild to moderate TBI relates to motor control. J Pediatr Rehabil Med. 8(4), 309-19.
Kramer ME, Suskauer SJ, Christensen JR, DeMatt EJ, Trovato MK, Salorio CF, Slomine BS(2013). Examining acute rehabilitation outcomes for children with total functional dependence after traumatic brain injury: a pilot study. J Head Trauma Rehabil. 28(5), 361-70.
Suskauer SJ, Trovato MK (2013). Update on pharmaceutical intervention for disorders of consciousness and agitation after traumatic brain injury in children. PM R. 5(2), 142-7.
Austin CA, Slomine BS, Dematt EJ, Salorio CF, Suskauer SJ (2013). Time to follow commands remains the most useful injury severity variable for predicting WeeFIM® scores 1 year after paediatric TBI. Brain Inj. 27(9), 1056-62.
Suskauer SJ, Trovato MK, Zabel TA, Comi AM (2010). Physiatric findings in individuals with Sturge-Weber syndrome. Am J Phys Med Rehabil. 89(4), 323-30.
McNally MA, Crocetti D, Mahone EM, Denckla MB, Suskauer SJ, Mostofsky SH (2010). Corpus callosum segment circumference is associated with response control in children with attention-deficit hyperactivity disorder (ADHD). J Child Neurol. 25(4), 453-62. 
Suskauer SJ, Slomine BS, Inscore AB, Lewelt AJ, Kirk JW, Salorio CF (2009). Injury severity variables as predictors of WeeFIM scores in pediatric TBI: Time to follow commands is best. J Pediatr Rehabil Med. 2(4), 297-307. 
Suskauer SJ, Huisman TA (2009). Neuroimaging in pediatric traumatic brain injury: current and future predictors of functional outcome. Dev Disabil Res Rev. 15(2), 117-23.