The Center for Child and Family Traumatic Stress offers training and consultation packages to mental health professionals, service providers and organizations interested in improving their trauma-focused treatment capacity either through the implementation of evidenced base practices or trauma informed interventions and considerations.
Upcoming Training:
Trauma in Young Children: Observing & Intervening to Improve Outcomes
Webinar Description:
The purpose of this workshop is to provide education on the presentation of symptoms and behaviors in children under 6 years-old who have experienced trauma. The workshop will then describe and present skills and strategies, as well as appropriate evidence-based, trauma-informed interventions, for young children to reduce symptoms and behaviors related to trauma. Outcome research on the presented treatment models will be shared to provide the context for improving outcomes for young children. Case examples will be utilized to help participants understand potential challenges and the important successes in treatment implementation with this population. This presentation will include lecture, case studies and group discussion.
Learning Objectives:
Attendees will be able to:
Describe the presentation of trauma in young children
Identify three appropriate interventions for young children who have experienced trauma
Recognize related cultural and individual variables that can impact trauma-related symptoms and behaviors in young children
List improved outcomes for this population with the use of evidence-based practices
Target Audience:
Intermediate level professionals and paraprofessionals working with young children and their families.
Level of Content:
Intermediate

Where:
Webinar

Date:
Wednesday, October 14, 2020
9 a.m. -12 p.m.
Registration:
Visit the event registration page for more information
Online Training: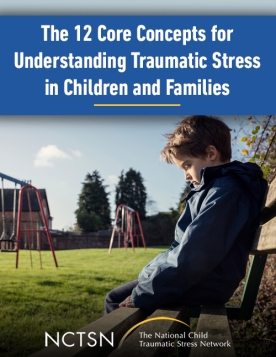 Provides foundational knowledge to better understand The 12 Core Concepts for Understanding Traumatic Stress Responses in Children and Families. This course provides information on each of the core concepts that form the theoretical foundation and act as guiding principles for The Core Curriculum on Childhood Trauma.

Free course available through the Learning Center for Child and Adolescent Trauma with account set-up at no cost. This online resource is available for professionals and families who want to learn more about child traumatic stress.
Consultation Services:
The Center for Child and Family Traumatic Stress is available to provide one-time and/or on-going clinical case/treatment consultation to professionals and organizations. Traumatic Stress Center faculty are also available to provide in-service training and/or consultations on a variety of topics related to childhood traumatic stress. Consultation can be offered to assist with organizational readiness when adopting an evidence-based practice and the Traumatic Stress Center can also provide implementation support.
For more information about specialized training or consultation, please contact TraumaticStressTraining@KennedyKrieger.org or call (443) 923-5971.

---

For More Information:
For more information about trainings and other services we offer, please click on the links below.