By Robby Beckman
When I was 19, I dove off a dock. My three buddies went to the left, but I dove to the right. I woke up 13 days later with a spinal cord injury. The doctor delivered the news of paralysis, along with a list of things he said I'd never do again.
At first I didn't believe it, but then I viewed the future as a challenge. For nearly three years, I focused on gaining as much independence as possible. While my friends were in college, I spent my days in rehab.
It was a mental struggle, but the therapists at Kennedy Krieger pushed me further than I knew I could go. After the injury my physical abilities were very limited. If I hadn't been dedicated to rehab, I couldn't live the life I have today.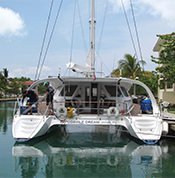 Joining a wheelchair rugby team opened the door to competitive adaptive sports. Our team, the DC Capital Punishers, was sixth in the country last year. Then I tried hand cycling and was hooked. Last year I tackled three marathons, including the Marine Corps'. I'm training now for two more and a 100-mile ride. I'm proud to race each year on Team Kennedy Krieger in the Baltimore marathon, alongside my therapists and fellow patients, many of whom I call friends.
Josh Basile is one of those friends; we met in rehab almost a decade ago and were among the first patients of Kennedy Krieger's International Center for Spinal Cord Injury. When he called this year to ask me, "You wanna go to Cuba?", the answer was easy.
Along with Colin Buchanan, another patient, we sailed 97 miles south from Key West to Cuba on the Impossible Dream.

​
The memories I have of this adventure will stay with me forever: 18 hours at sea, each way; lying on the net of the catamaran with the sea stretched in front of me; letting myself feel the buoyancy of the water; no cell phone service for nine days; the child without clothing eating bread and water on the street; simply going back in time.
The owner of our hotel in Cuba, who was also in a wheelchair, said to me, "You make life around you better." That was the best compliment anyone has ever paid me. People in my life have sacrificed a lot to help me get to this point and I want to give that back into the universe.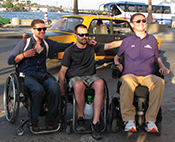 My 2-year-old son is the main reason I went. Many opportunities exist. Even if it takes longer or he has to take a different route, I want my son to know that he can have them. I can't wait to hear him say, "Seriously, Dad, you sailed to Cuba when you were paralyzed?"
Even though I use a wheelchair, I can still take risks. Calculated risks, of course, but that's what makes me feel like I'm living—really living.
I want people to remember that the day after a spinal cord injury is just another day. It sounds nonchalant, but it is what it is. You only get one life. You can either sulk about it or do something with it.

To learn more about spinal cord injury treatment options at Kennedy Krieger Institute, visit the International Center for Spinal Cord Injury page.