By Kristina Rolfes
Multiple specialists spent eight years seeking a diagnosis for Christian Meese, ordering brain MRIs, muscle biopsies, blood tests, and sleep studies. When Christian and his family turned to the Neurology and Neurogenetics Program at Kennedy Krieger, experts found an answer through whole exome sequencing—a technique that analyzes thousands of genes all at once with a single test.
Knowing the cause of Christian's developmental disability means doctors can offer targeted treatment for his individual needs. 
Megan Meese can hardly remember a time when she didn't worry about her son, now 13. Megan was deployed to Iraq when Christian was 18 months old. In January 2005, when she returned home to Wheaton, Maryland, Christian, then age 3, should have been rapidly achieving developmental milestones. But instead, there were red flags.
Teachers at his preschool told Megan his gait was off—could something be wrong with his feet? Christian's speech was regressing, his balance was off, and he was often fatigued. Megan knew something was wrong.
She took him to the pediatrician, who referred him to a specialist, who then referred him to another, and then another. Thus began the family's long journey to find answers to what was happening to their son.  
Casting a Wider Net
One in six children in the U.S. has a developmental disability, according to the Centers for Disease Control and Prevention. While many diagnoses are well defined, in some cases the cause of a disability is unknown. Families with a nonspecific diagnosis such as developmental delay, cerebral palsy of unknown cause, or intellectual disability may have only half of the answer. Some families never learn the cause of their child's disorder.
Neurogenetic experts at Kennedy Krieger have found that in up to 40 percent of these cases, a genetic diagnosis can be found through whole exome sequencing. "It allows us to cast a much wider net than with traditional genetic testing," explains Ali Fatemi, MD, a neurologist in the Neurogenetics Clinic at Kennedy Krieger Institute. "Essentially, we have 20,000 times more data than before by looking at all genes."
Finding a diagnosis provides critical information for families like the Meeses. Through exome sequencing, the family finally learned that Christian's difficulty with speech and balance, uneven gait, and extreme fatigue were caused by a rare genetic disorder known as coenzyme Q10 deficiency, caused by mutations in the ADCK3 gene—a type of mitochondrial disease.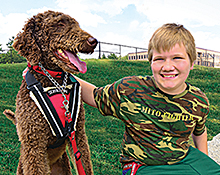 Informed by Christian's diagnosis, his treatment team—which includes neurologist
Ali Fatemi, MD
, and geneticist
Hilary Vernon, MD, PhD
—can now provide an individualized health plan tailored to his genetic makeup. Christian's gene mutation affects his body's ability to ma
ke the coenzyme Q10, which is critical in helping cells create energy. "Now that we know exactly what he has, we can target the pathway that we know is disrupted," explains Dr. Vernon, who treats Christian's mitochondrial condition. "It goes from generalized to personalized medicine."
Doctors can also be more proactive about his long-term health maintenance. Christian is now screened annually for diabetes as well as thyroid and kidney functioning, which can be affected by mitochondrial disease.
"Having a diagnosis is everything," says Meese. "When you have a name for something, you can then learn more about it."
The diagnosis has allowed her to find a support network; Megan joined the United Mitochondrial Disease Foundation, a national organization with an online community that allows her to connect with parents of kids who have the same disease. Megan now knows that Christian needs to avoid activities that may cause energy depletion or stress, and take extra precautions if he becomes sick.
With the benefits of finding an exact diagnosis, the value of exome sequencing is becoming better recognized and understood.  
"There is a misconception that if a child has a genetic disorder, there is nothing you can do," says Julie Cohen, a genetic counselor at the Neurology and Neurogenetics Clinic who worked with Christian's family. "But our research shows there are often things we can do to improve outcomes."
A study that Cohen co-authored with Drs. Fatemi and Vernon and other colleagues found that having a genetic diagnosis through exome sequencing changed the management of the patient in every case studied. For some, that meant starting a new medication or stopping a medication that wouldn't be effective. Others came back with a diagnosis for which a clinical trial was available. The study, published in 2014 in the Annals of Neurology, was recognized by as among the three most-noteworthy neurogenetics research findings of the year.
"A diagnosis can lead to a prognosis and, possibly, treatment," says Cohen. "It also allows family members to understand the chances that future children will have the same disorder."
An End to the Diagnostic Odyssey
The cost of exome sequencing is currently around $7,000, and insurance companies, for the most part, are covering the test. "It's extremely cost-effective when you think about the alternative, which is more and more investigation, neuroimaging, specialists, and unnecessary medication," explains Dr. Vernon. "If nothing else, it puts an end to the diagnostic odyssey that families are on."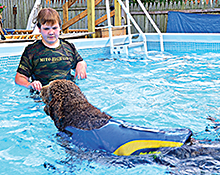 Christian started 7th grade this year. Kennedy Krieger specialists evaluated Christian's educational needs to help determine the best academic placement for him and ensure he received all the necessary tools to be successful. When Christian has trouble with his balance, he touches the harness of his service dog, Trevor, which allows him to regain his footing. Trevor also provides Christian with opportunities to enhance his social skills, as others always have questions about his dog.
For Megan Meese and her family, it's hard to overstate how important it is to finally put an end to the mystery, their long search for answers. For the thousands of families who have struggled with uncertainty, having a diagnosis makes a world of difference. More than 300 patients have gone through exome sequencing at the Neurology and Neurogenetics Clinic, and for the 40 percent who finally receive a diagnosis, it brings peace of mind and hope. "I've seen it happen so many times," says Dr. Vernon. "The situation just lightens up, the heavy mystery gets taken away. It really does change the family."
Related Content:
Video: The Role of Genetics in the Diagnosis of Developmental Disorders.