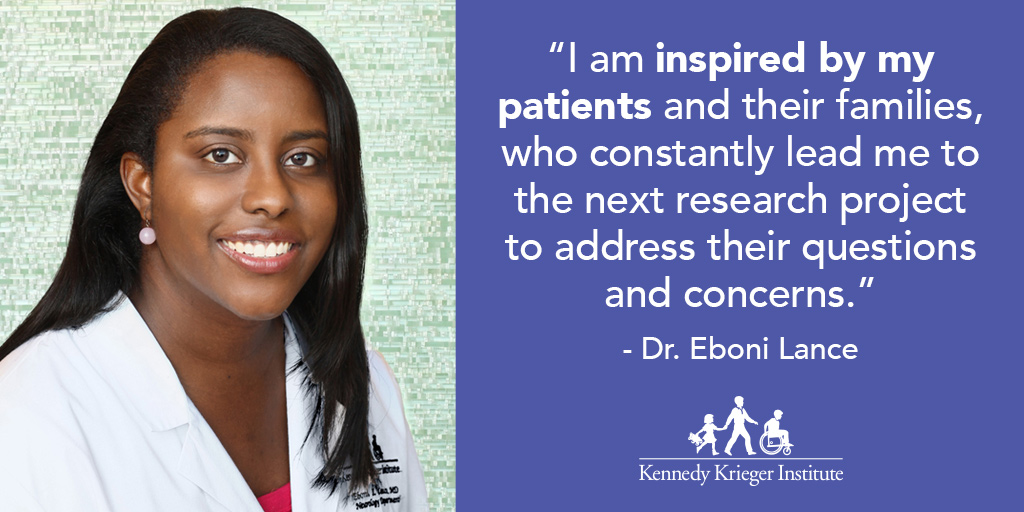 Meet Dr. Eboni Lance, Co-Director of the Neurogenetics Clinic, and Medical Director of the Sickle Cell Neurodevelopmental (SCD) Clinic here at Kennedy Krieger.
In her role, Dr. Lance and the SCD Clinic team, including neuropsychology, behavioral psychology, education, and psychiatry providers, work closely with patients and their families, making sure parents and caregivers are well-informed of their child's condition and feel empowered to advocate on their behalf. The patients and families Dr. Lance works with also inspire her to pursue new research projects based on their questions and concerns.
Dr. Lance also works with trainees, teaching them about the importance of listening to patients in order to gain their trust and provide them with the best possible care. Dr. Lance can relate to many of the trainees she works with, because at one time, she was a trainee. 
When asked what she's most proud of, Dr. Lance says it's knowing that the Sickle Cell Neurodevelopmental Clinic, which she started while in training, has continued to grow and flourish. The clinic now treats children and adults, allowing Dr. Lance and her peers to help more patients with Sickle Cell Disease and other neurodevelopmental disorders.
In celebration of Black History Month, we celebrate Dr. Lance and thank her for her continued dedication to the children and families she serves.