By Christianna McCausland
In many ways, Zyaira is like most 9-year-old girls. She loves to ride her bike, roller-skate and do her own hair. She likes to help her mom cook—grilled cheese is a favorite. But when she came to Kennedy Krieger Institute's Center for Child and Family Traumatic Stress in 2013, she was a very different child.
After witnessing her father have a massive heart attack, she and her mother, Charisse, moved to Baltimore from rural Virginia. Soon, Zyaira's concerns over her father's health were compounded by separation anxiety and difficulty adjusting to a city school. Shy by nature, Zyaira would be reserved and quiet, and then have uncontrollable temper tantrums. She was afraid to sleep alone at night, and she talked in a baby voice when stressed.
Following a recommendation from her middle daughter, Charisse brought Zyaira to the traumatic stress center, where therapists evaluated both mother and daughter for trauma. They found that Zyaira suffered from anxiety over her father's health and from her separation from him. She struggled in school due to a language disorder and because she was being bullied for being in special education classes.
"When we first met, Zyaira was very shy and timid, and she denied her feelings—everything was always 'fine,'" says Emily Driscoll-Roe, one of the center's social work managers. "We really tried to help her put her thoughts into words, which was a struggle for her for many reasons."
Children, adolescents and their families are generally referred to the center, which was founded in 1984, for treatment of mood or behavioral symptoms, which are often either caused or affected by trauma exposures. Typically, the children and adolescents seen at the center have experienced at least one form of trauma, such as the loss of a loved one, community violence, domestic or sexual abuse, a car accident, or stress related to immigration. The trauma compounds any clinical diagnosis a child or adolescent may also have.
The source of a child's or adolescent's trauma may be in or near the home, and children, adolescents and their families often enter the clinic while experiencing a high level of stress, says Sarah Gardner, the center's director of clinical services.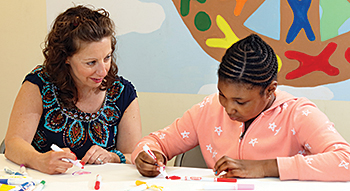 "We create a strong partnership with parents and caregivers," Gardner says, "so that they get the support they need to manage their stress and advocate for their children and teenagers in what can be very challenging situations and systems."
While treatments for a child's clinical needs do exist, reminders of a past trauma may remain in a child's environment. Zyaira couldn't simply move to another school where there were no bullies, for example. For Zyaira, resilience was the key to success.
"The biggest thing with Zyaira, and with all the kids, is to develop coping strategies," Driscoll-Roe says. "We focus on building on a child's strengths and having them participate in the process of finding what works for them when things aren't going right."
Zyaira's evaluation at the center identified school as a significant challenge. "Her school resisted adding services to her individualized education program [IEP], so we supported Charisse in her advocacy to help Zyaira get the services she needed through school," Driscoll-Roe says. "I've also been going to the school to touch base with them in person to make sure her IEP is being met."
Zyaira has been able to access a wide range of services throughout Kennedy Krieger. She went to the Center for Development and Learning for an assessment to better pinpoint her learning challenges. A neuropsychological evaluation provided new information that helped build her a stronger IEP. She attends individual and group therapy, and she takes medication to manage her anxiety. She participated in a social skills therapy group with her peers, and she receives reading support at the Child and Family Support Center. All of that has helped her engage more at school.
Zyaira's mother also attends therapy, at the Child and Family Support Center, which has been invaluable to her ability to support her daughter. "Kennedy Krieger opened a door for Zyaira and for me," Charisse says. "I was in denial for a long time about what was going on. When I got frustrated with her, I'd get mad and walk away. Now I'm in therapy, and they showed me how I can change and what I can work on. Now, we try to talk things out and use all the tools Kennedy Krieger has given us."
Some of the tools Zyaira finds effective include squeezing stress balls (which she keeps inconspicuously in her backpack), deep breathing and positive visualization. Perhaps most importantly, she no longer uses baby talk and has learned to talk about her feelings without embarrassment and to speak with an adult when she needs help.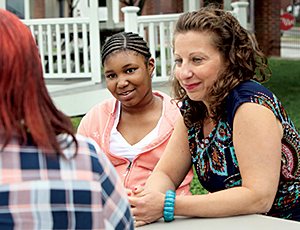 "She's learned to maintain a good attitude and has become outspoken," her mother says. "It's still hard for her to make friends, but she tries. And the kids still make fun of her, but she can defend herself better against the bullying."
Charisse hopes her daughter will make it through school. She'd love for Zyaira to attend college. Life isn't easy for them, but it finally seems manageable.
"We've learned to be each other's strength in tough times," Charisse says. "Zyaira still has a lot of challenges, but they've given her the tools to get over some mountains. They've given us so much hope."
To learn more about traumatic stress services at Kennedy Krieger, contact the Center for Child and Family Traumatic Stress, or call the designated intake line at 443-923-5980.