By Francisco Oller
In life, we face many challenges that we have no control over.
I was born with a rare genetic disease, Pelizaeus-Merzbacher (PMD), that affects my motor skills. In my youth, I was bullied and rejected in school because of my disability. This treatment, however, only strengthened my resolve to make the most of life, and helped me frame several life lessons. First is living a life filled with self-acceptance, optimism, and continued vulnerability. I've developed a mindset: I believe I live without a disability, because I prefer to consider PMD a physical challenge. My physical challenge cannot stop me from living a happy life. Instead, it encourages me toward a life enriched with possibilities in almost everything I do.
My experiences and their lessons led me to motivational speaking. I've spoken not only at Providence College and the University of Rhode Island, but also on National Public Radio in Rhode Island for the segment "This I Believe: Coping with Challenges." I've also had the benefit of speaking to elementary school students and on television in my native Puerto Rico.
Through speaking and sharing, I hope to leave others with a positive outlook, remembering that one can overcome fears and insecurities with a new mindset. By having a 'why' to live for, which in my case is inspiring others to overcome challenges, I am able to raise my sights and see what is possible. No matter how dark life can be, I always look for the possibilities. They are there.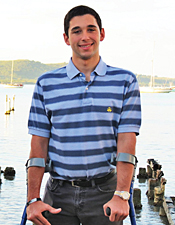 I stress the importance of seeing those with disabilities as equals, loving yourself for your imperfections, and living a life filled with optimism. Do not feel sorry for people with disabilities, but rather, know that they have the courage to go out and adapt to a world that is unfavorable to them.
I do not know how exactly my medical condition will progress. Perhaps someday I will walk without a walker or crutches. I realize that this might never happen, but there is no reason to lose hope. The day we lose hope for a better tomorrow is the day we inadvertently impose limits on ourselves. What matters most in life is how we cope with the challenges that come our way each day.
I will spend my life trying to bring happiness to those less fortunate than me, because I know that happiness comes from giving to others.
I thank my parents and all those who have positively impacted my life. I dedicate my future to do the same for those who may need my efforts, my care, and my enthusiasm. I move forward with courage, I pursue my dreams,
and I continuously challenge myself to chase the opportunities that are before me.
Francisco Oller was born in San Juan, Puerto Rico, and is a junior at Providence College in Rhode Island. He was diagnosed and treated at Kennedy Krieger, where doctors discovered that he had a new mutation of PMD, which was published in the American Journal of Human Genetics in 1999.