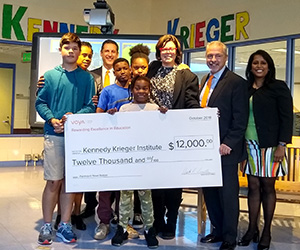 Voya Financial, Inc. is supporting Kennedy Krieger Institute with a $12,000 grant, allowing the school to implement the Fairmount News Station project. Voya, a leading provider of retirement plans for educators, awarded Deidre Rabuck, assistant principal at the Lower/Middle School, with a second place prize in the company's annual Voya Unsung Heroes program. Through this effort, Voya awards $2,000 grants to 100 K-12 educators across the country each year to support their innovative and creative teaching ideas. Voya also selects three top winners to receive additional funds. As the second place winner, Rabuck received $10,000 in addition to the $2,000 grant—bringing her total award to $12,000. This support will be used to help bring the Fairmount News Station project to life at the Kennedy Krieger Lower/Middle School.  
The Fairmount News Station will focus on giving students who have learning, behavioral, and physical disabilities the opportunity to write, produce, and star in the school's morning announcement "news series." With a goal of mirroring an authentic, local news broadcast, students will create content, prepare written scripts, design background scenes, record the broadcast, and deliver the finished newscasts to the school's classrooms. 
To honor Rabuck and Kennedy Krieger, Voya representatives planned a surprise celebration at the Lower/Middle school on Tuesday, October 30, where Rabuck learned of the additional $10,000 award in front of a crowded room of students and staff.  She was presented with an oversized check and was congratulated for her innovation and dedication to the students. 
"The Kennedy Krieger Lower/Middle School is thankful for Voya's support and recognition of Deidre Rabuck's vision for a student run broadcast studio," said Sandi Jenkins, principal of the Kennedy Krieger Lower/Middle School. "The studio will allow our students to work on writing, public speaking, executive functioning and many other important skills. With Voya's support and Deidre's drive, energy, and expertise, our students will have the opportunity to actively participate in broadcasts throughout the school year."
 
With the Voya grant, Rabuck plans to purchase the necessary equipment to accommodate the various disabilities and diverse learning styles of the students as each broadcast will involve varying complexities. This will provide students with opportunities to move outside of their comfort zones, work cooperatively, and master a variety of new skills—all proficiencies which are especially important among students with disabilities to gain confidence and life experience.