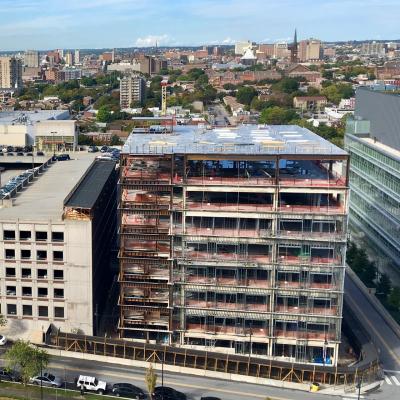 When completed, the Harry and Jeanette Weinberg Building will be a major addition to Kennedy Krieger Institute's existing outpatient center. The new facility will house mental health outpatient clinics; the Center for Child and Family Traumatic Stress; finance, human resources, care management, patient accounting and compliance departments; professional and regulatory offices; and a training and education center.
This past summer, a topping-off ceremony was held to commemorate the placing of the final beam atop the steel structure. The building project is ahead of schedule, and is projected to be fully complete by early 2019, and ready for occupancy shortly thereafter. The new building will allow the Institute to serve thousands of additional children each year, and will give Kennedy Krieger an even broader impact.
Watch a video of the topping-off ceremony, including the placement of the final beam, and see the latest time-lapse photos—which are taken every 10 minutes—of the construction site.