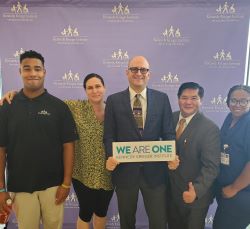 The employees of Kennedy Krieger Institute came together last fall to support the Institute's patients, students and families during "We Are One," Kennedy Krieger's inaugural employee giving campaign. In just four weeks, Institute employees raised more than $85,000 to help families in need, donating funds, vacation time and volunteer hours—a true testament to employees' pride and passion for Kennedy Krieger and its mission.
The money raised through the campaign will support the Mary Snyder-Vogel Family Fund, which helps patient and student families pay for medical and therapeutic expenses not covered by insurance. The fund also provides one-time grants to help patient and student families cover basic living expenses.
"I was so impressed by just how many employees chose to give back to the Kennedy Krieger community," says Bridget Dohony, one of the employee campaign coordinators. "It's a great reflection of how dedicated we are to improving the lives of our patients and students, and their families."
The "We Are One" campaign was inspired by a desire to elevate support for patient and student families at Kennedy Krieger. In 2019, the Institute assisted 33 patient and student families in need through the Mary Snyder-Vogel Family Fund, and employees hope to help even more in 2020. While anyone may contribute to the fund at any time, the campaign highlights this opportunity that employees have to go above and beyond to help patient and student families in a way that might deflate the stress associated with the extra costs of raising a child who needs special care.
"That so many employees contributed to this initiative, with the primary goal of helping patient and student families, is a true inspiration," Dohony says. "I am incredibly grateful to be a part of an organization that fosters such a supportive work environment."
Special events held throughout the campaign at various Kennedy Krieger locations allowed for employees, patients and students to participate in Kennedy Krieger trivia contests and photo opportunities, and gave everyone the chance to learn more about the campaign's mission.
"In the inaugural year of the 'We Are One' campaign, we saw a community of professionals come together to make an extraordinary impact," Dohony adds. "There is pride in knowing that all employees are working toward one goal: to maximize the potential of those who place their trust in us."