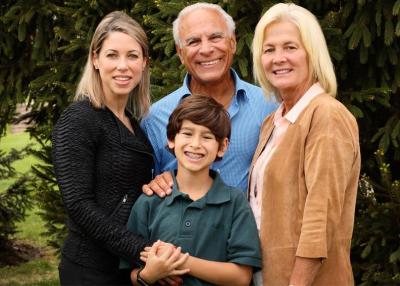 When a friend suggested volunteering at Kennedy Krieger, Allyson Gordon thought it would be a fun learning experience for her children. But her 9-year-old son, Jack, enjoyed it so much that giving to Kennedy Krieger became a family affair, across three generations—Jack, his parents, and his grandparents.
At the Institute's Planting Hope event, Allyson and Jack joined other volunteers in planting flowers in the Institute's Therapy Garden while providing children in the inpatient unit an activity-filled day of face painting, music, and crafts. Jack loved interacting with the patients, and Allyson recalls how he would push the children in their wheelchairs up to the table and paint with his new friends. "He doesn't see a kid in a wheelchair; he sees a kid he's coming to help and play with," says Allyson. In the fall, Jack manned a booth at a carnival for kids on the inpatient unit, playing games with them as they came through.
Jack says he enjoys seeing the smiles on everyone's faces when he volunteers with kids at Kennedy Krieger, and he loves to be able to help. His grandfather, Donald Gordon, gave Jack a chance to help even more kids. In lieu of a holiday gift, Donald and his wife, Nevenka, told their grandchildren they would donate money to a charity of their choosing. For Jack, the choice was easy. He put together a presentation about his experiences volunteering at Kennedy Krieger and why it was a worthy cause, and his grandparents responded with a generous donation from The Donald E. Gordon Charitable Foundation.
Through Allyson's experience volunteering, she and her husband were also inspired to donate to Kennedy Krieger. "Kennedy Krieger offers kids so much potential in life and I love that aspect," she explains. "The things they do there are incredible." Allyson is also a member of the Women's Initiative Network (WIN) for Kennedy Krieger, a group dedicated to making a positive impact on patients through activities, events, and fundraisers. She especially enjoys volunteering in the child life room whenever her schedule allows. "Kids can forget for that half an hour that they are inpatient," she says. "They can just play and be kids."
Jack, now 12, is proud of the difference he and his family are making. "It makes me happy to know that our family's donations are going to help kids I have met and so many others—that is really special to me."