Dr. Lana Warren: Today I am joined by Dr. Aaron Parsons, the Vice President of Kennedy Krieger Institute's school programs.
Dr. Aaron Parsons: I want to tell you about one of my students, a senior named Lauryn. Lauryn is a young woman with disabilities. She is a very polite and engaging student. She is always looking out for others. People really enjoy her company. As part of our school program, Lauryn has held jobs as well as taking classes. She's even had a summer job at Capitol Hill. Despite the success, I was concerned about Lauryn.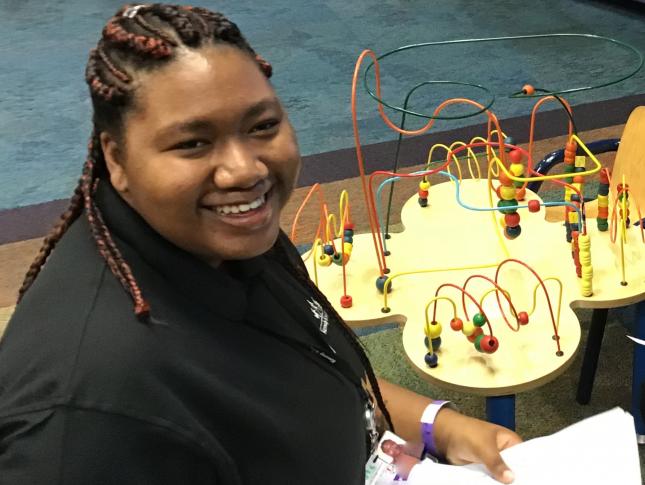 Our graduates struggle in the workforce, despite having real skills and value. Young people with disabilities are about twice as likely to be unemployed as other Americans. Young people with autism, two years out of high school, only about 30% of them had ever had a job. Lauryn is going to need an accommodating work place, but Lauryn also participates in our young Marines unit. It's run by retired first sergeant from the Marine Corps and they do some great stuff. Lauryn is polite and friendly, but Lauryn has some grip. Lauryn joined our new Project SEARCH program. It places students or interns directly into the workforce for about a year. They develop great job skills and build experience. Kennedy Krieger Institute hosted a dinner for incoming Project SEARCH interns. During our dinner, we all laughed and talked about everything, even favorite T.V. shows.
It was fun, but underlying the fun, the stakes were so high. I looked at Lauryn and all the interns and their families, and I realized there was a powerful message for me in that moment. We are part of a movement; we're going to change this country. We're going to change the way we support adults with disabilities in the workforce. Lauryn isn't depending on her school for this, Lauryn is part of this. I can't become angry or discouraged when things move slowly. I need to be like Lauryn. I need to show some grip and keep this moving.
Dr. Lana Warren: Inspiring moments is produced for WYPR by Kennedy Krieger Institute. I am Dr. Lana Warren