Life can change in an instant. That is what happened to Purnell after being injured while crossing a street. As a result, Purnell had to relearn everything, including how to walk, talk and eat.
Through very hard work with his therapists at Kennedy Krieger Institue, and his own determination, today Purnell is a typical teenager looking forward to his junior prom.
In recognition of Brain Injury Awareness Month, we are inspired by patients like Purnell who overcome so much. Hear or read Lynnley Moore share more of Purnell's story below.
Dr. Jacqueline Stone: Today, in recognition of Brain Injury Awareness Month, I am joined by Lynnley Moore, a speech-language pathologist and manager of therapy services at Kennedy Krieger Institute.
Lynnley Moore: Let me tell you a story today about Purnell. He is a tall and inspiring young man with a radiant smile, great sense of humor and endless determination.
Purnell sustained a severe traumatic brain injury when he was hit by a car while crossing the street. After receiving multiple surgeries, Purnell came to Kennedy Krieger's hospital where he received intensive therapy. He was a 13-year-old boy who could not walk, talk or eat. He worked with our interdisciplinary team five days per week, six hours per day for eight months. In our program he received intensive physical, occupational and speech therapies and neuropsychology and special education. Basically, he had to relearn everything.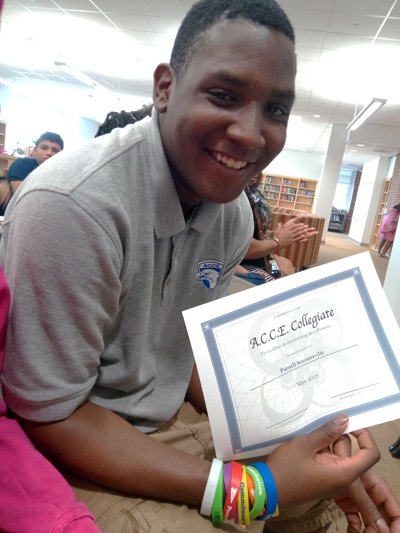 A few months later, Purnell took his first steps using a walker and was walking up to a hundred feet. Soon after, Pernell took his first bite of cracker. And after a few swallows, Pernell spoke for the first time since his injury. He said "good" and then "cracker". He was so proud of himself and he became even more determined. He used his communication device to tell his mom and me that the wanted to practice all weekend and he'll be talking by Monday. Sure enough, when he returned on Monday, Pernell greeted me by saying "Hi, Ms. Lynnley!" and he hasn't stopped talking since.
By the time Purnell went back to school, he was eating a regular diet, spoke to everyone and anyone that would listen and was walking three city blocks.
I caught up with Purnell last month. He is now in the 11th grade at a charter high school in Baltimore. He told me he is really looking forward to his junior prom this spring and he hopes to be a lawyer or a motivational speaker.
When I asked him what advice he would give, Purnell said, "When you're going through stuff, you gotta get it through it! I didn't know how to walk, talk or eat but I can do all that now. Never back down from a challenge".
I still vividly remember the hard work Purnell and his mother did. Their endless determination and positive attitude continue to inspire me each day.
Dr. Jacqueline Stone: Inspiring Moments is produced for WYPR by Kennedy Krieger Institute. I am Dr. Jacqueline Stone.