By Christianna McCausland
No one needs to tell Eric Pineiro that life can change in an instant. That moment for him was June 20, 2015. He was driving his wife and 2-year-old daughter, Sanayah, home from the mall when a drunk driver swerved into their lane. The impact killed a passenger in the oncoming vehicle, and sent Sanayah's mother, Nandraine, to Shock Trauma, and Sanayah and her father to the hospital. The crash left Sanayah with a severe spinal cord injury, brain hemorrhage, and concussion. Although her spine was intact, the swelling—and the damage to the nerves that followed—left her paralyzed from the chest down.
The weeks that followed were difficult. Eric, whose condition had stabilized, spent long, sleepless nights with his daughter hoping she would survive, while Nandraine struggled to recover from her own injuries and the anxiety of being separated from her daughter. When Sanayah's condition stabilized, doctors recommended intensive rehabilitation as soon as possible. Based on his research and the testimonials of other families, the choice of Kennedy Krieger Institute was clear to Eric.
"I didn't know what was going to happen with my daughter," recalls Eric. But once he met the team at Kennedy Krieger, he says, "I could finally feel comfortable and know that my daughter was in the best care. They were very informative, very gracious, very understanding, kind. They truly love what they do and it shows."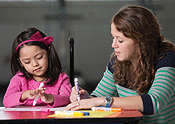 Sanayah's case was complex. Not only did she have a spinal cord injury, she also had a traumatic brain injury and respiratory complications. Fortunately, she had a team of experts from the Institute's pediatric Brain Injury Rehabilitation Program and the International Center for Spinal Cord Injury (ICSCI) to address all aspects of her care.
"At Kennedy Krieger, we have this huge team of people working together to attack each and every problem from so many different dimensions," says Michelle Melicosta, MD, who treated Sanayah on the inpatient unit.
Despite the severity of her injuries, it was Sanayah's age that was perhaps the most challenging issue. She had the stubbornness one would expect of any toddler and a limited ability to express her emotions or understand her medical situation. Sanayah had undergone significant trauma from the accident itself and the necessary interventions that followed. And it was hard for the entire family to be separated—Nandraine remained in the hospital, while Eric stayed with Sanayah. Understandably, Sanayah was anxious, yet it was critical that she participate in the therapies needed for a successful rehabilitation.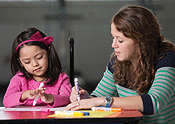 "One of the real advantages at Kennedy Krieger, because we have such an excellent interdisciplinary approach, is that both the behavioral psychology and child life staff worked really closely with Sanayah," says Dr. Melicosta. Child life therapists helped Sanayah adjust to being in the hospital and away from her mother, while the behavioral psychology staff taught her, at an age-appropriate level, coping mechanisms she will need moving forward.

Janet Dean, pediatric nurse practitioner at the ICSCI, says they push their patients harder than other centers might think a child can be pushed—up to five hours of therapy a day. But the experienced therapists are adept at making the hard work of therapy seem like play.
Children like Sanayah have the advantage of plasticity in their spinal cord and central nervous system because they're still growing and developing, explains Dean. "By doing intensive activity-based restorative therapy (ABRT) with functional electrical stimulation, we are working to improve her function and at the same time, stimulate recovery of her nervous system. At the very least, the use of functional electrical stimulation helps to maintain her muscle mass and improve her muscle strength. We're keeping her healthy, so if a cure or significant treatment comes down the pike in the future, she's going to benefit."
Recovery from an injury like Sanayah's is a marathon, not a sprint. But Kennedy Krieger will be there with medical expertise, therapy, and support every moment along the way. Eric wouldn't have it any other way, even though he drives over an hour each way for her treatments.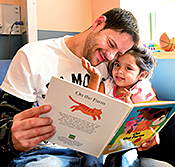 "My daughter used to flap like a bird. That was pretty much all she had," he recalls. "When she left Kennedy Krieger she could use her fingers, move her arms, pick up things, and write. She would laugh when she was able to do things because it was special for her to go from not moving at all to picking up things with her hands. My daughter was a totally different child than when she came in."
Sanayah is home now, and very active. She has her fish, "Happy," whom she cares for, and she enjoys singing and drawing. She's in school and, after a brief bout of short-term memory loss, has relearned her ABCs and can count to 18. Eric describes her as a bright, jovial child who can be a little sassy at times.
He and his wife, Nandraine, who is now home after recovering from her injuries, are happy with Sanayah's recovery. "Even though she can't walk right now, I never give up hope. I have a beautiful, smart little girl. The fact that she can't walk—if that's the only thing I lost in this accident, I consider myself to be very lucky."