By Laura Thornton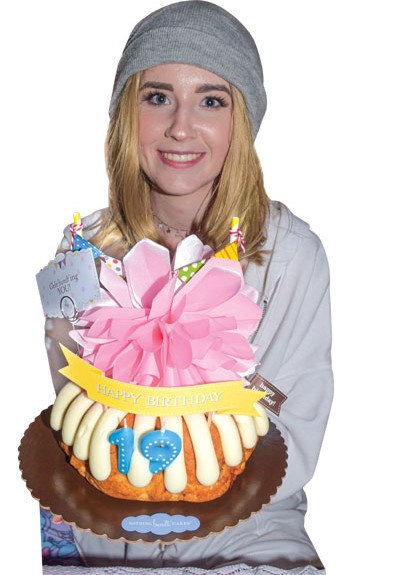 Ally accomplished amazing things in the three months after graduating from high school last year. They just weren't things she'd anticipated doing—or even needing to do at all.
On June 17, 2020, just days after finishing her senior year, Ally was injured in a car accident. The crash left her with two broken vertebrae, broken bones in her left ankle and knee, a collapsed lung and a severe brain injury. She'd been a passenger in the car.
Initially, Ally stayed at a hospital near her home in Virginia, in a coma and hooked up to a ventilator, a feeding tube and other medical apparatus. "I didn't know if she'd wake up, or always be in a wheelchair, or if she'd ever talk again," says her mother, Catherine.
Ally's brain was dangerously swollen. On June 20, while Ally's friends and family held a candlelight vigil outside her family's home, doctors removed a piece of Ally's skull to relieve the pressure in her brain. Buoyed by prayer and expert medical care, Ally stabilized. After back surgery a week later, she began opening her eyes—just fluttering her eyelids at first, and then starting to track her parents' movements in her hospital room. Soon it was time to talk about rehabilitation.
Daily Therapies and 24/7 Care
As Ally was 18 and no longer in high school, Ally's parents had to decide between an adult rehabilitation facility for Ally, or a pediatric one. Adult facilities help patients regain the skills and movements needed to get back to work, while pediatric ones focus on preparing patients to return to school. As Ally was college-bound, her parents chose Kennedy Krieger Institute's inpatient rehabilitation hospital, which admits patients from birth to 21 years old. "We figured it would be better for Ally to be with patients her age and younger, rather than her age and older," Catherine says. "I wanted her to be at a place that specializes in working with patients who are in school."
Ally arrived at Kennedy Krieger on July 15, 2020. "Every day was different," Ally recalls. She had at least an hour each of physical, occupational and speech therapies a day, and received psychology, neuropsychology, nutrition and social work services, as well as nursing care 24/7, including having a behavior rehabilitation assistant sit beside her at night. "We needed to be sure she wouldn't sleep on the side of her head where her piece of skull had been removed," explains inpatient clinical nurse Morgan Bowman.
"We ensured she had an active and structured therapy day, and that she received the nursing and medical support she needed," adds Dr. Beth S. Slomine, a neuropsychologist and co-director of the Institute's Center for Brain Injury Recovery. "We also met her where she was at—transitioning from high school to adulthood. It's a tough time for anyone, but even harder with a brain injury."
Ally's therapists carefully planned her therapies around the equipment she had to wear: a helmet to protect her brain, neck and torso braces to help her vertebrae heal, a boot to support broken bones in her left ankle and knee, and a tracheostomy tube in her neck so she could breathe.
"We were always having to adjust the braces, and it was hard for Ally, because initially, she couldn't understand why she had to wear all of it," says physical therapist Dr. Alissa Marzetti. "Once we could take those things off, she was more comfortable."
Dr. Marzetti worked closely with occupational therapist Jessica Simermeyer to develop co-treatment sessions for Ally. "We'd base our sessions on what Ally was interested in and what would motivate her," Dr. Marzetti explains.
"Those sessions were really successful, because we could engage Ally in more complex and rewarding activities," Simermeyer adds. Ally went from relearning how to stand to standing while painting, shooting baskets and brushing her teeth. She also advanced from taking a few steps with a walker to walking on her own and using stairs. "Ally made so much progress, and was a really fun person to work with. She liked to joke a lot, and she truly has the power to light up a room."
Ally's speech returned, too. As she became more alert and responsive, she tried to say a few words, but the tracheostomy tube made speech difficult. "We worked on using a speaking valve that goes on top of the tracheostomy to produce voicing," explains senior speech-language pathologist Kristy Chao. "Once she could tolerate the speaking valve, I helped her produce sounds with voicing." Ally moved on to words, and then, after her brain had healed a little more, to full sentences and conversation.
It was easy to celebrate Ally's progress at Kennedy Krieger. She was always getting better, and we attribute that to the supportive environment at the Institute."
– John, Ally's father 
'Awesomeness'
By early August, Ally's tracheostomy tube was out, and she was given the green light to eat again. Her parents brought in some of her favorites: Chick-fil-A chicken tenders, steak fries, fresh blueberries, blueberry Pop-Tarts and—best of all—Starbucks coffee drinks.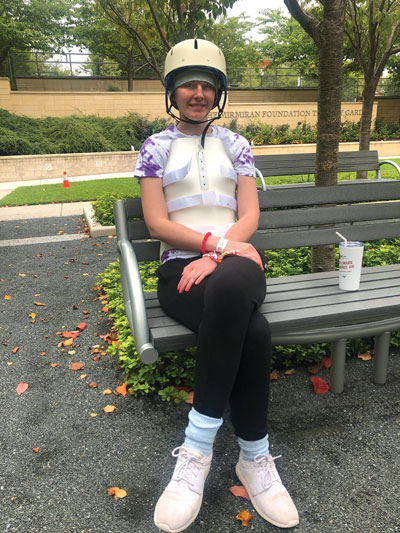 One of Ally's favorite things to do at Kennedy Krieger was to visit the Institute's therapy garden, and enjoy its flowers, trees and fountains.

One day, child life specialist Emily Winter-Cronan and therapeutic recreation specialist Kelly Schevitz created a spa day for Ally and Catherine in the garden, complete with eyelid-soothing cucumber slices, relaxing music and manicures. "Ally was working so hard," Winter-Cronan says. "We wanted her to have a chance to relax and have fun."

"Ally's such a fun-loving, energetic person," Dr. Marzetti says. "Whenever she was faced with a new challenge in her rehabilitation, her frequent response to the challenge—and reflection on her success—was 'awesomeness.' She always had a really great attitude, and was always motivated to get better—and get home."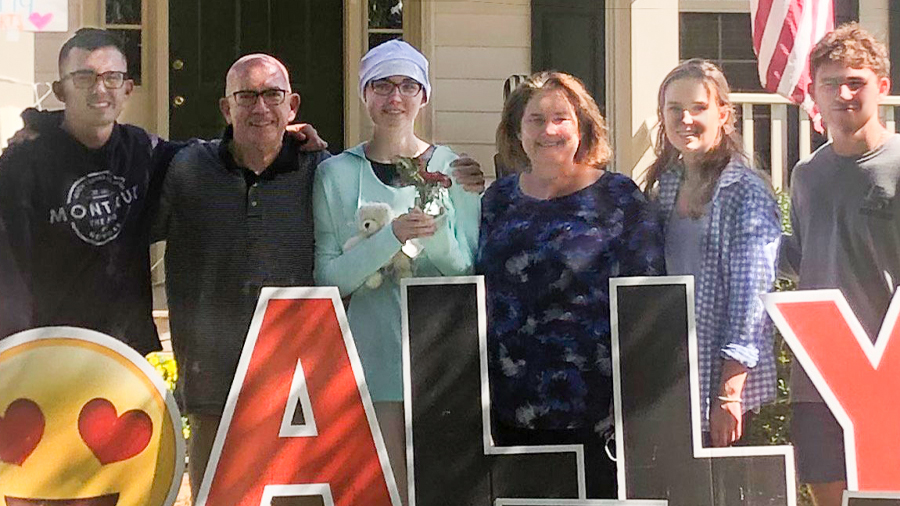 On September 16, 2020, Ally returned to the hospital where she'd had her craniotomy, to have the piece of her skull put back in place. Three days later, she was home. Her friends and family were waiting for her on her front lawn, cheering for her and all that she'd accomplished that summer.
Since then, Ally has continued to make incredible progress. "It's amazing—I've been playing volleyball, taking community college classes, and in the fall, I'll start at James Madison University," Ally says.
"Right after the accident, I wondered what our future life would be like," Catherine adds. "I didn't think Ally would be able to get to where she is now. It's miraculous."