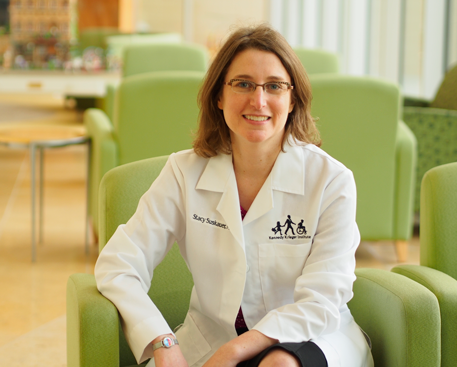 BALTIMORE, September 9, 2022—Dr. Stacy Suskauer, co-director of the Center for Brain Injury at Kennedy Krieger Institute, recently received two new appointments, including being named as Vice President of Pediatric Rehabilitation for the Institute.
In addition, Dr. Suskauer will now serve as the director of the Division of Pediatric Rehabilitation in the Department of Physical Medicine and Rehabilitation at Johns Hopkins Medicine. In this role, she will lead pediatric rehabilitation providers at four hospitals in Maryland and Florida—Mt. Washington Pediatric Hospital, Johns Hopkins Children's Center and Johns Hopkins All Children's Hospital, as well as at Kennedy Krieger Institute. This is the largest group of pediatric physiatrists and allied professionals in the country.
Dr. Suskauer joined Kennedy Krieger in 2007 and has led the brain injury rehabilitation programs at the Institute since 2010. She also is an associate professor of physical medicine and rehabilitation and pediatrics at the Johns Hopkins University School of Medicine.
"I am honored to lead this outstanding group of pediatric rehabilitation providers across the four hospitals," Dr. Suskauer said. "This is an exciting time in pediatric rehabilitation medicine. There are new challenges every day, such as establishing and continuing to grow rehabilitation programs for children and teens with persisting symptoms after COVID-19 infection. Our interdisciplinary teams across the sites excel in meeting in each patient's physical medicine and rehabilitation needs. Together, we lead the field nationally and internationally with a continuum of pediatric rehabilitation care and research, representing work which is both vital and highly rewarding." 
Dr. Suskauer attended Duke University in Durham, North Carolina, for her undergraduate and medical education. She completed a combined residency program in pediatrics and physical medicine and rehabilitation at Cincinnati Children's Hospital Medical Center and the University of Cincinnati. From 2005 to 2007, she completed a pediatric rehabilitation research fellowship at Kennedy Krieger and Johns Hopkins before joining the faculty at both hospitals. She is the recipient of numerous awards include the 2020 American Congress of Rehabilitation Medicine (ACRM) Mitchell Rosenthal Mid-Career Award and the 2017 American College of Rehabilitation Medicine Pediatric Rehabilitation Award.
"Dr. Suskauer is a remarkable leader who has contributed greatly to the knowledge we have about recovery after childhood brain injury, and her research has been instrumental to advances made in patient care," said Dr. Brad Schlaggar, president and CEO of Kennedy Krieger Institute. "She is the perfect choice to fill this role and to lead the clinicians and researchers who are accomplishing so much at these four hospitals."
Her research has been published extensively in a variety of academic journals with over 70 publications to date. Her current work includes investigating the use of neuroimaging and neurobehavioral assessments to improve understanding of brain-behavior relationships after acquired brain injury. Her clinical care and research extend across the spectrum of brain injury severity, from children with disorders of consciousness to those who appear clinically recovered after a concussion.
Dr. Suskauer has mentored the next generation of physiatrists through a residency program and fellowships, including the sports medicine fellowship and a pediatric rehabilitation medicine fellowship offered in a partnership between the Johns Hopkins School of Medicine and Kennedy Krieger.
"I'm thrilled for the future of pediatric rehabilitation under Dr. Suskauer's leadership. She is a gifted scientist, clinician, and leader. We are poised to achieve great things through stronger collaboration among our teams," said Dr. Pablo Celnik, director, Department of Physical Medicine and Rehabilitation at Johns Hopkins Medicine.
Along with Dr. Beth Slomine, Dr. Suskauer will remain co-director of the Center for Brain Injury.
About Kennedy Krieger Institute:
Kennedy Krieger Institute, an internationally known nonprofit organization located in the greater Baltimore-Washington, D.C., region, transforms the lives of more than 25,000 individuals a year through inpatient and outpatient medical, behavioral health and wellness therapies; home and community services; school-based programs; training and education for professionals; and advocacy. Kennedy Krieger provides a wide range of services for children, adolescents and adults with diseases, disorders and injuries that impact the nervous system, ranging from mild to severe. The Institute is home to a team of investigators who contribute to the understanding of how disorders develop, while at the same time pioneering new interventions and methods of early diagnosis, prevention and treatment. Visit KennedyKrieger.org for more information about Kennedy Krieger.   
###  
MEDIA CONTACT:
Jessica Gregg
GreggJ@KennedyKrieger.org
443-823-9811 (cell)