Imagine starting your teenage years by facing yet another surgery. And, this time the surgery is to attach metal frames--that will stay in place for six months---to each of your legs, followed by three months in the hospital for Intensive physical and occupational therapies. That's what Ellie faced in 2018 when she was just 13 years old.
Listen to Ellie's physical therapist, Heather McLean, tell of Ellie's spirit, grit and determination--and above all--her sense of humor.
She's a red headed spitfire with a heart of gold!
I met Ellie in April 2018 when she was admitted to the inpatient rehabilitation unit at the Kennedy Krieger Institute. She had come to us after having back to back orthopedic surgeries that were to correct the alignment of the bones in her legs and to keep her knees from constantly popping out of joint. At that time, Ellie was just 13 and she personally chose to proceed with going to the OR twice to have metal frames surgically applied to the bones of each leg for 6 months.
Ellie has a severe form of Marfan's Syndrome and over her life has undergone MANY surgeries, including those for her eyes, her heart, and her spine. The surgeries in 2018 were the first time that an inpatient rehabilitation admission was recommended for Ellie. During that 3-month long admission, Ellie worked hard for at least 3 hours/day in Physical Therapy, Occupational Therapy, and Child Life. At the time she was discharged, Ellie was walking with a specialty walker.
Ellie's positivity and her sense of humor made therapy sessions fun. In fact, Ellie and I shared sessions of hysterical laughter which gave us both a huge abdominal work out during some of our 60-minute therapy sessions.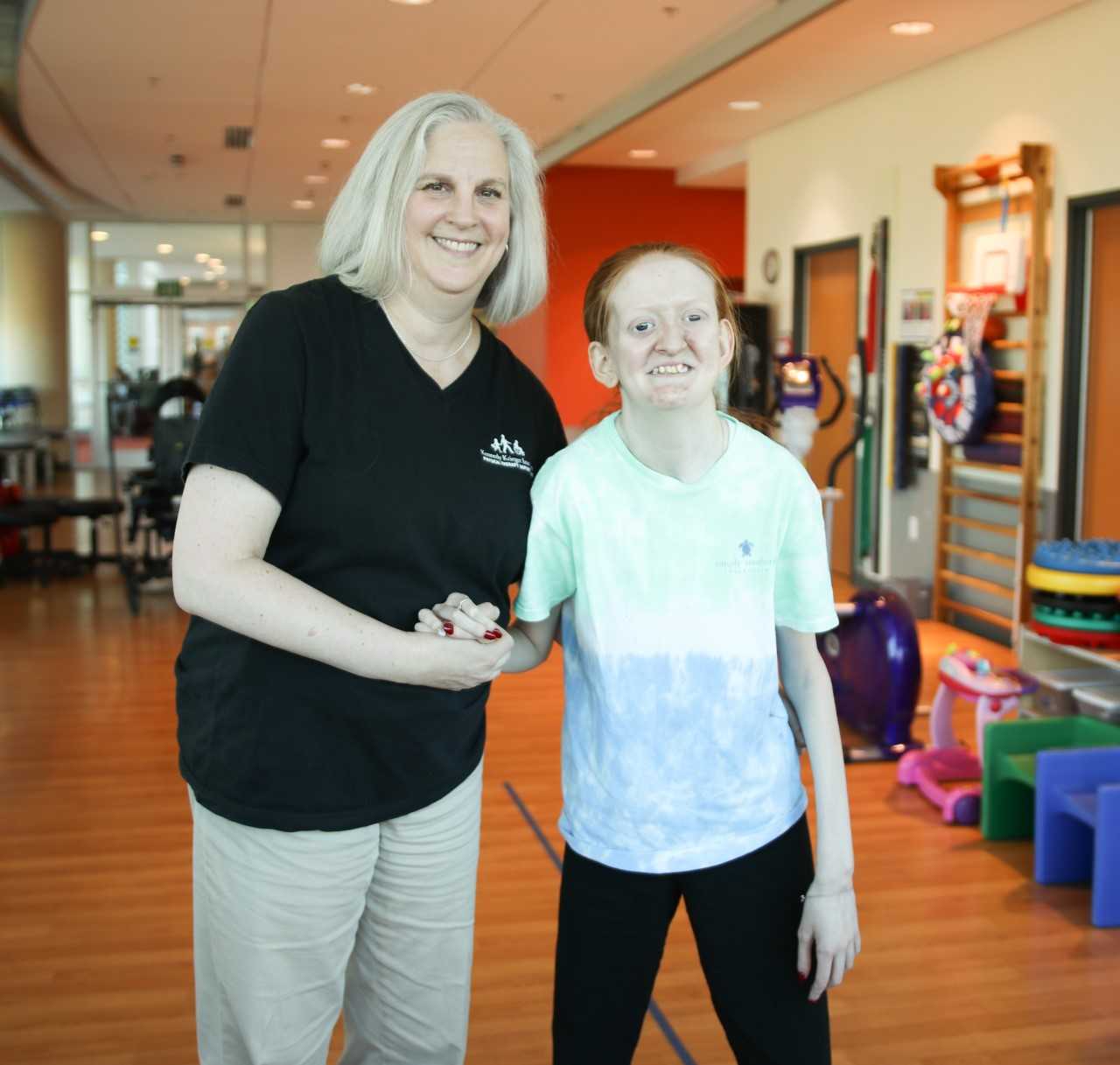 Despite living 8 hours away, Ellie and her family have chosen to come to Baltimore for follow up physical therapy services. I continue to see Ellie as an outpatient every 2-3 months in order to progress her home program and assess her gross motor functional skills, like walking. She is now walking with two small based quad canes around her home and prior to COVID restrictions was going to the gym several times a week to work out with her parents.
In all my years as a physical therapist, I have known that my patients are individual human beings. Ellie truly showed me what that means. Ellie is aware of her medical needs, but since I first met her, she now refuses to let any of it stop her from being a teenager and having dreams. CAN'T is a four letter word no longer in her vocabulary.
Ellie is such an inspiration to me. She is not only a hard worker, but she is also one of the funniest and most caring humans I have ever met. She is the reason I want to come to work every day.