Dr. Jacqueline Stone: Today I am joined by Christopher Joseph, Director of Physical Therapy at Kennedy Krieger Institute.
Christopher Joseph: As a physical therapist, I have the greatest job in the world. I get to work with children all day and play with them and help them develop. Who doesn't enjoy being paid to play all day and work? You know, the children I work with are very inspiring for the fact that they try to develop and progress and participate in society in spite of their disability. You know, they enjoy trying to enjoy what they're doing. An example of a young woman that inspires me is a young girl named Shannon. Shannon is from Wisconsin. She has a collagen disorder called osteogenesis imperfecta, otherwise known as brittle bone disease. Shannon is a vibrant young woman with a lovely little dog named Frosty. Shannon has this desire to be a physician. She would like to work in the field of neonatology.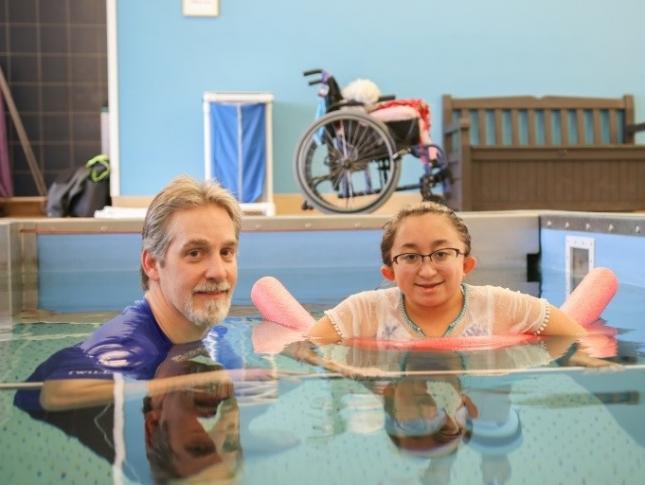 One example of how Shannon inspires me is that this past summer, in the midst of extensive spinal surgery and painful rehab, Shannon had this desire to observe the medical physicians and meet the families and patients in our neonatology clinic. Shannon and I worked hard to get her cleared. During the period of time when she was in surgery and in rehab, she got to spend a full day in the clinic and really see what it was like to be a neonatologist. Shannon, in spite of the surgery, found ways to get around the clinic with mobility devices to be able to visit all the rooms and see the families. I have no doubt that Shannon will become an amazing physician. She is intelligent, kind and gentle and she's inspired to achieve her goals. My patients inspire me to continue to do the work that I do at the Kennedy Krieger Institute because I get to see children succeed in spite of their disabilities.
Dr. Jacqueline Stone: Inspiring moments is produced for WYPR by Kennedy Krieger Institute. I am Dr. Jacqueline Stone