By Laura Thornton
This past summer, 8-year-old Nathaniel went to the beach. Running along the surf, kicking up sand and splashing in the water, Nathaniel would have seemed, to a passing stranger, like any other kid having fun.
But it wasn't an ordinary beach trip. For the first time, Nathaniel was playing in the water without having to be extra careful not to fall down.
Nathaniel has cerebral palsy. The condition affects his legs and feet, making them stiff. Up until a special surgery he had a little more than a year ago, he would occasionally have difficulty straightening out his legs; his ankles, especially the left one, didn't always bend. Without leg braces, he'd walk on tip-toe—a little on his right, more so on his left, with his left foot often turned in. He couldn't run as fast as his friends.
But the surgery, called a selective dorsal rhizotomy (SDR), which he had through Kennedy Krieger Institute's partnership with The Johns Hopkins Hospital, has him walking better than ever now—and running, jumping and skipping, too.
Special Surgery
When Nathaniel was 6 months old, he began physical therapy for delayed motor development. He was diagnosed with cerebral palsy shortly after that. His condition is mild. He's been able to walk independently since he was 2 years old, with leg braces—which come up to a couple inches below his knees—for stability. At night, he wears stretching braces (about as long as the leg braces) to keep his legs stretched out and his ankles flexed.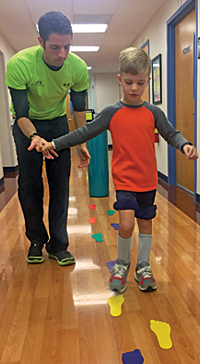 Having cerebral palsy has never really bothered Nathaniel. He's a member of the Cub Scouts and enjoys swimming, camping, hiking, playing video games, building with Lego bricks, playing with his friends, and reading—"Harry Potter" books are among his favorites.
His unflappable spirit and mild condition, combined with his age—the surgery works best for children between the ages of 4 and 8—made him a good candidate for SDR, noted pediatric nurse practitioner Colleen Lenz during one of Nathaniel's twice-yearly evaluations at Kennedy Krieger's orthopedic clinic nearly two years ago. SDR is a surgery that can help relieve stiffness—also known as spasticity—in the legs and feet of children with mild cerebral palsy.
Lenz referred Nathaniel to the Institute's spasticity clinic, where the interdisciplinary team of Lenz, pediatric neurosurgeon Dr. Shenandoah Robinson, orthopedic surgeon Dr. Ranjit Varghese, physical therapist Janice Laux and Dr. Frank Pidcock, the Institute's director of rehabilitation, evaluated Nathaniel and recommended him for surgery with Dr. Robinson, one of only a handful of surgeons in the U.S. performing this delicate procedure.
Both Heels on the Ground
For a few weeks in early fall 2016, Nathaniel wore ankle casts to loosen up his muscles and tendons before the surgery. Then, during the four-hour surgery in November of that year, Dr. Robinson snipped the nerve rootlets at the base of Nathaniel's spinal cord that had been sending spastic signals to his leg muscles, telling them to be stiff. The surgery left a small scar on Nathaniel's lower back.
For the first three days after surgery, Nathaniel had to lie flat on his back. On the fourth day, he stood up and walked a few steps. He was slightly hunched over and in some pain, but for the first time in his life, both of his heels were meeting the ground.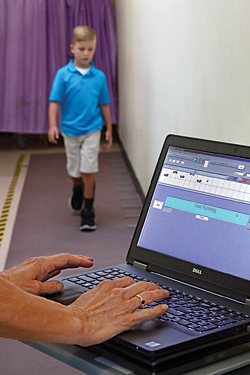 "When we told him that, a great big smile spread across his face," says his mom, Jill.
Those were all the steps Nathaniel was allowed to take at that time. He spent the next seven weeks in Kennedy Krieger's inpatient rehabilitation hospital, doing intensive physical and occupational therapy exercises for up to three hours a day, six days a week, gradually learning how to walk with a normal
gait pattern.
Physical therapy consisted of activities like strengthening leg muscles in specific ways, stretching legs and feet, and walking a little more each day, building up to using a treadmill, hopping and jumping, climbing stairs, turning and stopping, kicking a ball, and doing obstacle courses, explains Laux, one of the managers within the Institute's Physical Therapy Department.
One day, Nathaniel found he could flex his ankles and point his toes to the ceiling—he'd never been able to do that before. A few weeks later, he walked across the therapy gym, a heel striking the ground at the beginning of every step, his stride long, his toes pointing straight ahead.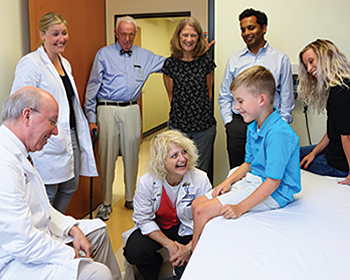 Nathaniel's stay at Kennedy Krieger coincided with the holiday season, observed at the Institute with special games and activities, donated gifts distributed almost every day, and a trip to the Institute's famed Festival of Trees, in addition to outings to places like the National Aquarium and Dave & Buster's. Despite his rigorous therapy routine, "if you ask Nathaniel, he'll probably tell you it was his favorite Christmas ever," Jill says.
After Nathaniel went home, he completed another 10 months of intense physical therapy, both at home and with a local therapist, as part of his recovery and rehabilitation. Today, he still wears leg braces, but he walks and runs about as well as any other kid his age. Sometimes he even wears short ankle braces, which give him extra mobility for things like climbing on the jungle gym and learning how to ride a bike—an activity now possible thanks to his newfound ankle flexibility.
A year after surgery, to celebrate his hard work and new stride, he and his family visited Legoland in Florida. When he got back, he started taking a martial arts class—it's like physical therapy, but a little more fun, and with friends.
"Kennedy Krieger provided us with an opportunity unlike any other," Jill says. "The staff was like one big family, supporting Nathaniel all the way through rehab. I don't know where we'd be today without that experience."
"We are so blessed and grateful," she adds, "for everything Kennedy Krieger has done and continues to do for Nathaniel and our family."
To learn more about selective dorsal rhizotomy and other neurosurgical services offered at Kennedy Krieger through its partnership with Johns Hopkins, visit the Neurosurgical Services page.