Dr. Lana Warren: Today in recognition of brain injury awareness month I am joined by Dr. Stacy Suskauer, Kennedy Krieger's co-director of our Center for Brain Injury Recovery.
Dr. Stacy Suskauer: Ben is a boy who has always loved playing and watching sports. When he was 8 years old, he was riding his bike when he was struck by a car and had a severe and traumatic brain injury. As he was leaving the Intensive Care Unit after one month there, the ICU team told his parents that the real miracles would happen at Kennedy Krieger.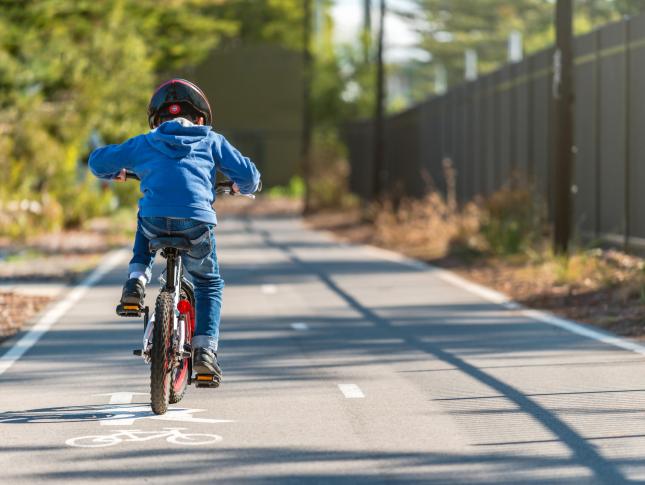 When Ben first came to Kennedy Krieger his eyes were open, but he wasn't following commands. He couldn't even look around the room and he certainly had no way to communicate. He was truly dependent on a team of people to do everything for him that he used to be able to do on his own. With intensive rehabilitation, first inpatient and then outpatient, Ben slowly improved. He stood for the first time and started walking again and he was able to go back to school. Ben continued to come to Kennedy Krieger for outpatient follow-up.
Sports were so important to him. He went back directly to basketball. In his first game back, he had to work hard to concentrate. He was wearing braces on his ankles and there were special Benny rules. Nobody could touch him. No fouling Ben. The game went on and he took some shots and didn't make any of them. The gym was packed as the next teams were coming in and Ben got the ball and he shot and he made the basket. The team, the crowd and the whole gym went nuts and then the athlete was back. Now, Ben is a college student. He lives away from home, just like everybody else at his college and he is the manager of his college basketball team. He runs the clock during practices. He keeps the official book during games.
Ten years ago when Ben first came to Kennedy Krieger and was dependent on a team of medical and rehabilitation professionals, we never could've known that now there would be a whole team depending on him.
Dr. Lana Warren: Inspiring moments is produced for WYPR by Kennedy Krieger Institute. I am Dr. Lana Warren.