Our Maryland Rebuilds Early Learning Model of Excellence professional development program provides a range of learning opportunities for early childhood educators and providers.
Educators/providers can choose their level and type of participation based upon their interests and needs. Our Maryland Rebuilds team of early childhood specialists are available to provide guided observations (remote or in person) of our model of excellence classroom, which is housed within our Baltimore Early Learning and Achievement (BELA) program. Our pre-K classrooms are accredited by Maryland State Department of Education (MSDE) and have earned the EXCELS Quality Rating of 5, reflecting the highest quality standards in the Maryland EXCELS system. Consultation and coaching sessions are also available for our participants.
About Our Professional Development Program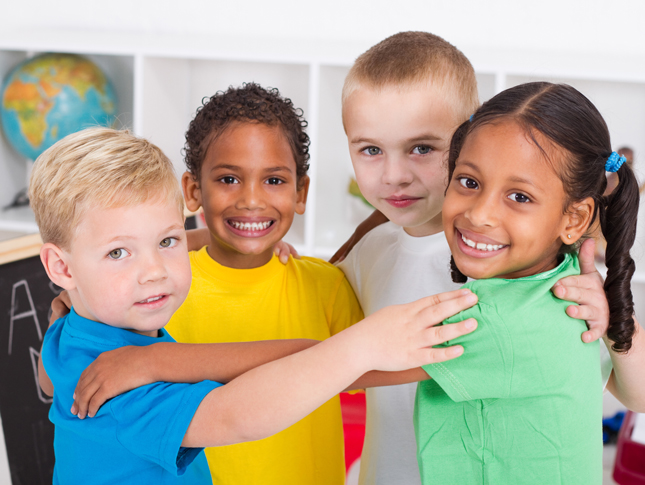 Our Maryland Rebuilds Early Learning Model of Excellence program provides three tiers or levels of professional development opportunities. These Learning Paths incorporate web-based learning modules in each of our core content areas:
Emergent Literacy and Early Math
Social-Emotional Learning and Behavior
Inclusive Instruction
Family Engagement
Frequently Asked Questions (FAQs)
Who is eligible to participate in Maryland Rebuilds – Model of Excellence program?
Any early childhood educator/provider who serves children between approximately 2 to 5 years of age is eligible to participate. Programs may include public and private preschool and Pre-K programs and family child care.
How long is the program? What is the time-commitment?
​​​​​Our Maryland Rebuilds program runs through the 2023-2024 school year. The time commitment is completely up to you! We understand the many demands that teachers and early childhood professionals have each day and have intentionally developed our program to allow for flexibility. If you don't have much time but still want to access some of our learning opportunities on your own, Tier/Level 1 may be best for you. If you're ready to jump in and elevate your skills and knowledge across multiple areas, Tier/Level 3 will provide the most opportunities, resources, and support.
What do the Tiers/Levels mean? Can I change my mind about which Tier/Level I want to participate in?
​​​​​The tiers/levels are the way we have organized all the components of our professional development (PD) learning opportunities. The tiers help to ensure everyone is on the same page about the type and amount of PD activities available. Refer to our Learning Paths section for detailed information about specific PD activities.
You are welcome to change tiers as your needs and interests change. For example, you could start in Tier 1 and later decide you want to take advantage of Tier 2 or 3 consultation/coaching sessions with our staff. All you have to do is reach out and let us know of your request.
Are there any incentives available for participating?
Participants in Tier 3 will receive free implementation learning kits for their classrooms and also kits to send home to families. Participants who complete all activities and surveys from Tiers 1, 2, and/or 3 are eligible for additional monetary incentives.
This Maryland Rebuilds program is through the Center for Autism and Related Disorders (CARD) at Kennedy Krieger Institute. Does that mean everything is primarily related to serving and educating autistic children?
​​​​​No. Our Maryland Rebuilds program focuses broadly on early childhood education for children both with and without disabilities. However, a key component of our professional development learning opportunities is centering inclusive classrooms and instruction. It is essential for all teachers and early childhood providers to be well trained in effective strategies for neurotypical children and for children with developmental delays and disabilities. Our coaches and specialists have unique expertise in inclusive education and meeting the needs of diverse learners. It is our goal to promote and support high-quality educational environments for all children.
What should I do if I am interested? What are the next steps?
Please complete our interest survey to start the registration process. After we receive your information, we will reach out via email or phone to schedule a time to tell you more about our Maryland Rebuilds program and answer any questions you might have.
I am an early childhood director or am in a leadership position for public schools. Can I sign up multiple classrooms/teachers?
Please complete our interest survey and let us know your role and number of classrooms/teachers. We will work with you and your teachers or program to identify specific needs and goals.