By Kristina Rolfes
Nearly 450,000 Marylanders live on the Eastern Shore, with its quiet towns close to the water, pastoral farmland, and relaxed style of living. But with rural living comes more limited access to specialized healthcare and educational services for children with disabilities. Kennedy Krieger Institute has many ongoing initiatives to help close this gap in services, meeting a critical need in Eastern Shore communities.
 
Teacher Training
The Center for Autism and Related Disorders at Kennedy Krieger Institute is working to train educators around the state of Maryland, including the Eastern Shore, on designing and delivering the most effective, evidence-based educational programming for students with autism. Technical assistance is also available to local infants and toddlers programs and school systems serving children with autism. Funded through a grant by the Maryland State Department of Education, the program "provides an important resource for educators in rural areas where access to training and services is often limited," says Elizabeth Stripling, EdD, assistant director of outreach and training at the Center for Autism and Related Disorders.
Telemedicine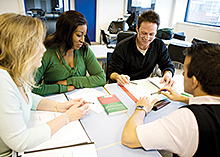 Access to specialized healthcare is also more limited in rural areas. Having a child with special needs often requires frequent doctors' appointments. Caregivers of children with autism, intellectual disability, or other developmental disorders may have to drive more than 100 miles to find a specialist. 
Through a telemedicine partnership launched in December 2013 with Atlantic General Hospital in Berlin, Maryland, families can be seen by Kennedy Krieger developmental pediatricians without even leaving the Eastern Shore, thanks to the power of technology.
How it works: Patients are first triaged at Atlantic General and become candidates for a telemedicine evaluation if they have concerns related to autism spectrum disorders, learning issues, attention deficit hyperactivity disorder, or other neurodevelopmental issues. Kennedy Krieger physicians Deepa Menon and Anna Maria Wilms Floet provide two-way video consultations with the patients from our telemedicine suite in Baltimore. Families have access to neurodevelopmental experts without the time and expense of a full day of travel.
"By doing an initial screening with telemedicine, we are getting patients to the right therapist and other specialists faster," says Dr. Menon. This is especially important in certain cases such as children with an autism spectrum disorder, since early intervention is critical to improving outcomes.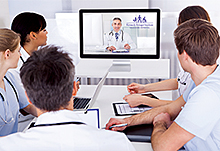 The telemedicine partnership has also led to training on topics of interest for community healthcare professionals on the Eastern Shore.
Behavioral Health
The Institute is also working to address the lack of access to pediatric mental health providers due to a shortage of child psychiatrists. Kennedy Krieger child psychiatrist Joyce Harrison, medical director of the Maryland Behavioral Health Integration in Pediatric Primary Care (B-HIPP) initiative, collaborates with colleagues at Johns Hopkins and the University of Maryland in a state-funded program to offer telephone consultation and training to primary care physicians who see children with psychiatric concerns. The initiative also launched a telepsychiatry program to offer direct evaluation of patients at a pilot site in Crisfield, Maryland, in Somerset County, an underserved area on the Eastern Shore.
Parent Education and Support
Families whose children are diagnosed with an intellectual or developmental disability often have many questions and concerns. The Maryland Center for Developmental Disabilities holds information sessions on the Eastern Shore for parents searching for answers and guidance. Topics cover available resources, how to advocate for your child, understanding the IEP process, knowing your rights under federal and state laws, bullying, and transition planning. The center is also actively partnering with a number of organizations on the Eastern Shore to help further meet the needs of the community by co-sponsoring free, annual conferences for parents and caregivers raising children with disabilities, working with the Bay Area Center for Independent Living through a grant from the Maryland Department of Disabilities, and working with self-advocates from the Eastern Shore through their support of People On the Go staff.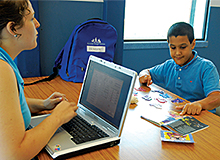 Families of Kennedy Krieger patients, including those on the Eastern Shore, may qualify for advocacy and legal services through the center's Project HEAL (Health, Education, Advocacy, and Law). Project HEAL attorneys help low- to moderate-income families obtain appropriate special education and related services or Supplemental Security Income, for example. "It is very difficult for families to obtain free or low-cost legal services in special education matters on the Eastern Shore, so we represent as many families as possible given our limited resources," says Maureen van Stone, director of Project HEAL. "We achieve some of our most notable outcomes in these special education matters."