By Jeanette Patterson, mother of Morris "Mo" Worrell, as told to Christianna McCausland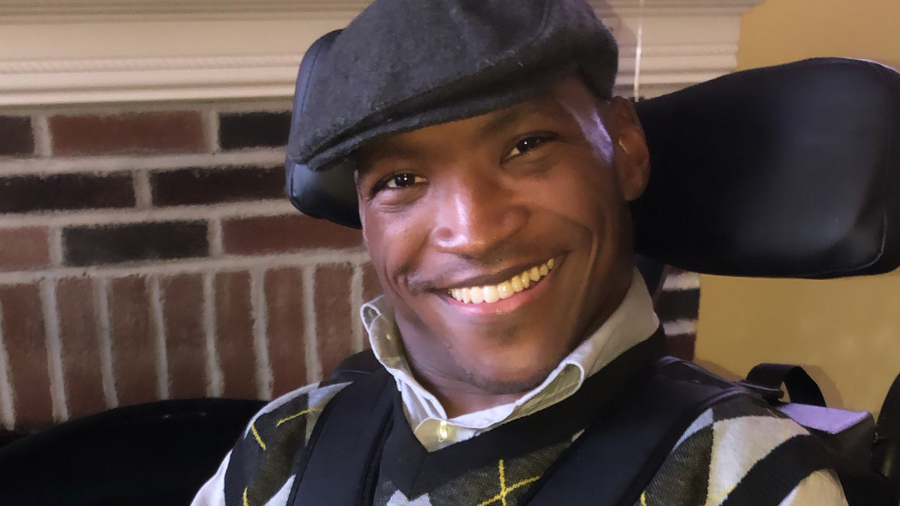 Seven months into my pregnancy, I started having contractions and went to the hospital. They discovered one of my twin babies was stillborn. My system was septic, and Mo wasn't getting what he needed. When I delivered Morris, they told me it was likely he'd have cerebral palsy [CP].
Mo only weighed one pound at birth and spent 45 days in the NICU at The Johns Hopkins Hospital. Then they referred us to Kennedy Krieger Institute, which has been with us ever since, every step of the way.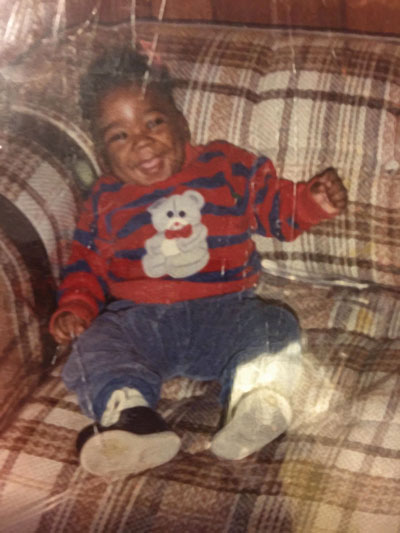 Mo had a lot of growth and development issues. When he was a year old, Kennedy Krieger evaluated him and diagnosed him with spastic quadriplegia CP. He went through countless sessions of occupational and physical therapy, evaluations of his speech, and evaluations for accessible technology for his wheelchair. He only had one surgery, a hamstring surgery. Last year, he got a new wheelchair with headlights and a phone charger!
When Mo was little, I worried about putting AFOs [orthotic braces] on him, because I didn't want it to look like something was wrong. But Dr. [Alexander H.] Hoon [Jr., director of the Institute's Phelps Center for Cerebral Palsy and Neurodevelopmental Medicine], who's been with us since Day 1 and made us a part of his life, assured me that it wasn't about how Mo looked. It was about what Mo needed so he could develop and be a part of society. After that talk, I realized I needed Mo to wear shoes so he wouldn't have club feet. He needed the AFOs' support so there wouldn't be problems later on.
It was all so overwhelming that I didn't know, at 23 years old, how to cope. I was feeding Mo with a tube I had to put through his nose into his stomach. I started to self-medicate with drugs and alcohol. Mo's dad went to prison, then came home and was doing well. Then he was murdered on his mother's porch. My daughter, who's seven years older than Mo, was forced to grow up quickly. She had to survive to be the secondary parent to herself and Mo, and we were on our own. Today, my daughter is a mother of two, and her son was the valedictorian of his high school class of 2021.
I went to Dr. Hoon and let him know I was struggling, and he and the social workers supported me. I didn't have anyone else who could talk to me about what I was going through. Kennedy Krieger pretty much told me that I had to change or I'd die, and then what would happen to Mo? They introduced me to Alcoholics Anonymous. AA renewed my strength with a loving and caring power greater than myself. Our life journey transformed continuously into spiritual awakenings. Kennedy Krieger helped me write letters to get adequate housing. I went from no housing to low-income housing to being a homeowner for the last 11 years. I've been employed for 13 years by the state of Maryland. I'm now in my 21st year of sobriety!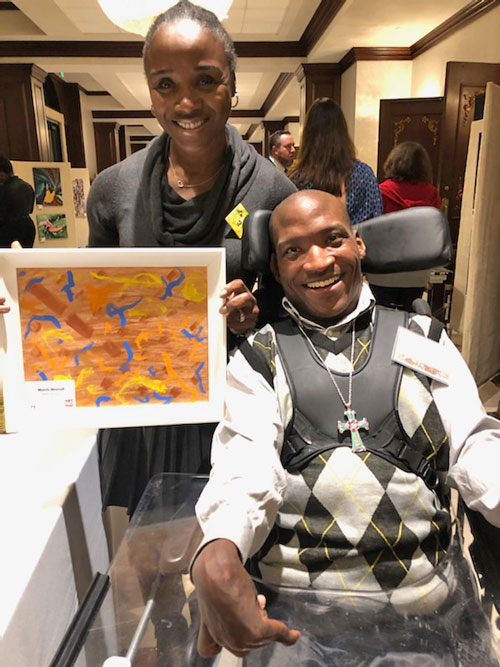 Mo has gone from learning how to speak to now being an artist. I set up an easel in front of him and give him a paintbrush in his left hand, and he paints. This really came out when we moved to our house, because everything here is more accessible for him. Art gives him a voice and self-expression. He wants to start his own company, to get together peers of different talents on one platform. Kennedy Krieger gave him that inspiration. They let him know he has a voice in this big world.
I like surprising people with my talent. It started out as a hobby. I want to start my own art company."
                 – Morris "Mo" Worrell