Meet Mo. When his mother, Jeanette, was pregnant, carrying twins, she experienced complications and had to deliver at 28 weeks. Mo weighed 1 pound at birth and spent 45 days in the NICU. Sadly, his twin was a stillborn.
At age 1, Mo was diagnosed with cerebral palsy and quadriplegia. After losing one child, Jeanette felt overwhelmed to learn Mo had a disability.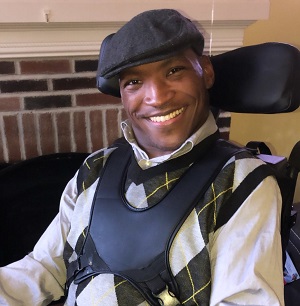 But soon after his diagnosis, Mo began coming to Kennedy Krieger. He was seen by Dr. Hoon at the Phelps Center for Cerebral Palsy until he was 21-years-old, and received care from a variety of programs, including the Speech and Language Outpatient Clinic, the Pediatric Feeding Disorders Program, and the Pediatric Developmental Disabilities Clinic. Mo is currently seen by the Assistive Technology Clinic and the Seating Clinic, where he works on strengthening his muscles and extremities.
In the 30 years Mo has been a Kennedy Krieger patient, he has made significant strides and defied the odds. Jeanette was initially told by doctors that her son wouldn't live past five-years old. Mo, who is now 33-years-old, has proven them wrong, going on to graduate high school and lead a fulfilling life. Additionally, thanks to speech therapy and years of hard work, Mo, who was previously nonverbal as a child, is now verbal and able to communicate.
"Kennedy Krieger has assisted us in every step of the way," Jeanette says. "Without them, Mo wouldn't be where he is today."
In addition to achieving his therapy goals, Mo has also developed a passion for art. He considers painting and creating art therapeutic and a form of expression.
"Art brings so much joy and happiness to his life," Jeanette says.
In the future, Mo hopes to find a way to sell his art and inspire those like him living with a disability.
"Mo has taught me to never give up hope when faced with a struggle," Jeanette says. "He always has a positive outlook and reminds me to smile, no matter what."