by Sarah Todd Hammer
As our plane landed in Baltimore on Oct. 17, 2014, I couldn't have been more excited. I reminded my mom that on the same day four years earlier, we'd landed in Baltimore for the very first time, only then, I couldn't walk well, my arms and hands were really weak, and I was extremely nervous. This time, though, I was happy and jittery.
That's because I was headed to the Baltimore Running Festival to participate in the event's 5-kilometer race as a member of Team Kennedy Krieger. I wanted to give back to the wonderful people who'd done so much to help me, and this was the perfect way to do that.
When I was diagnosed with transverse myelitis—a rare neuro-immunological disorder that injures the spinal cord, causing paralysis and weakness—in 2010, nobody seemed to know what the disorder was except for the brilliant doctors and therapists at Kennedy Krieger Institute and The Johns Hopkins Hospital. They even knew how to treat it! Since my first visit, I've returned 12 times, each time accomplishing something special.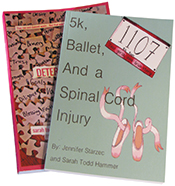 On that October day in 2014, with the encouragement of my wonderful therapists, I crossed the Baltimore Running Festival's 5K finish line, despite having a spinal cord injury and having been a quadriplegic only four years before. It's one of my favorite memories of Baltimore, a city that holds so many memories for me that I will cherish forever.
When I was in Baltimore in 2012, I met another teen with transverse myelitis (also known as TM). Together, we wrote and published "5k, Ballet, and a Spinal Cord Injury" (she's a runner and I'm a dancer), a double autobiography in which we each share our unique journey with TM up to 2012.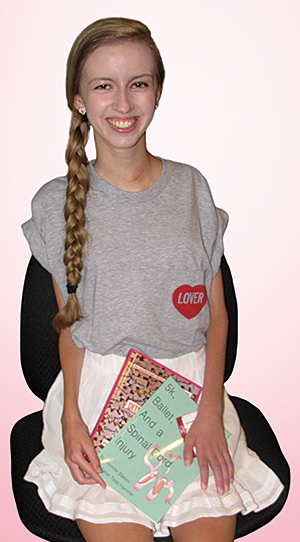 The book's success inspired a sequel—the newly published "Determination," which continues our journeys up to 2014. As a thank-you to my therapists, nurse practitioner and doctors for helping me make such a splendid recovery, I am donating one-third of the proceeds from "Determination" to Kennedy Krieger's International Center for Spinal Cord Injury.
Throughout my journey, I've learned that it's important to pursue your dreams and make them happen, no matter what obstacles may be thrown your way. Many readers have said that my books have helped them understand what having TM is like—whether they're a friend or a parent of someone diagnosed, or simply someone interested in my story. Through my books, I've inspired others—especially those with TM—to be positive and believe that anything is possible when you have a good attitude.
Sarah Todd Hammer, diagnosed with transverse myelitis as a child, is now a high school student and a published author. She would like to attend college and become a doctor. To learn more about Sarah Todd Hammer's books, visit her Patient Spotlight page.