Ask Sebastian what he wants to be when he grows up, and he'll tell you: "A warrior!"
It's a fitting aspiration for a boy named after the patron saint of soldiers. But Sebastian is already a warrior. He fights every day to walk, gain strength, redevelop motor skills, and get back to the business of being a 6-year-old after developing acute flaccid myelitis (also known as AFM) last August.
AFM is a condition that damages the part of the spinal cord controlling movement, often paralyzing arms and legs, particularly in the shoulders and hips. It does not always cause loss of movement in hands and feet, however, and it doesn't affect cognitive functioning, explains Janet Dean, a pediatric nurse practitioner for Kennedy Krieger Institute's International Center for Spinal Cord Injury (ICSCI). Its cause is not fully understood.
In the last few years, the number of patients admitted to Kennedy Krieger with a diagnosis of AFM has increased dramatically. Since 2014, Kennedy Krieger has admitted 17 patients with AFM to its inpatient rehabilitation program, while in the decade before that, it treated only 14 patients whose symptoms would meet today's definition of AFM. In 2014, 120 cases of AFM were recorded in the U.S., and in 2016, that number was 138, according to the Centers for Disease Control (CDC).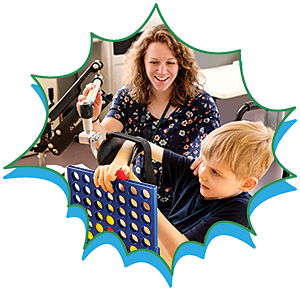 AFM's rarity makes it difficult to study. Researchers think that one trigger for AFM may be a virus—possibly enterovirus D68, which typically causes only mild congestion, fever and pain. The CDC reports that other viruses—including poliovirus, West Nile Virus and adenoviruses—may also trigger AFM.
AFM is often preceded by cold-like symptoms. Typically, an entire family will have a cold, but only one family member will go on to develop AFM, "and that puzzles AFM researchers," says Dean, the Institute's AFM expert.
Therapy Is the Key
Sebastian and his mom and siblings came down with a cold a couple of weeks before he developed AFM. Everyone else but Sebastian recovered, although initially, he seemed to be on the mend. But over the course of an afternoon, he went from being a little sleepy to not being able to move his legs and right arm at all. No specific virus has been identified as having caused Sebastian to develop AFM.
For the next two months, Sebastian adhered to a rigorous activity-based restorative therapy (ABRT) routine while staying at Kennedy Krieger's inpatient hospital. After discharge, he continued his intensive ABRT—initially for five hours a day, six days a week—at the ICSCI's outpatient clinic.
Kennedy Krieger's AFM program is one of the best in the country, thanks to the Institute's decades of experience in treating children and young adults with spinal cord injuries. Experience has shown that rigorous therapy—particularly physical, occupational and aquatic—can help patients regain some movement, Dean says.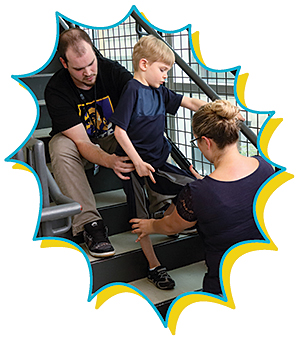 Some patients may be able to walk again, while others may regain only a small amount of movement. "Even a slight increase in head, hand or foot control can be monumental if it allows a child to drive a motorized wheelchair," Dean says.
ABRT includes patterned activities like picking things up and putting things down, and practicing walking while suspended in a harness over a treadmill. "We want kids practicing movement patterns again and again to help heal and re-educate damaged nerves and weakened muscles," Dean says.
The Institute also uses whole-body vibration therapy, in which a child stands—with assistance—on a vibrating plate. The vibrations "help muscles contract without having to rely on the spinal cord," Dean says. "Even if a child cannot walk, we want him or her to practice standing," which stretches muscles and joints and helps bones stay strong.
A big part of rehabilitation is getting kids ready to return to their everyday lives. Occupational therapists help children improve arm and hand strength and coordination, and they help children relearn basic tasks—like dressing and brushing teeth—and school skills like writing, drawing and using scissors. Other members of the Institute's AFM team include physical therapists, recreational therapists, speech-language pathologists, child life specialists, psychologists, social workers, doctors and nurses.
Wild Imagination, Strong Spirit
It takes kids with AFM a long time to see any progress, and only about 5 percent fully recover, Dean says. That makes any progress—however slight—very exciting. It also makes therapy an opportunity for Sebastian, who loves superheroes—Batman is his favorite, to take on some superhero-like tasks in real life.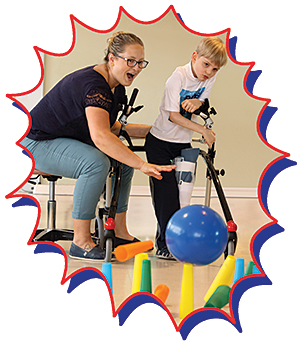 At one of Sebastian's earliest therapy sessions, a therapist who hadn't yet worked with him asked him to start walking with the aid of knee immobilizers, while she held on to him from behind.
Sebastian hadn't walked since developing AFM. His mom, Christa, figured the therapist would soon see that what she was trying to get Sebastian to do was unrealistic at the time. But Sebastian surprised his mom, and before she knew it, he'd walked across the therapy room, with the aid of his therapist, right into her arms. If Superman could fly in a comic strip, Sebastian could walk in real life.
"All of a sudden, I saw that maybe all of this therapy really could work," Christa says. Now, Sebastian walks with the aid of a walker and a knee-immobilizing brace.
After weeks of occupational therapy, Sebastian, who is right-handed, was finally able to use his right hand again. Then, during breakfast one morning, he started flexing his right biceps muscle. His new-found flexing ability seemed to come out of nowhere—and it made that breakfast a meal to remember for the whole family. "It was just as unexpected," Christa says, "as if a fork had started walking across the table!"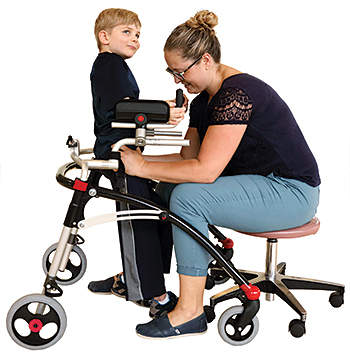 One of the reasons Sebastian has made such great progress is that his family is very involved with his recovery, says Meredith Budai, his physical therapist. His siblings are always ready to help him out, and when they join him at therapy, "he's really excited to show off his therapy equipment and how well he's walking."
Another reason is Sebastian himself—and his wild imagination and indefatigable spirit. "With Sebastian, we can turn what we call 'work' into something fun and exciting," Budai adds, "even when it gets harder and even more challenging.
"He's a very resilient little boy"—a warrior fighting to be a kid again—and his dedicated team at Kennedy Krieger is right there with him, helping him win his toughest battle yet.
To learn more about acute flaccid myelitis, visit the Kennedy Krieger AFM diagnosis page.