By Chris Connolly
After experiencing a spinal cord injury as a teenager, it seemed as though other people expected less of me. Luckily, my family has been with me every step of the way and has never given me an inch.
The attitude at Kennedy Krieger Institute's International Center for Spinal Cord Injury resonated with us. Its message was inspiring and gave me hope: If I was willing to work hard, I could accomplish anything.
As much as I craved a normal life after my injury, I knew that aggressive and progressive rehabilitation had to be my focus in the short term. At Kennedy Krieger, where I did two months of inpatient rehabilitation and a few rounds of outpatient therapy, I juggled my education remotely. Hours of intense physical and occupational therapy every day were followed by schoolwork all evening.
I always played a lot of sports, but after my injury, therapy and academics took their place. Throughout the remainder of my high school career, I spent all of my free time either working on my physical health or studying.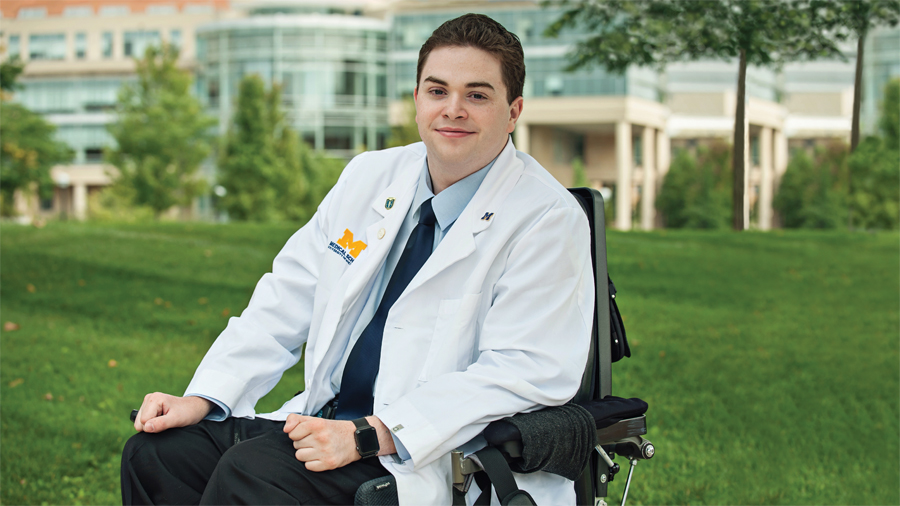 To say it was hard is an understatement. I remember thinking everything I was up against was difficult and impossible. However, my experience at Kennedy Krieger taught me that I could accomplish more than I thought possible.
When I learned I was accepted at Stanford University, I realized all of the sacrifices were worth it. I still had a lot of self-doubt about whether I could handle the physical and academic challenges, but my family encouraged me to take it one day at a time. I earned my bachelor's and master's degrees, graduated as a member of Phi Beta Kappa, and was a finalist for both the Rhodes Scholarship and the Marshall Scholarship.
By the end of college, I had set my sights on medical school, and I knew I could handle it academically. What I didn't know was whether there would be a school progressive enough to work with me, as most medical schools have physical criteria for applicants.
Today I'm a student at the University of Michigan Medical School. I just finished my surgery and OB-GYN rotations. Although I may do things slowly or differently, I've been able to do almost everything. My experience so far hasn't been much different from that of my peers. I've sutured, helped deliver babies and, importantly, built a good rapport with my patients.
While I enjoy clinical work, I intend to have a nontraditional career in medicine. I've always loved making things, and I recently filed a patent for a 3D printable cardiology stethoscope handle that helps individuals with limited dexterity perform physical exams. In the future, I plan to continue creating devices that help people with disabilities pursue their careers.
I realize many people with disabilities may experience uncertainty and, at times, self-doubt. I believe you can transcend any limitations others put on you—just don't put limitations on yourself.