By Laura Thornton
With the strength of a Paralympian, Julia, 4, wheels herself into the therapy gym at Kennedy Krieger Institute. Her smile is contagious; her sense of humor, refreshingly quirky. Her spirit is indefatigable. Her strong arms take her wherever she wants to go in her pint-sized wheelchair, which is perfect for quick maneuvering.
At Kennedy Krieger, where her days each include three hours of physical therapy and one of aquatic therapy, she's forever astounding everyone with her perseverance—especially when, her legs braced and her hands tightly gripping a small walker, she takes tiny step after tiny step, ecstatically calling out, "I'm walking! I'm walking!"
When Julia was 17 months old, a blood clot spontaneously formed and pressed against her spinal cord, paralyzing her from the waist down. An MRI taken at a hospital in Vancouver, four hours from her home in British Columbia, revealed the clot had created a lesion compressing her spinal cord. Despite surgery to remove the clot, her spinal cord had been injured, causing paralysis.
Julia's parents wanted to do all they could for their daughter. They traveled to Vancouver for physical therapy, and to rehabilitation centers in California. With help from family members and friends, they raised money to buy therapy equipment for Julia to use at home.
They searched the internet exhaustively for specific information about pediatric rehabilitation, "and Kennedy Krieger kept popping up," says her mom, Melissa. "We just knew we had to go to Kennedy Krieger and see what it was all about."
From British Columbia to Baltimore
Since her injury, Julia has received intensive therapy at Kennedy Krieger three times, each time staying for one to two weeks. On Julia's first visit to the Institute, in September 2016, she could barely sit up, and she couldn't get on her hands and knees, says senior physical therapist Meredith Budai.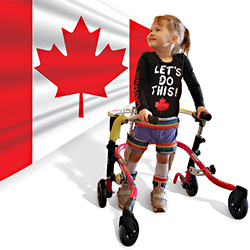 By Julia's second visit, six months later, "she was sitting up really well," Budai says, "and she could get onto all fours on her own," a testament to the therapy Julia does at home with her parents, following the treatment plan Budai has designed for her. More recently, Julia has been able to activate her abs and hip flexors—muscles needed for walking.
At Kennedy Krieger, Julia's therapies include walking with a walker and leg braces or knee immobilizers; using a treadmill while in a body harness; leg, hip and core strengthening; aquatic therapy; and robotic therapy with the G-EO System, in which Julia is secured in a harness with her feet attached to giant pedals that move up and down to imitate gait. "She's about the smallest person we can fit in the G-EO," Budai says.
It all makes for a busy, exhausting week, but "Julia works really hard and has a vivid imagination, which makes it easy to incorporate play into all of her therapies," Budai says.
Julia also uses a functional electrical stimulation bike—a stationary bike with electrodes that attach to specific points on her legs to deliver electrical stimulation to the muscles—both at Kennedy Krieger and at home, where her activities also include assisted walking with a walker, weight-supported gait training on a treadmill, swimming, horseback riding, adaptive skiing and daily strengthening.
"I keep her on a pretty tight schedule," Melissa says. "We don't want to look back in 20 years and say, 'We should have done more.'"
'Everything Any Other Kid Does'
Julia's prognosis is good, partly because of how hard she and her parents work, but also because she's so young, says Janet Dean, a pediatric nurse practitioner for the Institute's spinal cord center.
"Very young children have a lot of neuroplasticity in the brain and central nervous system, and they're already wired to learn new things," Dean says. "Julia will do everything any other kid does—just differently, and she will adapt to these differences."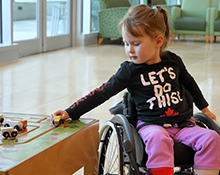 Julia goes to preschool twice a week and enjoys playtime with her friends and cat, Callie, who likes to pounce on a string attached to Julia's walker. She enjoys doing arts and crafts, and after a good day's work, "My favorite thing to do," she says, "is eat cake!"
One morning last winter, while her parents were still sleeping, Julia, eager to start the day, got into her wheelchair all by herself and wheeled away down the hall to her parents' room.
"Good morning!" she exclaimed jubilantly to her surprised parents. No matter the hours of physical therapy awaiting her after breakfast, she was more than ready to take on the day.
 
A Special Friendship
One of Julia's best friends is Kristen, 24, a college student from Knoxville, Tenn., receiving therapy at Kennedy Krieger for a spinal cord injury.
The day Kristen and Julia met, in September 2016, "I rolled off the elevator and saw the cutest little girl sitting in a wheelchair," Kristen says. "I asked her if she wanted to read a book with me."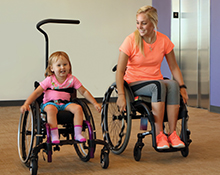 Julia said "yes," and a special friendship was born. "They have this bond, this instant connection," Julia's mom explains.
"I'm not afraid to say I'm best friends with a 4-year-old," says Kristen, whose lower-body paralysis was caused by transverse myelitis, an inflammation of the spinal cord, and who also has juvenile arthritis.
At Kennedy Krieger, Kristen and Julia use their walkers together and motivate each other. "If we're in different parts of the gym," Kristen says, "I can hear her calling out, 'Go Kristen! You're walking!'"
"Julia motivates and inspires me more than she will ever know"—she's always smiling, "giving her best, never complaining," Kristen says. "When I'm struggling or having a bad day, I think of Julia."
Kristen explains the unlikely bond she and Julia share and describes how their unlikely friendship has inspired her to never give up hope.
Visit our Spine Program Videos page to discover other patients receiving therapy for spinal cord injuries at Kennedy Krieger.