Kennedy Krieger Institute's new president and CEO, Dr. Bradley Schlaggar (pronounced Shlay-gerr), is a pediatric neurologist who comes to us from the Washington University School of Medicine in St. Louis. Earlier this summer, we sat down with Dr. Schlaggar to learn more about him. Here's what he shared:
Q: What inspired you to become a pediatrician?
A: I've wanted to be a pediatrician since I was a kid. Really, I idolized my pediatrician and wanted to be like him. He was so caring and supportive. He made a positive impact on me and was a person I admired. I wanted to help kids and families like he did. Then, in high school, I remember reading a special issue of Scientific American that was all about the brain. I was, and remain, completely fascinated.
I was pre-med at Brown University in Providence, Rhode Island, and I studied how the brain changes with experience. I learned that I loved doing research. My research mentor's spouse was a child neurologist at Massachusetts General Hospital in Boston. That's how I learned I could be a neurologist for kids and when I also realized I could be both a physician and a scientist.
Q: Why Kennedy Krieger?
A: The vision and mission of Kennedy Krieger are precisely the same as my own. Honestly, though, there were very few things that would have gotten me to leave St. Louis. But when my son, Simeon, was diagnosed with acute leukemia in 2016, I felt my priorities shift. My child's life-threatening illness has been the most significant event in my life. Simeon's illness caused me to broaden my view of how I could positively impact more children's lives.
The potential here at Kennedy Krieger is so great. To be able to combine clinical care and research with education and community programs—it just feels like the perfect melding of everything that can have an impact on a child's developing brain. And, I feel that I'm now "simpatico" with parents of children who have a disability or a critical or chronic illness. I get it. I thought I understood before, but now I truly understand the urgency to find solutions, how it feels to ask, "Will my child survive?" Or, "What will my child's life become?" I know of no greater calling.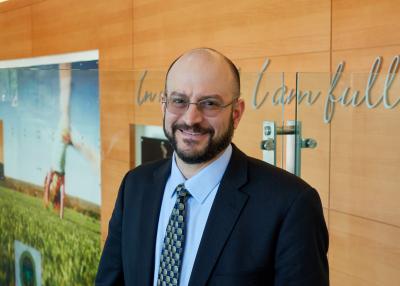 Q: Your mom was an educator. How has that influenced you?
A: My mom was an elementary school teacher at a school that taught both children who were deaf or hard of hearing, and children without hearing differences. She spearheaded the first program for gifted children in the Chicago Public Schools system in the late 1960s. After 30 years, she transitioned to being a principal at a Chicago magnet school for gifted students, and she led that school for 10 years. She retired about 15 years ago to take care of my father.
My mom was a real pioneer in education. I grew up with dinner table conversations about individual differences in how children learn and how their brains process information differently. We celebrated her successes in tapping into those differences, and we listened to her as she expressed her frustrations when she couldn't get the accommodations she needed for her students. All of this focus during my childhood on teaching has had a lasting influence on my perspectives on education and learning.
I have a mountain of respect for educators and the work they do to overcome myriad obstacles on behalf of their students. I love that Kennedy Krieger integrates education, clinical care and research. This is a very enlightened approach! I'm excited to learn more about new approaches to helping every child reach his or her potential. Education is, of course, critical to brain development, and brain development is powerfully linked to the ability to learn. It all goes hand in hand. Frankly, the institutional integration of education, research and clinical care is one of the most exciting drivers for my decision to move to the Institute.
Q: How would you describe your leadership style?
A: I've been impressed with leaders who bring calmness to a situation, and who approach challenges—especially those with a crisis element—with a steadiness that puts people at ease. For me, I think leadership includes having a team around you with expertise, and having respect for that expertise. I try to get everyone's point of view and process that input to make the best decisions. Even when folks disagree with me, I want to hear their point of view.
I hope to always be open to listening and hearing divergent points of view, and to respect those differing views. While I have been in leadership positions for many years, I know I haven't had the scale of responsibility yet that this new position entails. I have a lot of listening and learning to do. But I think I have good instincts, and I've had great role models and mentors over the years. I'm looking forward to the challenge!
Q: Please tell us a bit more about your family.
A: My wife, Hristina, has a very interesting background. When she was 14 years old, she and her immediate family came to the U.S. from then-Soviet Bulgaria. She learned English, her fourth language, in high school in Washington state. She has a PhD and is a neuroscientist, researcher and associate professor of psychiatry at Washington University; her focus is on genetic and environmental factors that lead to addiction. She's had her own health issues, but is doing well now, five years out from breast cancer.
Our son, Simeon, is nearly 13, and our daughter, Lena, is 11. We are frequently amazed by how different the kids are from each other. Lena is the artist, creative and vibrant. Simeon is an athlete and percussionist. They both love school. It's been challenging for Lena to be thrust into the spotlight as the sibling of a child with cancer. Her brother has received a lot of attention. But Lena has been very supportive—she even shaved her head in solidarity when Simeon was bald from chemo. We joke in our household that while we have all been bald, only I remain bald. Simeon and Lena are both sad to be leaving their St. Louis friends, but excited to be moving to Baltimore and ready to meet new friends there.
Q: How does Baltimore compare to St. Louis—what do you think is similar, and what's different?
A: I think there are many similarities: in size, neighborhoods, history, how devoted folks are to their community. And, of course, both cities have a strong fan base for their sports teams! Both have distinct cultures. We're really looking forward to learning more about the Baltimore region.
Q: What do you like to do when you're not working?
A: Well, the past few years have been all-consumed with our son's health. He's in remission now, and on maintenance therapy. He still isn't out of the woods, but we can now breathe a bit more easily and get back to doing family things, like hockey and playing in the yard with our three dogs. I like coaching and playing ice hockey, and my wife actually just joined a women's ice hockey team. She's already looking for a team in the Baltimore area to join. We love the St. Louis Blues, of course, but we're really excited to have the Stanley Cup champions—the "Caps"—practically in our backyard.
Q: What are your first priorities when you arrive at Kennedy Krieger, and what is the timing for your arrival?
A: I'll be there sporadically during the month of August while we wrap things up in St. Louis, move into our house in Baltimore and get the kids settled in school. I plan to be at Kennedy Krieger full-time by September.
Then, I want to tour our different locations, meet with staff members, the board, donors and patients and families to listen and learn. I know there are many facets to Kennedy Krieger, and I want to use these first few months to get a good understanding of all we have to offer.
Q: Do you have anything else you'd like to share?
A: We are really thrilled to be coming to Maryland, and I could not be more excited to be joining the Kennedy Krieger family. This is the only opportunity that could have pulled me away from St. Louis. Kennedy Krieger is that special. I'm looking forward to meeting everyone soon!