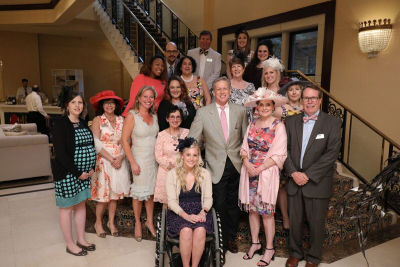 On Friday, May 5, 2017, more than 300 people attended Hats & Horses Benefiting Kids at Kennedy Krieger Institute. The event was held at The Grand Lodge of Maryland and co-chaired by Cynthia Cavanaugh, Aimee Fulchino, Lisa Stoler and Lisa Vogel.
Thanks to our sponsors, guests and auction donors, the event raised more than $285,000. Event proceeds will help defray the costs associated with new and innovative approaches and technologies for patient rehabilitation at Kennedy Krieger. Our therapists will be able to incorporate the latest robotic-assisted devices to improve function, reduce muscle atrophy and stimulate nerves for patients in both inpatient and outpatient settings. These devices are used for physical and occupational therapy to help patients become more independent.
Guests attended dressed in their best festive derby attire, saw an inspirational video about the work that is being done at Kennedy Krieger, enjoyed a seated dinner and danced the night away.
The event was hosted by the Women's Initiative Network for Kennedy Krieger. WIN is a volunteer organization dedicated to raising awareness and resources for Kennedy Krieger by promoting and facilitating volunteerism that assists families whose children are patients at the Institute. 
WIN provides monthly meals to parents of inpatients, and its members volunteer in the children's therapy room on "WIN Wednesdays," doing hands-on activities with patients to help break up the monotony of a long hospital stay. While the activities may seem small to some, they can make the biggest difference to patients and families who are away from the comforts and normalcy of home. If you are interested in learning more, please visit KennedyKrieger.org/WIN.
View photos from the event HERE.