The East Coast's largest holiday extravaganza blended past traditions with new,
and brought a safe and entertaining show to thousands of families
BALTIMORE, December 2, 2020 – The festival was virtual, but the magic was very, very real.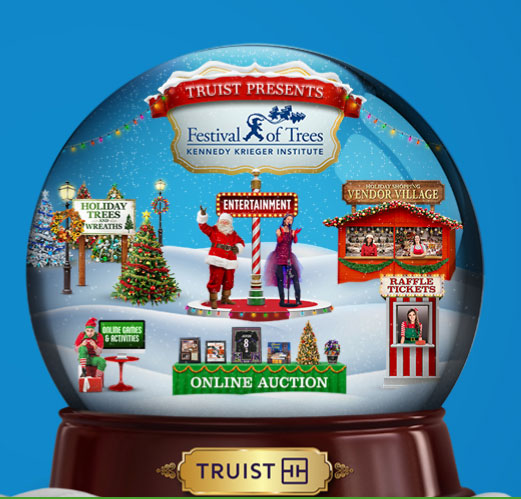 More than 600 designers crafted, created and bedecked over 300 trees and wreaths for Kennedy Krieger Institute's 31st annual Festival of Trees. The annual introduction to the holiday season was held, as usual, over Thanksgiving weekend. But for the first time in its tinseled history, this holiday happening was a virtual event streamed through a specially built Festival portal.
Here's a look at this year's unprecedented and much-enjoyed virtual Festival, broken down by its numbers:
Nov. 27-29: Festival of Trees kicked off at 10 a.m. on Friday, Nov. 27 with a greeting from Kennedy Krieger's President and CEO Brad Schlaggar, and the arrival of Santa Claus.
The event raised more than $650,000 for Kennedy Krieger's programs, which serve more than 25,000 patients (mostly children) each year from all 50 states and over 23 countries.
The website had more than 30,000 views throughout the weekend. Most viewers were in Maryland, but other Festival-goers tuned in from Florida, Texas, Utah, Minnesota and as far away as Ireland, Germany and India.
Throughout the weekend, Festival of Trees' website offered six and a half hours of produced content, including three concerts, a juggling magician, a singalong, a bedtime story read by Debbie Phelps, a Q&A with Santa, and the video stories of Kennedy Krieger patients. On-demand content included coloring pages, craft projects, animal videos and holiday recipes. All entertainment is available to viewers throughout December.
Nearly 90 percent of the trees and wreaths created for the event were sold by the end of the weekend, raising close to $30,000 of the total profit. Sponsorships, an online auction, and the sale of raffle tickets also contributed to the event's profits.
Seventy businesses served as event sponsors, and 28 businesses decorated a tree or wreath for the event. Staff from Truist bank branches throughout the state decorated a total of 43 wreaths; Truist was the event's title sponsor.
More than 20 community organizations designed a tree or wreath, including seven Girl Scout troops, three 4-H clubs, two private high schools and a volunteer fire department.
Seven digital producers from Mission Media, an award-winning, Baltimore-based brand marketing agency, helped create the Festival portal site. A team of 12 producers and event specialists from Bond Events, a women-led, Washington, D.C.-based event management and production company, filmed and produced much of the entertainment that guests watched throughout Festival weekend.
At Kennedy Krieger, more than a dozen staff members from the Institute's marketing and philanthropy teams worked since May to make this virtual Festival a reality.
About Kennedy Krieger Institute
Internationally recognized for improving the lives of children, adolescents, and adults with disorders and injuries of the brain, spinal cord and musculoskeletal system, Kennedy Krieger Institute in the greater Baltimore/Washington, D.C. region serves 25,000 individuals a year through inpatient and outpatient clinics, home and community services, and school-based programs. Kennedy Krieger provides a wide range of services for children with neurological issues, from mild to severe, and is home to a team of investigators who are contributing to the understanding of how disorders develop, while at the same time pioneering new interventions and methods of early diagnosis. Visit KennedyKrieger.org for more information about Kennedy Krieger.